The new Windows 10 feature update "Fall Creators Update" has been officially available since October 17, 2017 . However, so many users have problems with Fall Creators Update Version 1709 , so many want to uninstall Fall Creators Update . We would like to show you below how easy it is to return to the last installed Windows Feature Update .
The simplest thing is, you first open the apps for the Windows settings , which, as is known, you can call up the fastest using the following key combination .

After that is the update
Update and security
to call. In the window that then appears, select "Restore" on the left side . Then the following recovery window is displayed.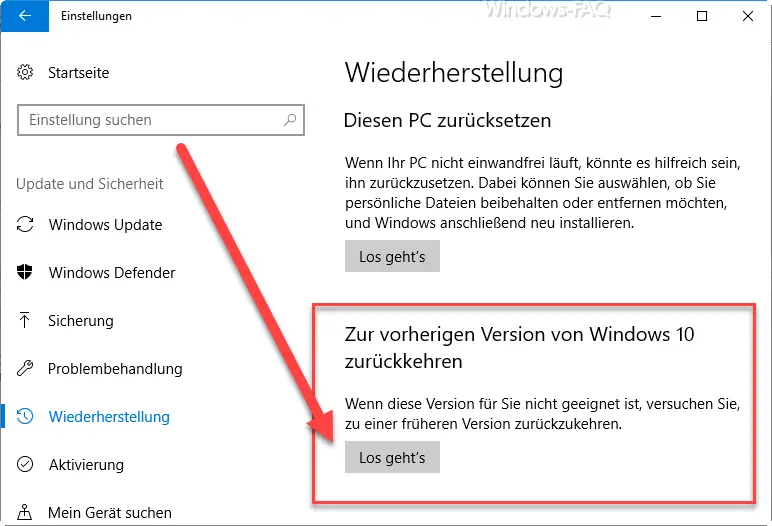 There you will find the point
Return to the previous version of Windows 10 – let's go
The only problem is that this way back is only possible for a certain time. It is currently 10 days after installing the Fall Creators Update that you have the maximum opportunity to uninstall the Fall Creators Update . The option would then be grayed out and no longer activated. It is also important that you have left the Windows directory "Windows.old", which is in the root of the system partition, unchanged. If you have already cleaned this directory, then uninstalling version 1709 is definitely no longer possible.
The actual deinstallation process of Fall Creators Update corresponds to the deinstallation of Creators Update Version 1703 . We have already created detailed instructions for uninstalling these Windows 10 feature updates and can also use them to uninstall the Fall Creators Update . The appropriate instructions can be found in the entry " Uninstall Windows 10 Feature Updates or return to the previous Windows version ".
In the past few days we have reported several times about Fall Creators Update Version 1709 . We have listed a selection of the most interesting articles below.
– RSAT Tools for Windows 10 Fall Creatos Update for download
– Free up space in Windows 10 Fall Creators Update Version 1709
– Remote desktop settings now also in Windows 10 Settings app (Fall Creators Update 1709)
– Administrative ADMX templates for Windows 10 Fall Creators Update 1709 – Download
– Download
Settings and Upload Limit for Windows Updates for Fall Creators Update – KB4043961 Update for Windows 10 Version 1703 Fall Creators Update Build 16299.19
– Feature Update for Windows 10 Version 1709 Fall Creators Update (Build 16299.15)