Power Throttling is a new power saving feature that was introduced with the Windows 10 Fall Creators Update (version 1709) . This  power throttling is supposed to protect the battery of Windows 10 notebooks and tablets more by special optimizations of Windows 10 and thus enable a longer battery life .
The Windows 10 user does not notice anything of the  power throttling function , all necessary measures are taken over by the Windows operating system. In order for this  power throttling to work with the hardware, an Intel CPU of the 6th generation or higher is expected. Evaluations by various companies have shown an approximate battery saving of a good 10%.
Nevertheless, there may be problems with power throttling or certain hardware constellations . For this reason, Microsoft has also integrated the option of deactivating this  power throttling via group policy .
Disable power throttling via GPO
You can find the appropriate group policy in the group policy editor (gpedit.msc) in the following GPO branch.
Computer Configuration / Administrative Templates / System / Power Management / Performance Restriction Settings
Microsoft has translated the " Power Throttling " function into "German " with " performance restriction " . That's why it's not that easy to find the right GPO for power throttling in a German version of Windows 10.
The GPO then looks like this: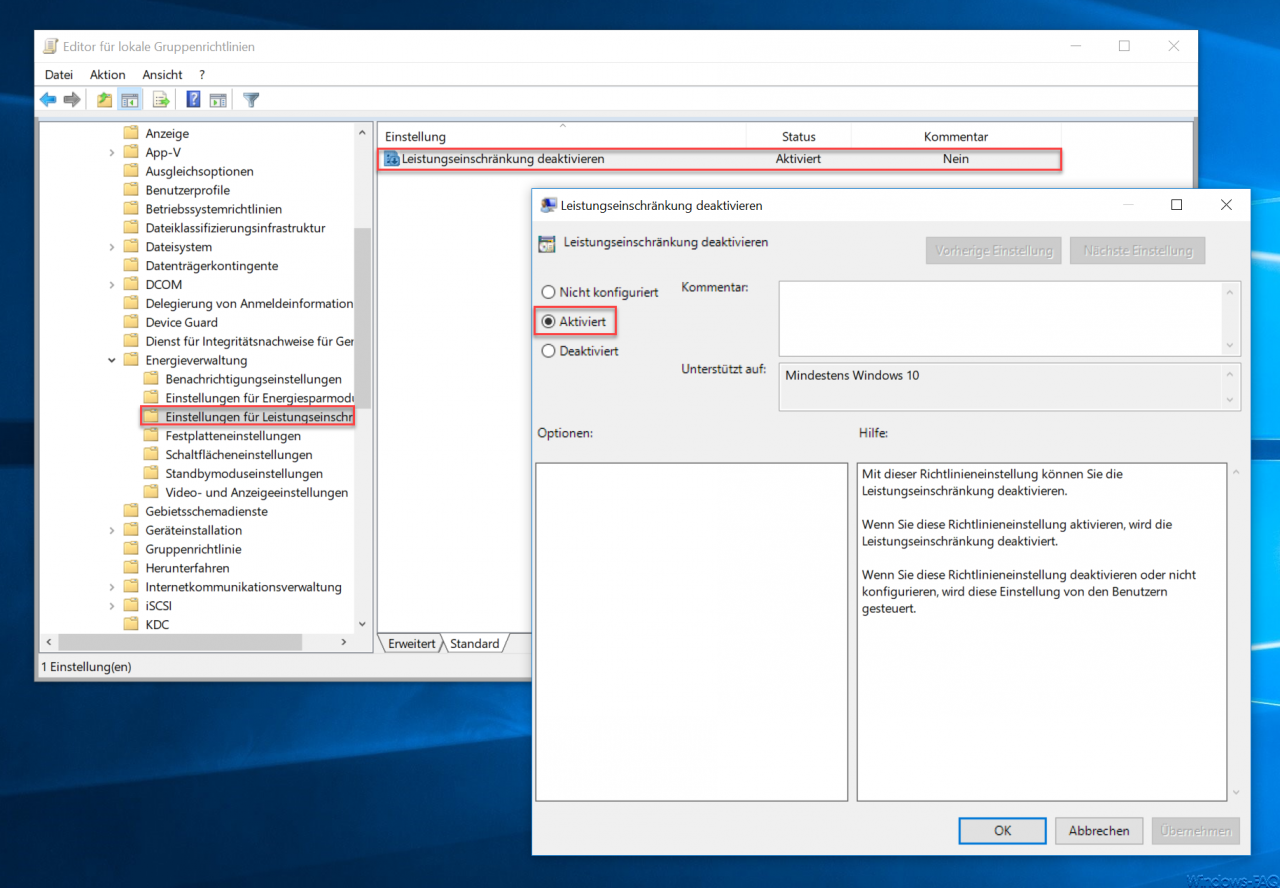 The name of the decisive group policy is then as follows:
Disable performance restriction
You now have to "activate" this GPO if you want to switch off power throttling. Microsoft has released the following information about this GPO.
You can use this policy setting to disable performance restriction.
If you enable this policy setting , the performance restriction is disabled.
If you disable or do not configure this policy setting, this setting is controlled by users.
Then you should restart your PC once so that power throttling or the power restriction is really deactivated .
Group policies can be used to control many other Windows properties, as you can see below.
– Block Windows 10 app access to the camera
– Remove shutdown icon from the Windows login screen via GPO
– Allow remote desktop connections using a group policy
– Remove CD / DVD burning function from Windows Explorer
– Do not display the trash icon on the desktop
– Group policy for Windows 10 start menu "
Run as another user " – Thumbs.DB – Caching the image thumbnails in Windows Explorer – Disable
Windows power options for screen and standby mode via GPO
– Automatically delete inactive user profiles after a certain number of days
– Delete Windows swap file by security policy on shutdown
– Animation at Deactivate first Windows 10 login