Many Windows users often receive the error code when accessing network shares
0x80070035 error code "The network path was not found"
0x80070035 in Windows 7
ATTENTION: Current information from 10.01.2019 !
Microsoft has introduced a bug in the new updates KB4480970 and update KB4480960 for Windows 7. After installing one of these two security updates, there may be problems accessing SMBv2 shares and the error message 0x80070035 appears .
You can now uninstall these updates again. However, this should be done with caution as both updates are security updates for Windows 7. Please just check your system to see if your Windows 7 installation has already installed these two new updates.
The second option is to add a registry entry on the Windows 7 PC that hosts the share . Below is the necessary entry.
reg add HKLM SOFTWARE Microsoft Windows CurrentVersion Policies system / v LocalAccountTokenFilterPolicy / t REG_DWORD / d 1 / f
After that, however, a restart of the PC is necessary and afterwards access to the share should work again without the error code  0x80070035 .
Supplement from 01/11/2019: Today, further problems have arisen in connection with these two Windows updates. You can find more information on this in our entry " 0xc004f200 Activation error in Windows 7 clients according to KB4480960 and KB4480970 "
0x80070035 in Windows 10
Below we have shown you the original 0x80070035 error message of a Windows 10 installation, which appears when accessing a correctly configured network share . This error message occurs both in Windows 10 Home installations and in larger networks with Windows 10 Professional or Enterprise installations.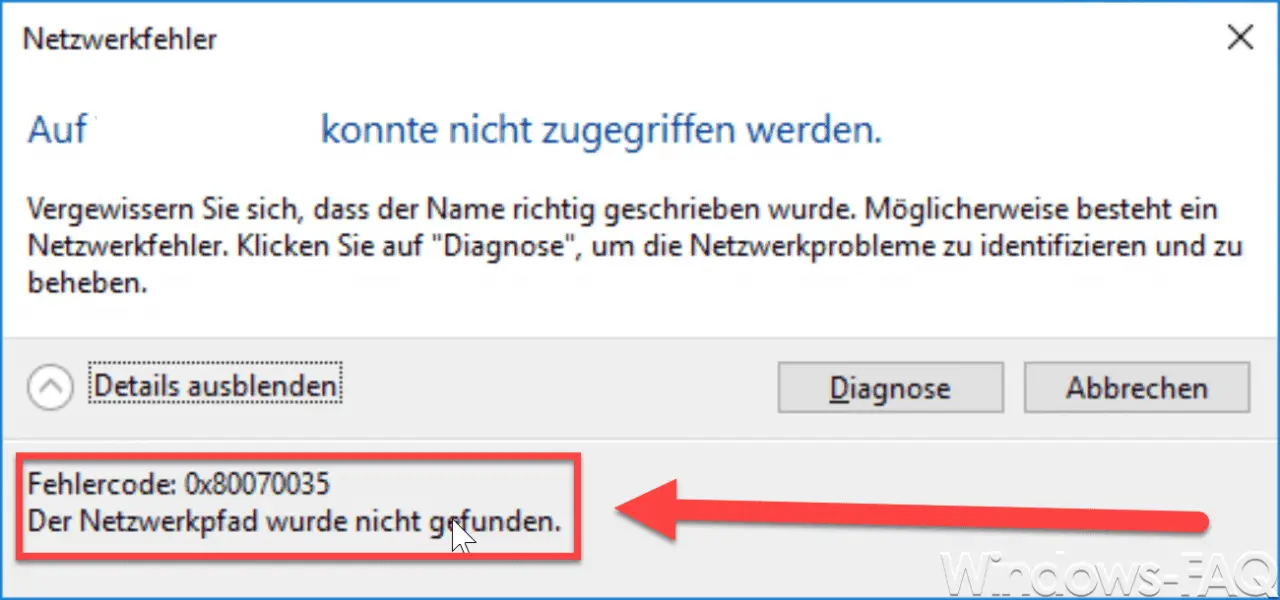 When investigating the problem, we found that the shared folder access was set up properly. Other clients had no problem accessing the share, but some did.
0x80070035 – Netbios problems
Ultimately, it turned out that it was due to missing Netbios settings . First, there is a corresponding Windows service that should be started. This is called as follows.
TCP / IP NetBIOS support service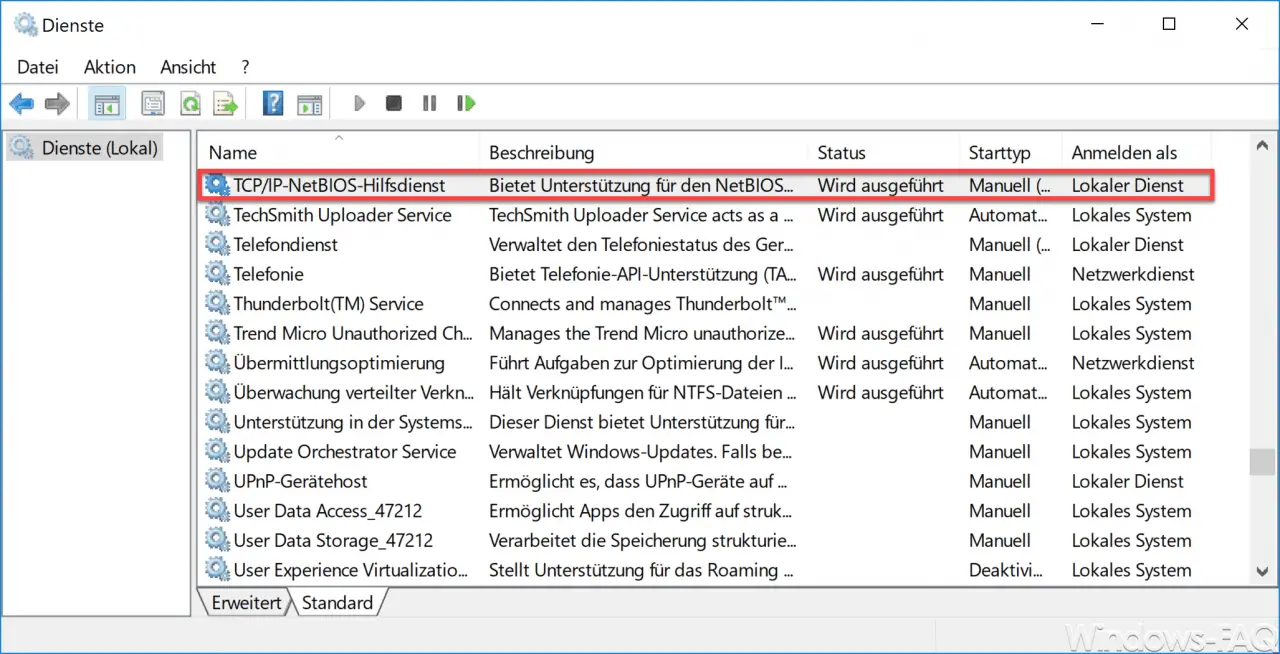 The service " TCP IP NetBIOS auxiliary service " should be started. Microsoft has released the following information about this service.
This service provides support for the NetBIOS over TCP / IP service (NetBT) and NetBIOS name resolution for clients on the network so users can share, print, and log on to the network. These functions are no longer available if this service is stopped. If this service is deactivated , the services that depend exclusively on this service can no longer be started.
If this alone does not bring any improvement and you continue to receive the error message 0x80070035 when accessing network folders , you should also activate NetBios in the network properties.
To do this, you have to call up the " Network connections " using the shortcut " ncpa.cpl " and there the properties of the corresponding LAN adapter.
There, the entry " Internet Protocol Version 4 (TCP / IPv4) " must be marked and " Properties " selected. In the following window you select " Advanced " and switch to the " WINS " tab . This then looks like this.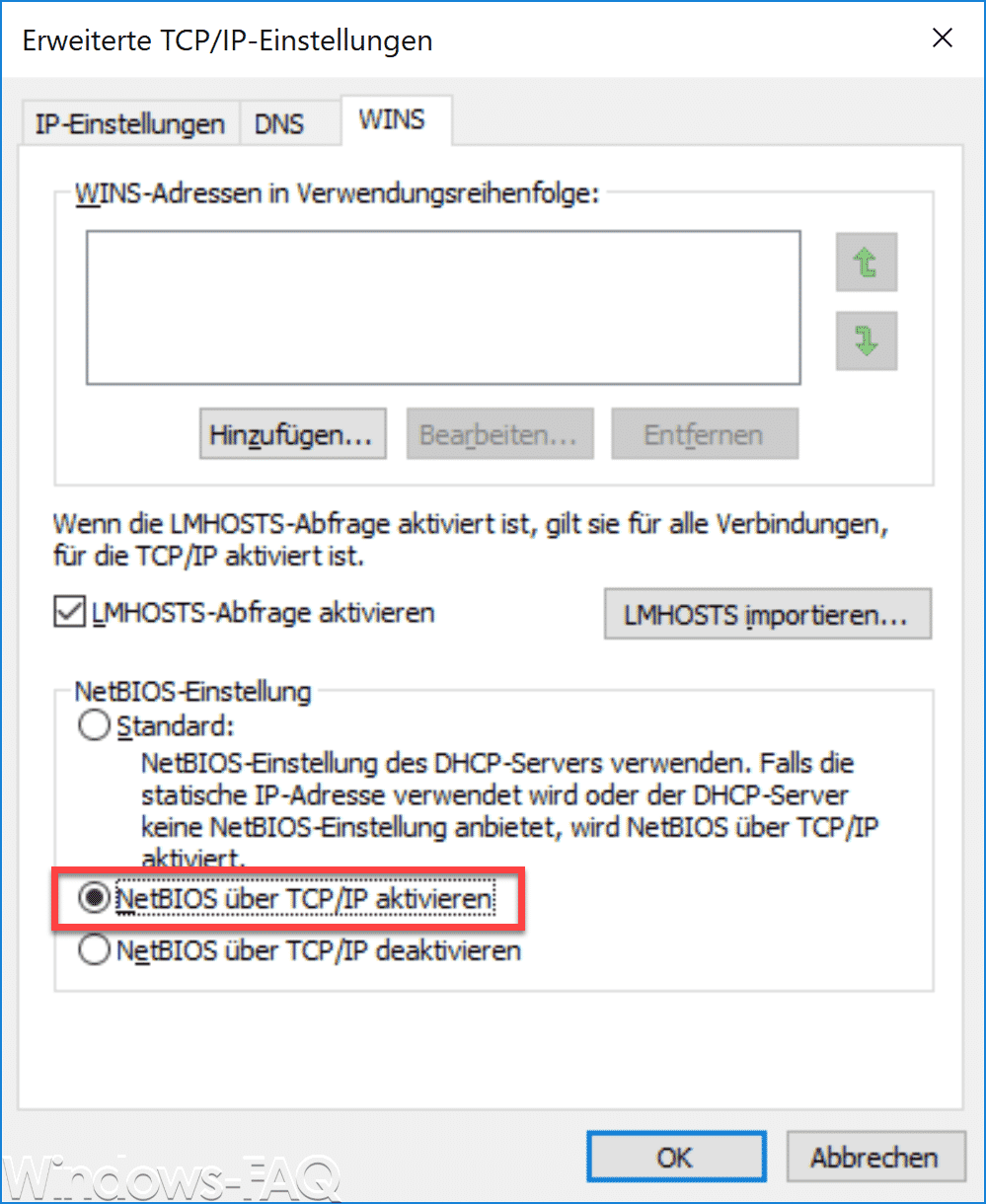 Here you should select " Activate NetBIOS over TCP / IP " and confirm all open windows with OK. Now the error code  0x80070035 should no longer occur.
You can find more articles on the topic of " Network " in these articles here on Windows FAQ.
– Set up a static IP address in Windows 10
– Edit hosts file in Windows 10
– Show currently open network and Internet connections – NETSTAT incl. Parameters
– Deactivate Teredo IPv6 tunnel in Windows 10, Windows 8.1 and Windows 7