Especially if you always work with the same programs, it is well known that the programs can be quickly accessed in the taskbar . Simply attach the program to the taskbar and the most important programs are quickly available for access. But it is even easier by simply defining a key combination yourself with which you can quickly start programs.
These hotkeys are relatively free in the assignment and you can leave your imagination free. We use this hotkey function very often to start programs and try to add the keyboard shortcuts to the name of the program. In the example below, we start the programs
| Program to be started | Self-defined key combination (hotkey) |
| --- | --- |
| Calc (calculator) | Keyboard shortcut CTRL + ALT + C |
| Gpedit.msc (GPO editor) | Keyboard shortcut CTRL + ALT + G |
| Regedit (registry editor) | Keyboard shortcut CTRL + ALT + R |
| etc … | |
The easiest way to set the program key combination is to create a corresponding desktop shortcut on your desktop, as you can see below as an example.

Now you just have to right-click on one of the symbols and call up the " Properties ". Here you can now define the shortcut for the program or software. You have to do this in the field
Keyboard shortcut
switch, as you can see below.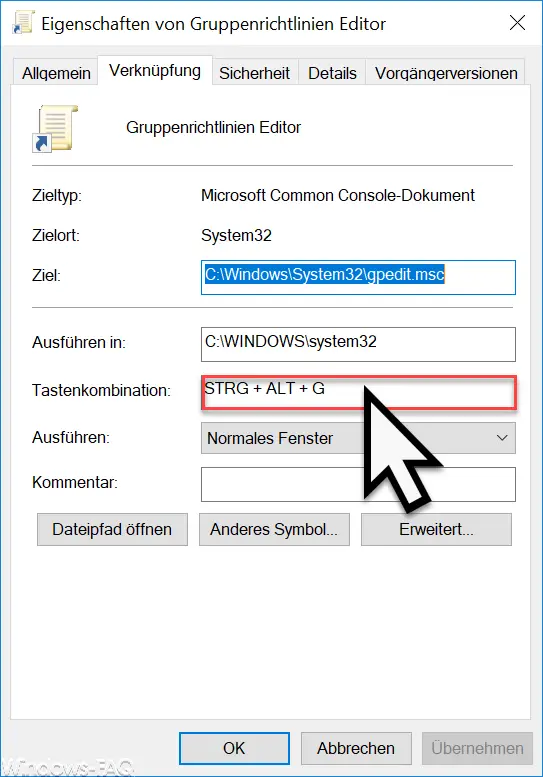 If you are in the " key combination " field , you only need to press the desired shortcut letter . The addition " CTRL + ALT " is added automatically because only this key combination is permitted as a hotkey for links . In addition to letters, you can also use numbers or special characters.
You can then use the " Gpedit " group policy editor to call up the group policy editor very quickly and easily using " CTRL + ALT + G ".
You can also find useful information on other popular Windows keyboard shortcuts in these articles.
– Keyboard shortcuts in the MS-DOS prompt
– Keyboard shortcuts for Windows Explorer
– Overview keyboard shortcuts under Windows 10
– Keyboard shortcuts under Windows 8
– Useful keyboard shortcuts for Internet Explorer 9 (IE9)
– Copy / move process in Explorer with keyboard shortcut
– Undo all with a keyboard shortcut Minimize windows to the active (AeroShake)