With these instructions you can optimize your network traffic , network latency and the data throughput of your network connection under Windows. High-performance network connections in particular require a lot of gamers, but this registry hack can also help increase network performance .
By default, Windows tries not to take up too much processor line by processing network traffic . Microsoft calls this process " throttling ", translated it means " throttling ".
With this registry change you can virtually release this network brake and thus achieve better and faster data throughput.
Network speed up under Windows
To do this, you have to make the following changes in the Windows registry editor "regedit.exe". First, please open the following registration path.
HKEY_LOCAL_MACHINE SOFTWARE Microsoft Windows NT CurrentVersion Multimedia SystemProfile
We have shown this to you below.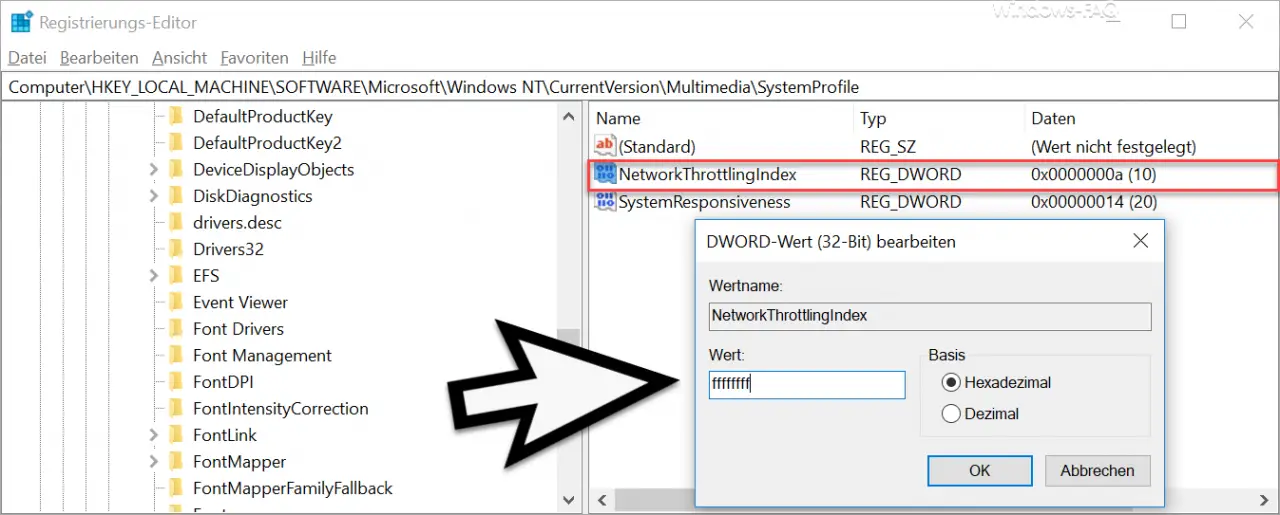 In this registry branch there is already the following value, at least with Windows 10. If the value does not yet exist, you have to create it again as a DWORD 32-bit value.
NetworkThrottlingIndex
By default, this value is " 0a ", decimal 10 . If you now set this value to the hexadecimal value "ffffffff" , throttling ( throttling of the network speed ) is deactivated.
However, this change in network performance does not take effect immediately. You have to restart your Windows PC once so that the throttling of network performance is eliminated and you can work at maximum network speed. Should problems arise from this change, you can reset the value to " 0a " at any time .
You can find more network topics in these articles.
– Display of existing network shares
– Connect local folder as network drive
– Deactivate network adapter under Windows – Connect network printer under Windows
10
– Always wait for the network when restarting the computer and logging on
– Remove or show network icon from Windows 10 task bar
– Ethernet Change network connection and WLAN connection in Windows 10 to clocked (metered) – Reset network
in Windows 10
– Windows system error 1231 – The network
address cannot be reached – Determine
network problems – Log only ping dropouts – Pingtest.bat – Network inventory
– Teaming of network adapters
–
Hide computers in the network – network performance with 10GBit networks
– use network printer without joining a domain