We are often asked what the Software Protection service actually does for Windows and whether this service cannot be deactivated if necessary. First some general information about the " Software Protection" service "SPPSVC" . Below is a picture of the Windows 10 service management "services.msc" .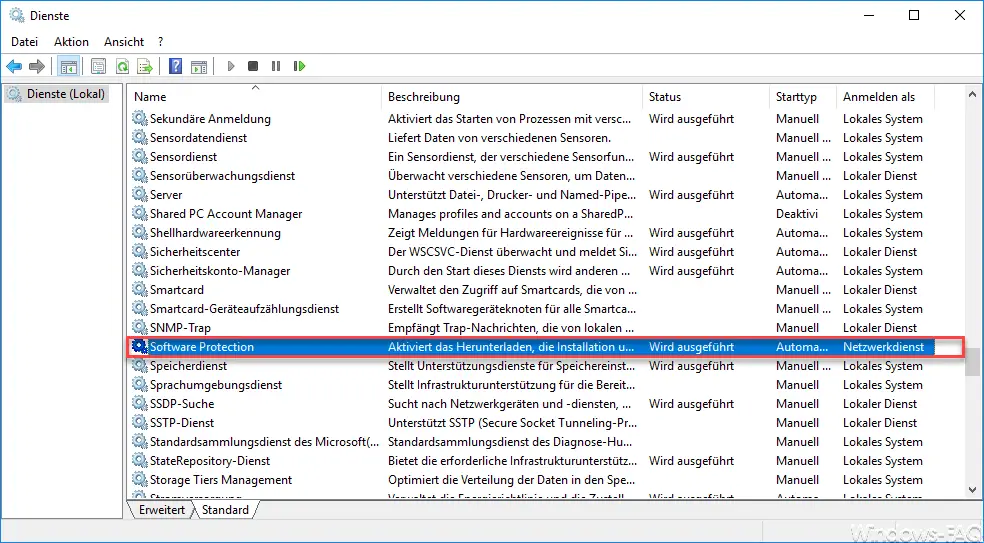 Microsoft describes the role of the SPPSVC service as follows:
The Software Proction service "SPPSVC" activates the downloading, installation and enforcement of digital licenses for Windows and Windows applications. When the service is disabled, the operating system and licensed applications run in a notification mode. It is strongly recommended that you do not disable the software protection service .
The Software Protection Service is installed by default with every Windows installation, so even with Windows 10. The service is by default always started when Windows starts before signing up. The service is registered on the Windows system using the standard " Network service " account .
The software protection service is also dependent on other services. It must therefore be ensured that the " DCOM server process start (DcomLaunch) " and " RPC endpoint assignment (RpcEptMapper) " services have also started.
Do not deactivate the software protection service !!
Many Windows users endeavor to switch off and deactivate as many Windows services as possible. This may make the Windows system a little more powerful , but the user should already know what he is doing. We can now strongly advise against deactivating the SPPSVC Software Protection service , as it can result in numerous Windows functions no longer functioning correctly.
Microsoft has also published documentation that problems can arise when activating or checking the Windows license without the software protection service running . You can find information about the activation problems in the article " Windows activation does not work if the process sppsvc.exe does not start automatically for a long time ".
You can also find a lot of additional information about Windows services here:
– Start Windows services via group policy
– Delete service under Windows 10
– Windows services overview – Hide all Microsoft services with MSCONFIG
– We could not establish a connection with the update service. We will try again later … ..
– BITS monitor with BITSADMIN and parameters (intelligent background transmission service)
– Windows profile error message "The registration of the service" User Profile Service "failed."
– The time service is no longer announced as a time source …. Event ID 142
– Stop or start Hyper-V Manager VMMS service
– PowerShell – List , stop and start services
– DHCP server service can no longer be started