Many Windows users have problems with integrated card readers after upgrading their Windows 7 or 8.1 installation to Windows 10 . This manifests itself in that inserted SD cards are simply no longer recognized. If the card reader ran perfectly before the Windows 10 update, it does cause considerable problems after the upgrade.
The various Internet forums are full of this SD card problem under Windows 10 and we want to show you 2 possible solutions to get this problem under control.
Update device drivers
In general, it should actually be assumed that the latest driver is always used after the Windows 10 update. However, this is not the case and you should simply have the " Update driver " via the Windows device manager (devmgmt.msc) . Windows 10 then searches online for an updated driver version for your integrated card reader and then installs it if necessary.
After installing and restarting your Windows 10 system, the card reader should then function properly again or the SD cards should be readable again.
Adjust energy options
Another problem can be the set Windows power options . Card readers are connected either via the USB or PCI Express port and are also controlled via the Windows internal power management. This can lead to reading problems due to insufficient power supply . You can change this as follows.
Calls up the search term " Edit energy saving plan " via the Windows Start menu or Cortana . Thereupon the window " Edit energy saving plan settings" opens and you can call up the settings to be changed via the item " Advanced energy settings".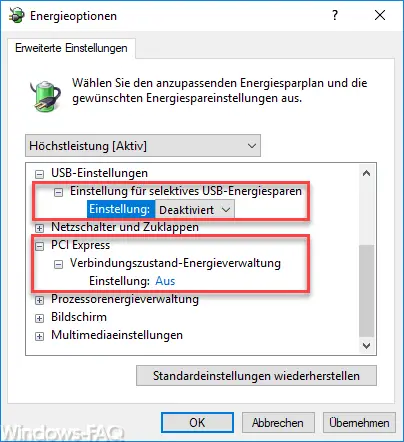 Here you should then make the following energy settings .
You should "deactivate" the setting for selective USB energy saving.
PCI Express (connection state power management) setting should be set to "Off".
Here, too, it is important to restart your Windows 10 system once after adjusting the energy options and then test again whether the SD cards are now recognized again via the integrated card reader.
Below we have listed other interesting articles on numerous topics.
– Open the device manager directly via a new icon on the desktop
– USB 3.0 Renesas driver increases performance compared to Microsoft driver
– Windows system error 1231 – The network
address cannot be reached – Dell Latitude D505 Intel 82852/82855 GM graphics card under Windows 7
– DVD drive reports error code 39 – Fix
– Accelerate hard drive speed / performance