Some time ago we already described in detail how you can also back up your group policies that you have created in your Active Directory. We'd like to show you the same thing today, but today it's about backing up local group policies or GPOs. Since the local GPOs are saved at the file level in the Windows system directory, the backup of the local GPOs is actually not a big problem.
The local group policies for all versions of Windows, including Windows 10, are saved in the following folder:
C: Windows System32 GroupPolicy
In this folder you will find two subfolders that have the following names.
Machine
user
Below you can see the image of this directory.

Everything that you have to do to save the local group policy, copy these folders including the subfolders and keep them in a safe place. If you do not see this " GroupPolicy " directory or the subfolders, you have to show the " hidden elements " in Windows Explorer. You can find this in Windows Explorer at the following location.

Restore local group policies
If, for example, you now want to import or restore the saved local group guidelines on a newly set up Windows 10 PC or another system, you only have to put the backed up files back into the same directory
C: Windows System32 GroupPolicy
restore.
ATTENTION: This can lead to the following security question.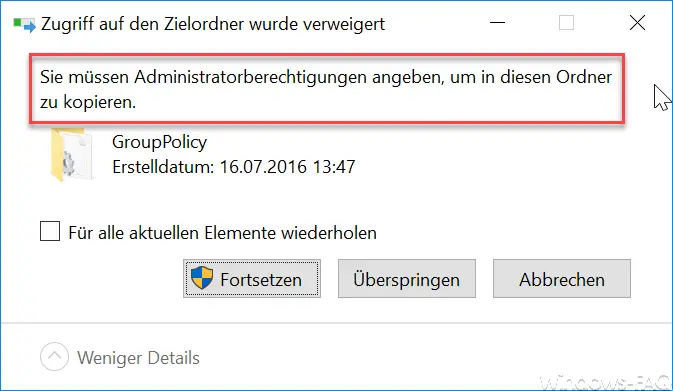 The exact message is:
You must have administrator privileges to copy to this folder.
This is a security question and again points out that you absolutely need administrator rights to copy the local GPOs back. Simply tick the " Repeat for all current elements " and click on " Continue ". The old local GPOs are then overwritten by the saved GPOs.
However, the restored GPOs only become active if you carry out a " GPUPDATE / FORCE " or restart your Windows PC once.
You can find further useful information about group policies here:
– Configure Windows Firewall using group policy (file and printer sharing)
– Switch off power throttling in Windows 10 using GPO
– Block Windows 10 app access to the camera
– Remove shutdown icon from the Windows login screen using GPO
– Allow remote desktop connections using a group policy
– CD / Remove DVD burning function from Windows Explorer
– do not display the recycle bin icon on the desktop
– Thumbs.DB – deactivate caching of the image thumbnails in Windows Explorer
– set Windows power options for screen and standby mode via GPO
– delete Windows swap file by means of a security policy when shutting down
– animation at the first one Disable Windows 10 login