Microsoft has released RSAT Tools (Remote Server Administration Tools) for Windows 10 Fall Creators Update Version 1709 . You can find the appropriate download links for the 1709 RSAT tools at the end of this article. The RSAT tools enable the administrator to install server administration tools locally on his Windows 10 PC and thus to administer server systems such as Windows Server 2012 R2 and Windows Server 2016 remotely.
The RSAT update is called KB2693643 and is installed without further settings and queries.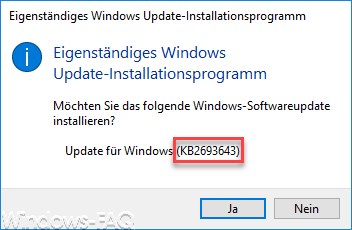 The RSAT remote server administration tools for Windows 10 can only be installed on PCs with a full version of Windows 10 Professional, Windows 10 Enterprise or Windows 10 Education. These management tools cannot be installed under Windows RT, on PCs with ARM architecture (Advanced RISC Machine) or other system-on-chip devices.
ATTENTION: After installing these RSAT tools for the Fall Creators Update, the DNS Manager console for the Windows 10 client is missing in the administration tools . Below we explain to you how you can install it later.
DNS manager client installation under Windows 10 version 1709
If you absolutely need the DNS manager on your Windows 10 PC, you have to carry out the following steps so that it is also installed.
Uninstall KB2693643
Create folder C: Temp (if not already available)
The RSAT installation file KB2693643 store Temp: C
Place the two files from the following zip file in the same directory
– Download RSAT installation files DNS Manager for Windows 10 x64
– Download RSAT installation files DNS Manager for Windows 10 x86
After you have prepared this, you start a command prompt . It is important that this has administrator rights . Then you change to the path C: Temp and start the batch file " installx64.bat " or " installx32.bat ", depending on the Windows 10 version you have installed. Then, as you can see below, the entire remote server administration tools including the DNS manager are installed.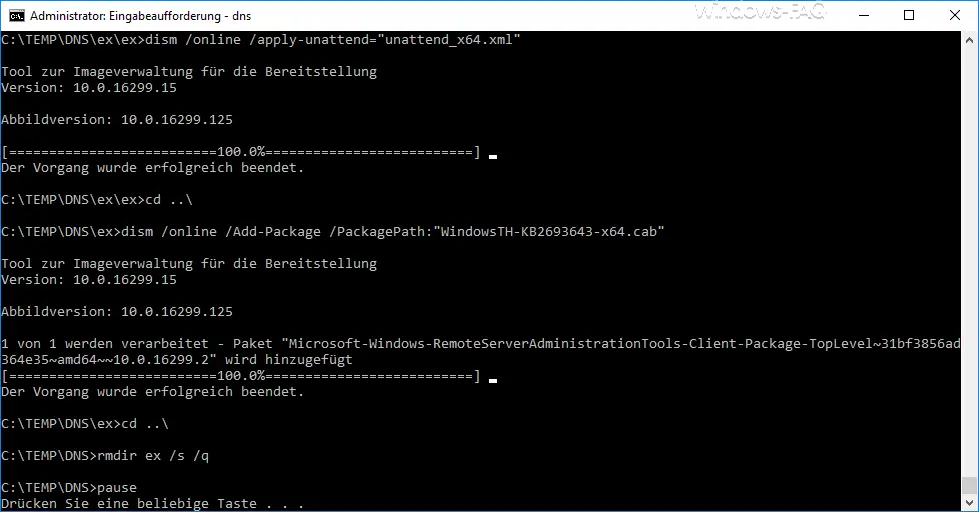 Here below as promised the download link for the RSAT Tools for the Windows 10 Fall Creators Update 1709:
– RSAT Tools for Windows 10 Fall Creators Update 1709
Below is some more interesting information about the Fall Creators Update.
– Windows 10 Fall Creators 1709 ISO Download
–
Uninstall Fall Creators Update Version 1709 – RSAT Tools for Windows 10 Fall Creatos Update to download
– Free up space in Windows 10 Fall Creators Update Version 1709
– Remote desktop settings now also in Windows 10 Settings app ( Fall Creators Update 1709)
– Administrative ADMX Templates for Windows 10 Fall Creators Update 1709 – Download
– Download
Settings and Upload Limit for Windows Updates for Fall Creators Update – KB4043961 Update for Windows 10 Version 1703 Fall Creators Update Build 16299.19
– Feature Update on Windows 10 Version 1709 Fall Creators Update (Build 16299.15)