We have described several times how to uninstall Windows 10 Feature Updates . Actually, it is not particularly difficult to uninstall the Windows 10 Creators Update or Fall Creators Update . However, Microsoft may display the following message before the installation .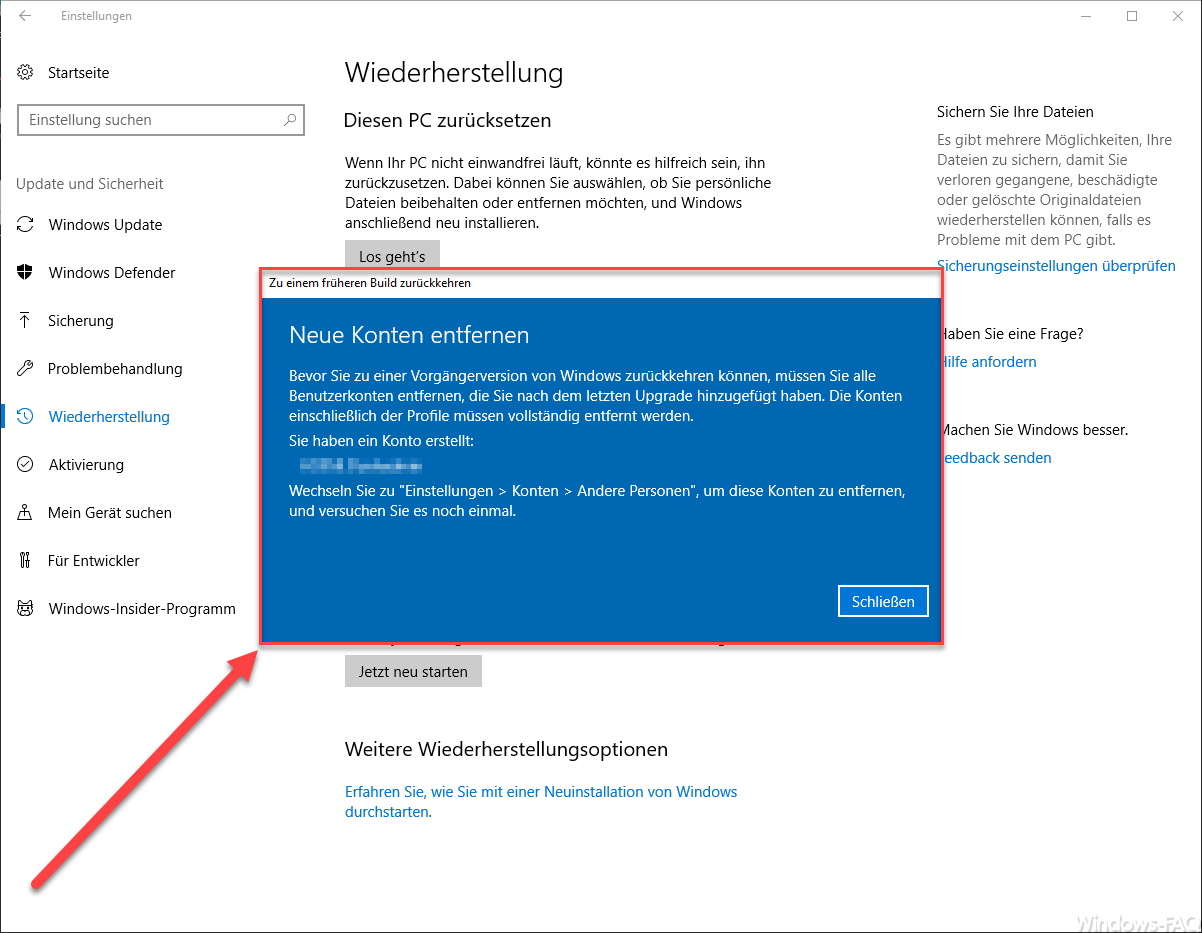 Microsoft writes the following as a hint.
Revert to an earlier build.
Remove new accounts
Before you can go back to a previous version of Windows, you must remove any user accounts that you added after the last upgrade. The accounts including the profiles must be removed completely.
You have created an account:
Domain / Username
Go to Settings > Accounts > Other people to remove these accounts and try again.
This note says the following that after installing the latest feature update, you have registered a user name on this Windows system that did not previously exist on this Windows 10 system. As a result, a completely new profile was created for this new user name, but this was created according to the settings of the new feature update. If you now uninstall this new feature update , the previous Windows 10 feature update cannot do anything with this newer user profile and cannot process it correctly. For this reason, it must be deleted beforehand.
However, the display regarding the removal of the user profile via " Settings / Accounts / Other People " is somewhat unclear and, in our opinion, also wrong. Therefore, you should proceed as follows if you want to delete the relevant profiles. First simply by pressing a key combination

call the following program.
SYSDM.CPL
There you have to switch to the " Advanced " tab and then go to " User profiles – Settings ". There you will see all locally saved user profiles as shown below .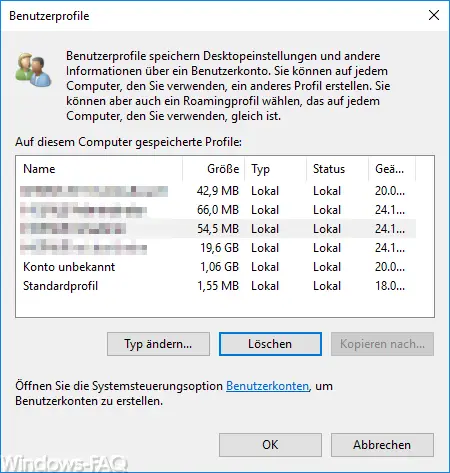 Here you only need to mark the user profile that you want to delete. The profile is then irrevocably deleted using the " Delete " button and another security question . Then you can start the deinstallation process of the feature update to be uninstalled again and the above message should no longer appear.
Below we have summarized a few interesting articles on the subject of " Windows 10 Feature Updates ". Maybe there is one or two interesting things for you.
– Feature Update to Windows 10 Version 1709 Fall Creators Update (Build 16299.15)
– Release the used space of the Windows 10 Feature Updates (Creators Update) again
– Windows 10 defer installation of feature updates via group policy
– Distribute Windows 10 feature updates with WSUS (application / octet-stream)