We keep getting inquiries because Windows users have problems completely uninstalling the Avira antivirus tool , because they might want to switch to another antivirus solution or want to use Windows 10 Defender (Windows security) .
Apparently, when you uninstall the Avira antivirus solution, there are still some remnants in the Windows registry that can cause problems. The solution is relatively simple, because Avira offers a free tool with the names for precisely these problems
Avira registry cleaner
which you can download for free at any time using the link above.
This Avira RegistryCleaner removes all registry keys created by Avira . In addition, Avira itself recommends running the tool on its homepage before installing a new version in order to prevent any problems.
After downloading and starting the Avira registry cleaner, you can choose which registry keys you want to delete from which Avira product. We have shown you this completely below.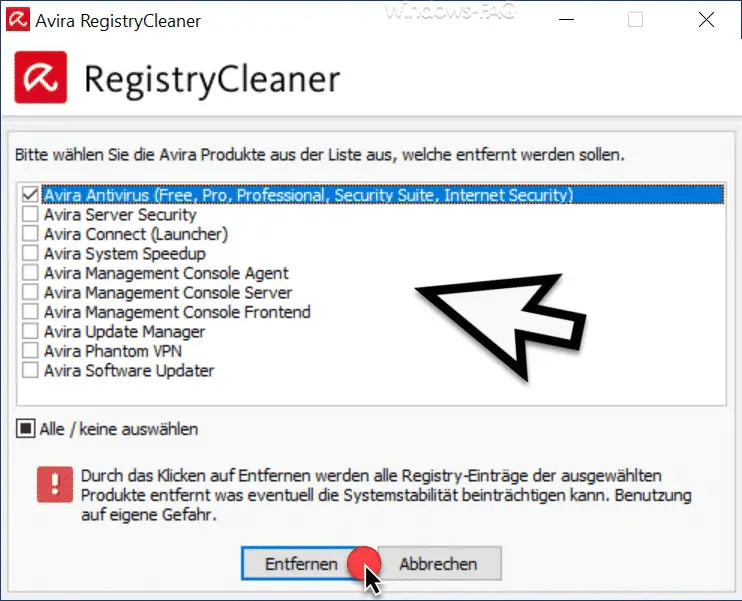 You can have the registry entries removed from the following Avira products .
Avira Antivirus (Free, Pro, Professional, Security Suite, Internet Security)
Avira Server Security
Avira Connect (launcher)
Avira System Speedup
Avira Management Console Agent
Avira Management Console Server
Avira Management Console frontend
Avira Update Manager
Avira Phantom VPN
Avira Software Updater
After you have selected the product and have the correct registry entries removed, the following window appears.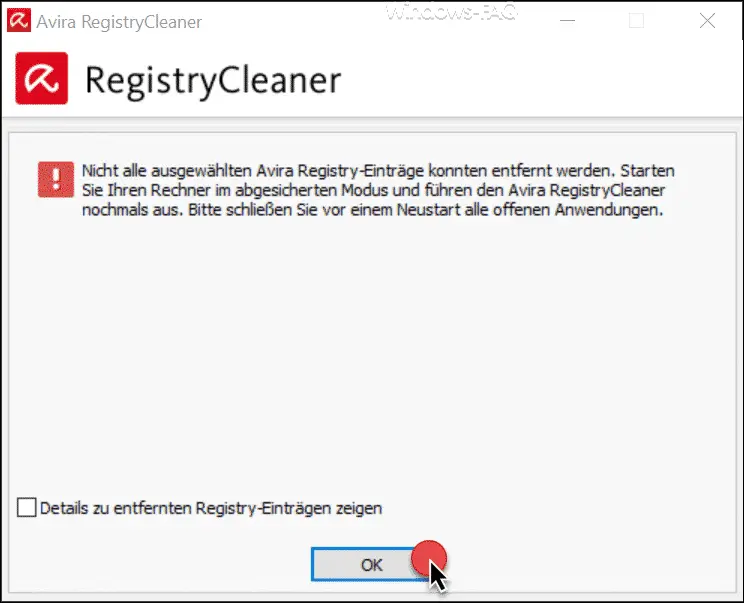 Here you can still see which registry entries have been removed. You should also restart your Windows PC afterwards , preferably in safe mode and then run the Avira Registry Cleaner again . Only then can you be sure that all Avira registry entries have been removed .
Finally, we have listed here further amounts on the subject of " virus protection " and " Windows Defender ".
– Let Google Chrome search for malicious software
– How to get rid of Trojans and spyware efficiently and quickly from your Windows PC
– Configure Windows Defender Application Guard using Group Policy
– Windows Defender Application Guard settings for Windows 10 (WDAG)
– Install Windows Defender Application Guard (WDAG)
– Configure Windows Defender SmartScreen via GPO
– Start Windows Defender offline in Windows 10
– Deactivate Windows Defender Security Center
– Windows Defender Security Center from Windows 10 Creators Update
– Remove the "Windows Security" icon from the Windows systray
– ZIP, RAR or
Search CAB Files with Windows Defender – 0x80070643 Windows Defender Update Error
– Deactivate Windows Defender completely
– Microsoft Security Essentials