Who does not know this problem? You want to send an email with one or more pictures and the email recipient can not receive the email due to its size .
Many e-mail providers have introduced a limit of 10, 15 or 20 MB as the maximum limit for receiving e-mail attachments and then the problem can quickly arise that e-mails with some high-resolution images  or photos cannot be received .
Microsoft Outlook offers a very good solution for this, because with one setting you can downsize the pictures before sending them and thus reduce them.
In our example we have shown you a file attachment with a picture with a size of 25 MB, which we would like to send with Outlook 2016 or Outlook 365. This then looks like this, for example.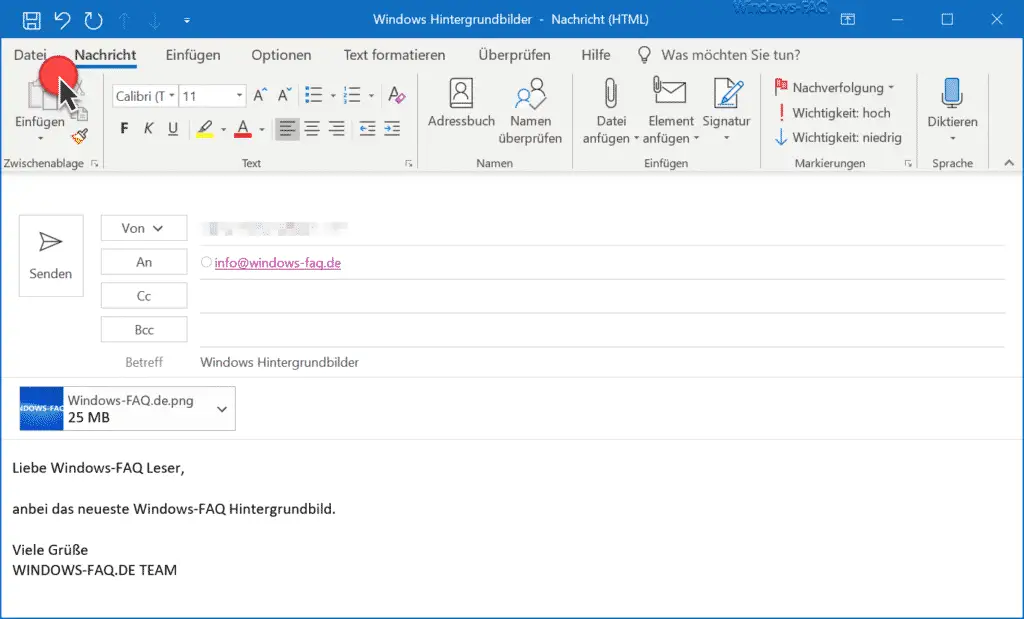 If you want to reduce the size of the attached image or images before sending them, you only have to click on the menu item before sending
file
click. The desired function then appears immediately, as you can see below.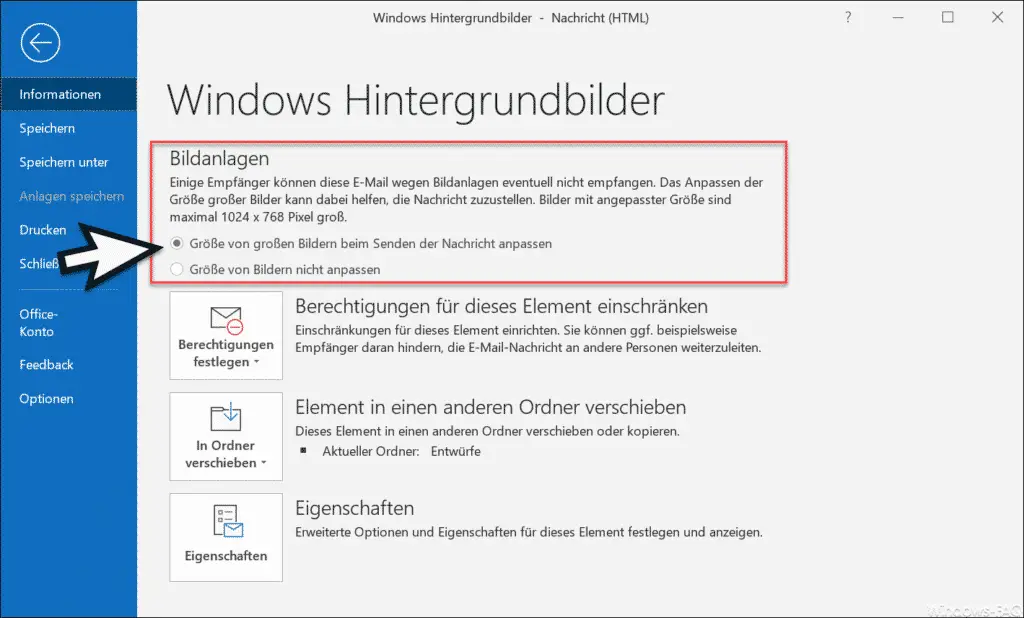 As you can see, you can automatically reduce the size of the image in Outlook. All you have to do is select the option
Do not resize images
switch to
Resize large images when sending the message.
Microsoft explains this image reduction option.
Image attachments
Some recipients may not be able to receive this email because of image attachments. Resizing large images can help deliver the message. Resized images have a maximum size of 1024 x 768 pixels.
So you have to be aware that using this option changes the quality and size of the images so that a meaningful image compression can be carried out.
If you are interested in other useful Outlook tips , we recommend the following Outlook articles here on Windows-FAQ.de.
– Deactivate Outlook reading area or have it displayed on the right or below in Outlook
– Play sound when new e-mails are received in Outlook
– Create e-mail signature in Outlook
– Delete Outlook profile
– Deactivate e-mail address suggestions in Outlook and AutoComplete
– Always automatically
delete the "Deleted Items" folder when you exit Outlook – Do not send Outlook emails accidentally after pressing CTRL + ENTER
– Send contact as business card in Outlook
– Integrated images in emails are not displayed in Outlook
– Outlook absence
– Set up messages and automatic replies – Automatically close original message when replying in Outlook
– Display Outlook, Word, Excel and PowerPoint in dark design (Dark Mode)
– Clean up and create space in Outlook – Mailbox cleanup
– Convert Outlook OST files
– In Outlook
Delay email delivery – Return email sent Retrieve in Microsoft Outlook
– A client process has failed – Microsoft Outlook
– Activate spell check in Outlook
– Backup the Outlook PST file