The installation of Windows updates is essential for the security of the system. As a rule, Windows updates can also be uninstalled again. In certain circumstances, however, it can make sense to prevent the uninstallation of Windows updates . This can be done using group policies.
The GPO to prevent the uninstallation of Windows updates can be found in the following group policy branch.
Computer Configuration / Administrative Templates / Windows Components / Windows Installer
There you will find the group guidelines
Do not allow removal of updates
We have shown this to you below.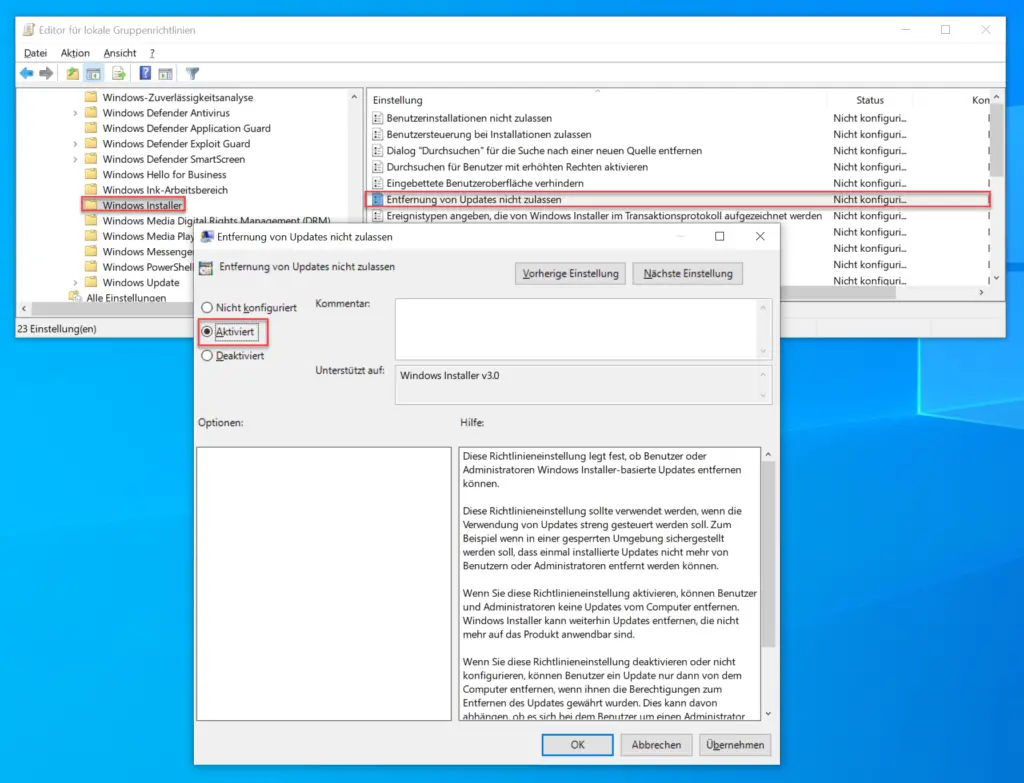 If you activate this GPO, no user or administrator can uninstall  or remove Windows updates .
Microsoft has released the following information regarding this group policy .
This policy setting determines whether users or administrators can remove Windows Installer-based updates.
This policy setting should be used if you want to strictly control the use of updates. For example, if you want to ensure in a locked environment that once installed, updates can no longer be removed by users or administrators.
If you enable this policy setting , users and administrators cannot remove updates from the computer. Windows Installer can still remove updates that are no longer applicable to the product.
If you disable or do not configure this policy setting , users can remove an update from the computer only if they have been granted permission to remove the update. This may depend on whether the user is an administrator, whether the policy settings " Disable Windows Installer " and " Always install with elevated rights " are set and whether the update is in a user-based, not user-based or computer-based context was installed.
If you are interested in other useful group policies for Windows updates , we recommend the following articles.
– Reset Windows 10 updates and function updates via GPO
– Download Windows updates via clocked connections
– Download optional Windows components or apps from WSUS instead of Windows Update
– Shut down or restart Windows PC without installing upcoming Windows updates