When installing a wide variety of Microsoft Office versions , it happens again and again
Error code 30066
This error message 30066 occurs in Office versions 2007, 2010, 2013, 2016 and also in Office 365. The error occurs during the installation of the respective Microsoft Office version and can occur on the operating systems Windows Vista, Windows 7, 8.1 and also Windows 10.
Below we have listed the most common error messages for error 30066 .
Something went wrong. Error code 30066 .
Something went wrong. We are sorry, but we are unable to start your program. Make sure that it is not disabled by the system : 30066
Microsoft Office has a licensing issue and is now closing. If this problem persists, please uninstall and reinstall – 30066
Something went wrong. Sorry, we have a problem. Go online for additional help. Error code: 30066
The required file could not be found, check whether the installation source can be reached. Error code 30066 when opening / configuring Microsoft Office
Check Office installation source
First of all, you should check whether your installation medium is correct. The Office installation error 30066 indicates that certain files were not found during the Office installation and the installation was therefore canceled. If necessary, get another installation medium or check whether you can download the Office installation files again. If the problem occurs again, go through with the following point.
Briefly deactivate the virus scanner
Unfortunately, it can happen that the activated virus scanner negatively influences the Office installation and the installation error 30066 then occurs. For this reason, you should temporarily deactivate your virus scanner for the office installation phase. If this does not help, there is still a check of the Windows resources .
Start the resource check program
Possibly. there are problems with the Windows system files. The easiest and fastest way to check this is with the Windows resource check program "sfc" . Simply open an MS-DOS command prompt with administrator rights.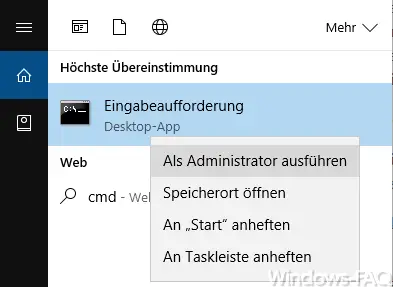 Then simply the command in the DOS window
sfc / scannow
Enter and your Windows system will be examined for any problems and possibly cleaned up. After the Windows correction program has ended, you should restart your PC and start the Office installation again. Now the installation code 30066 should no longer occur.
Should you have any further information on the subject of " Microsoft Office " or " Installation problems", we recommend the following information.
– Office is being installed – Please re-establish the internet connection
– Interactive "Menu to ribbon guides" for Word, Excel, Powerpoint and Outlook 2010
– Error message "The stub received incorrect data"
– Error message "Outlook cannot be started … .."
– Profile error message "You were logged in with a temporary profile."
– EPLAN error message DCOM 0x80040154 – Class not registered
– 0x80246003 Windows Update Error Office Validation Add-in
– Office 2013 installation error – Unfortunately, this did not work