When updating Java or updating Java , the error message is very common
Java update not completed – error code 1603
Below you can see the original Java error message that occurred when performing a Java update.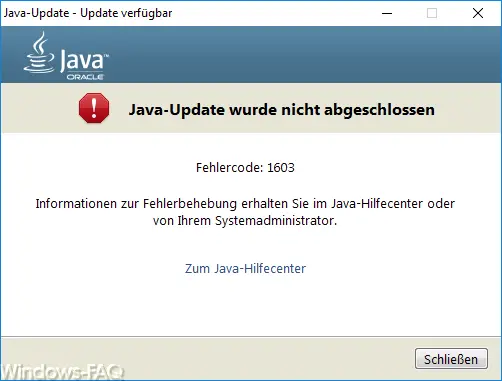 Unfortunately, the error message does not provide any precise information about where the actual Java update problem is. According to our information, this problem occurs particularly frequently with Java versions 7 and 8, with the newer Java versions the 1603 error occurs only occasionally. But you can do the following to get the problems under control.
Uninstall the old Java version
If you get the Java update error 1603 , you should uninstall your already installed Java version via " Programs & Features " (appwiz.cpl) and then start the Java download manually. It is best to download the Java offline installation program and start the Java installation program after the download .
However, you should reboot your PC before you install the new Java version .
Disable Java content in the browser
Before you carry out the Java update, you should open the Java Control Panel via the Windows Control Panel in the event of an error 1603 . There is the point in the " Security " tab
Activate Java content in the browser
as you can see below.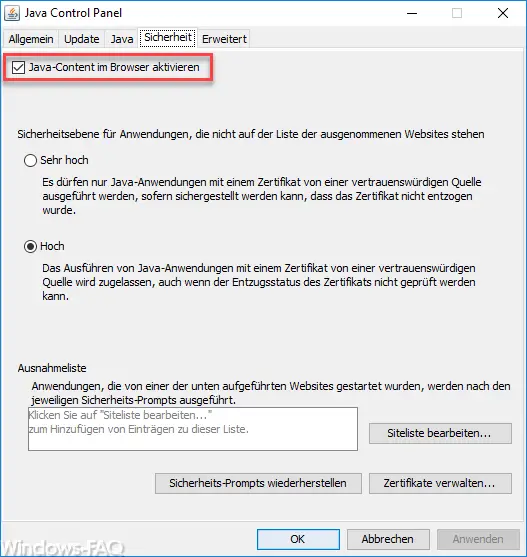 You should deactivate this option first. Then also download the offline Java installation package, carry out the installation and, after the successful Java update, reactivate this option with regard to the Java content.
These two options should lead to the desired success and you should no longer receive error code 1603 when you upgrade Java . This procedure works for both the 32-bit and 64-bit Java versions.
In the past we have often reported about Java and many other Windows bugs and bug fixes. We have listed some interesting reports for you here.
– Deactivate automatic Java updates
–
Switch off the Java warning "Security threat in application components " – Windows App Store error code 0x8024500c
– Error message "The stub received incorrect data"
– Repair Windows component stores with DISM and PowerShell commands
– Windows Store error message 0x80096004
– Printer error message 0x803c010b
– 0x80246003 Windows Update error Office Validation add-in