A fairly new and good feature in the new Edge Chromium is the customization of new tabs that you can open. Microsoft offers 3 ready-made designs for this, but you can also customize this display to a certain extent.
In this short Edge Chromium tutorial we show you the new tab displays and how you can adjust them.
The quickest and easiest way to do this is to call the URL
edge: // settings / newTabPage
This looks like this in the Edge Chromium.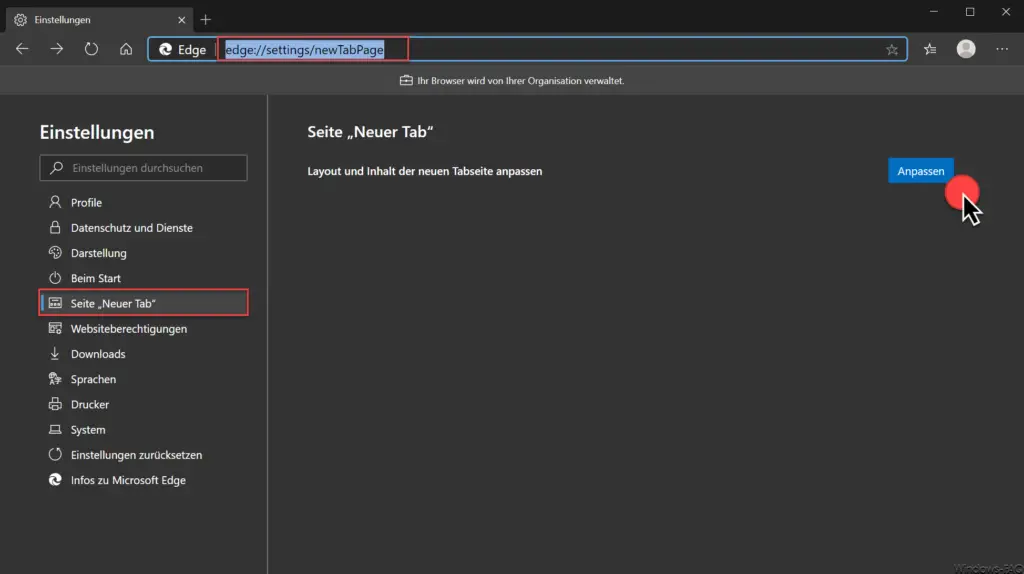 You will then automatically land in the Edge Chromium settings in the area
New Tab Page
The only function that is currently available here is as follows
Adjust the layout and content of the new tab page
After clicking on Customize, another small menu appears, in which you can see the following tab options for the page layout .
Focused
Inspiring
Informative
Custom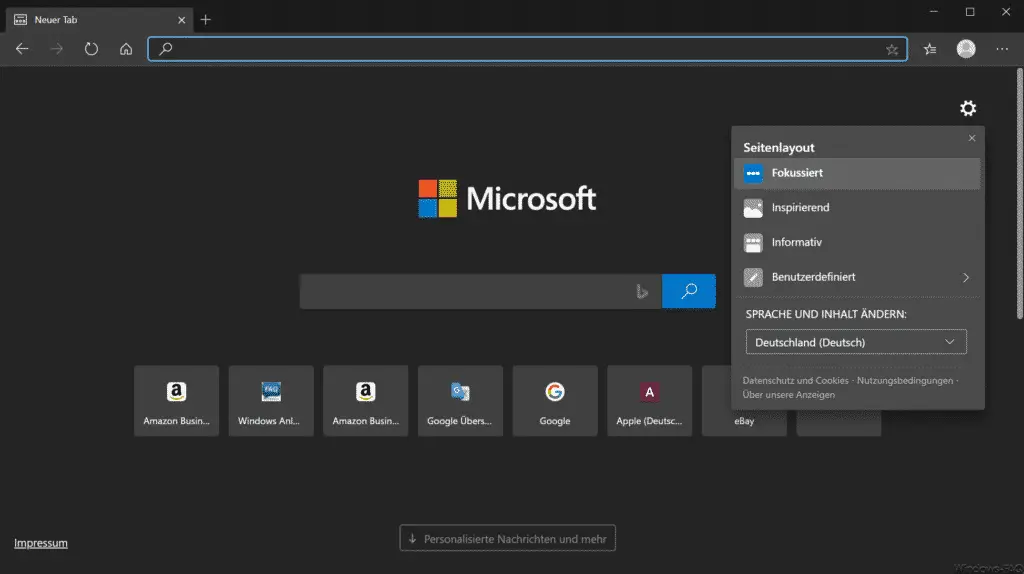 In the picture above you can see the tab layout "Focused" . This new layout for new tabs only shows the Bing search line and the quick start links . This allows the user to concentrate on the essentials and is not distracted by unnecessary information.
The " Inspirational " layout , however, looks like this.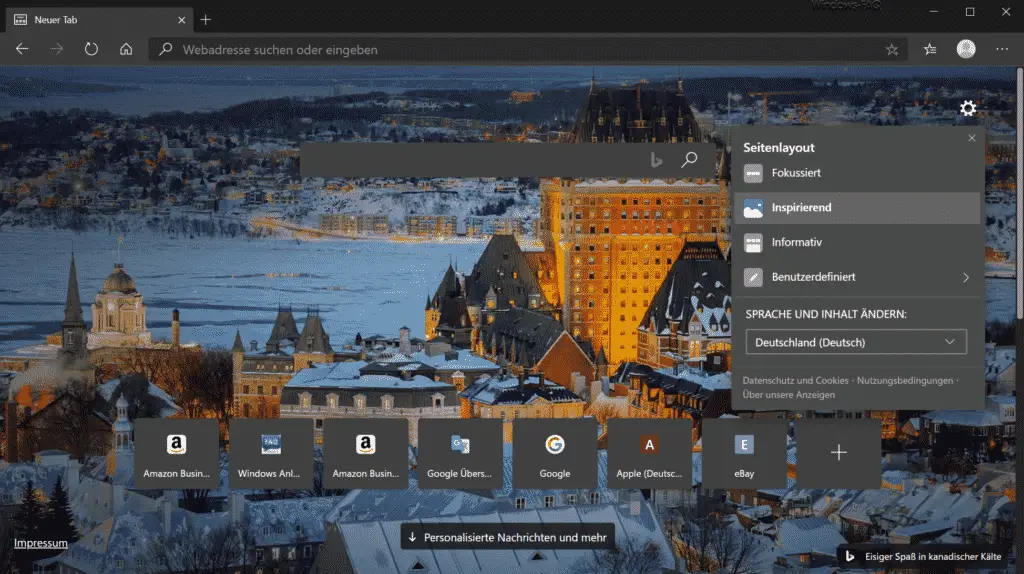 Here, a Bing background is displayed in the Edge Chromium as a background image, as well as the quick start icons for the most visited websites recently.
The " Informational " layout then looks like this.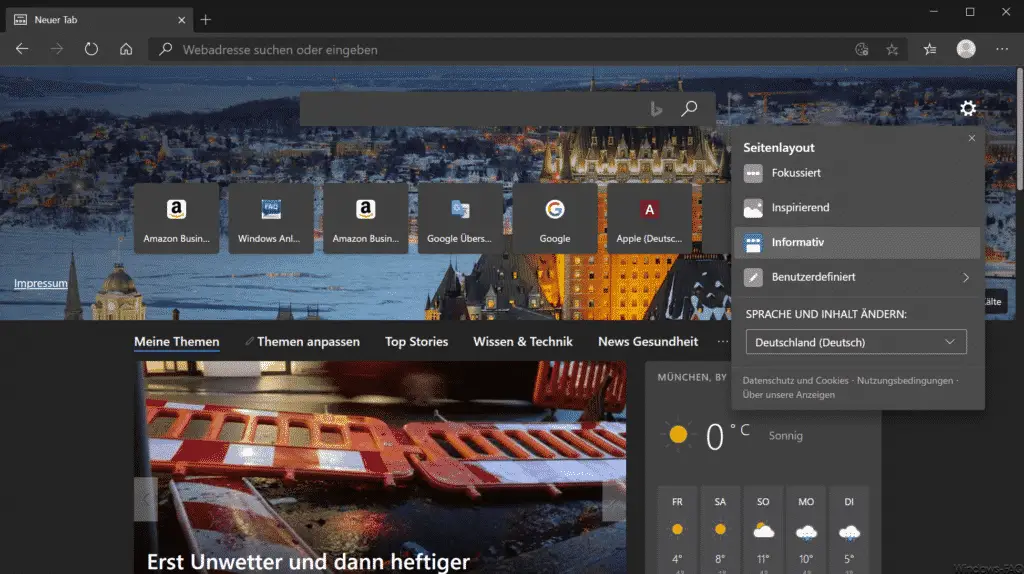 Here you can see not only the Bing search field , the quick links , but also the latest news .
But you can also configure the settings yourself to a certain extent. Of course, this then works via the " User-defined " layout . The following tab design options are then available to you.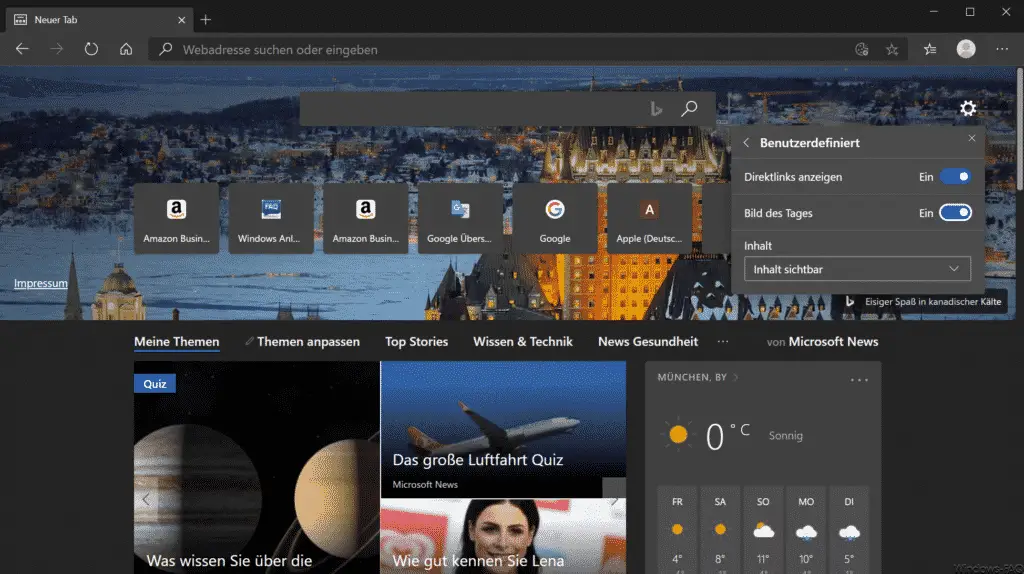 Here you can define whether the direct links should be displayed or whether the Bing background image should be displayed. Via " Content " you can then define which " message content " should be displayed.
This gives you extensive options for how you want to design new tabs in the new Edge Chromium .
You can find more information about the new Edge Chromium in these articles.
– Prevent the new Edge Chromium from running in the background
– Change the default search engine provider in the Edge Chromium
– Useful keyboard shortcuts from the Edge Chromium
– Overview of the Edge Chromium URLs for quick access
– Download the final Edge Chromium (stable) official version
– favorites, bookmarks , Transfer passwords from other browsers to the Edge Chromium
– Prevent Microsoft Edge update to Edge Chromium