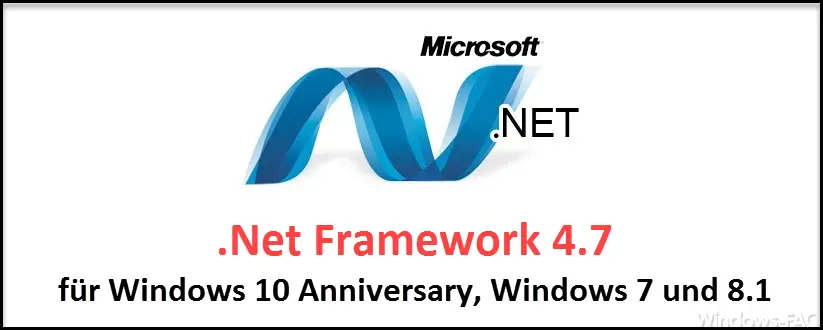 Microsoft has the brand new .Net Framework 4.7 for the following operating systems tonight (03.05.2017)
Windows 10 version 1607 anniversary
Windows 8.1
Windows 7
Windows Server 2016
Windows Server 2012 and 2012 R2
Windows Server 2008 R2 SP1
released.  This is new for the Windows 10 Creators Update (version 1703). Net Framework 4.7 version not, because the Creators Update already contains version 4.7. All other listed Windows versions can now download the update , you will find the download links at the end of this entry.
Changes and adjustments were made in this new .Net Framework Release in the following areas .
Core
Networking
ASP.NET
Windows Communication Foundation (WCF)
Windows Forms
Windows Presentation Foundation (WPF)
In addition to new functions, some bugs of the previous .Net Framework versions have of course been fixed . You can find more detailed information on this new .Net Framework Upgrade from Microsoft in the documentation "What's New in the .Net Framework".
ATTENTION: When installing the .Net Framework 4.7 under Windows 7, Server 2008 R2 and Windows Server 2012 you have to consider something, because the setup is blocked there. There are problems with the % windir% system32 D3DCompiler_47.dll file . Microsoft has specially created a good documentation for how you have to prepare your system so that you can then install .Net Framework 4.7. You can find this under " The .NET Framework 4.7 installation is blocked on Windows 7, Windows Server 2008 R2 and Windows Server 2012 because of a missing d3dcompiler update ". 
Below you will find the download links for the .Net Framework 4.7
– Microsoft .NET Framework 4.7 (Web Installer)
– Microsoft .NET Framework 4.7 (Offline Installer)