The Windows Task Manager should be most Windows users a bell. Unfortunately, you can do a lot of things with it, especially inexperienced Windows users can use it to end processes or programs that may cause problems. For this reason, it is sometimes quite desirable for the task manager call to be blocked .
Deactivate Task Manager via GPO
In principle, this is possible, the easiest way using a group policy. In the group policy editor (gpedit.msc) there is a suitable GPO in the user GPOs. You can find them under the following registry branch.
User Configuration / Administrative Templates / System / CTRL + ALT + DEL (Options)
There is the following group policy
Remove Task Manager
We have shown this to you below.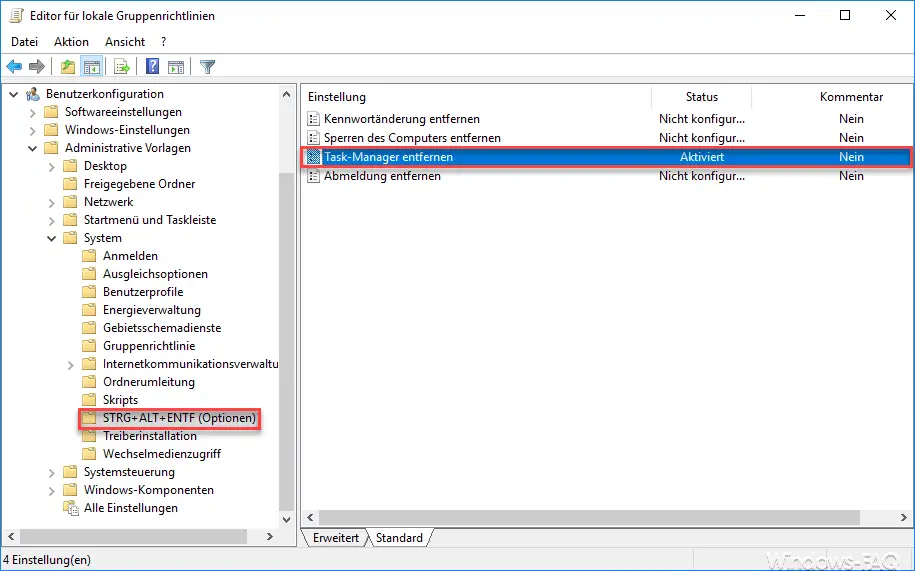 You just have to " activate " this group policy " Remove Task Manager ". Microsoft has released the following information about this GPO.
This policy setting prevents users from starting Task Manager.
With the Task Manager (taskmgr.exe) can start user programs and exit, monitor the performance of their computers, all running programs on the computer ( including system services show) and monitor, identify the name of the executable files of the programs and the priority of the process change in which a program is executed.
If you enable this policy setting , users will not be able to access Task Manager. When users try to start Task Manager, a message appears stating that a policy setting is preventing the process.
If you disable or do not configure this policy setting , Task Manager enables users to start and stop programs, monitor the performance of their computers, view and monitor all programs running on the computer (including system services), determine the names of the programs' executable files, and change the priority of the process in which a program is running.
Immediately after the adjustment, the task manager can no longer be called up under the logged on user .
Here you can see that the task manager is no longer available after pressing the key combination " CTRL + ALT + DEL ". This is then no longer visible to the user.
However, calling from the Windows taskbar is no longer possible. The " Task Manager " entry is still visible, but is grayed out and can no longer be clicked on.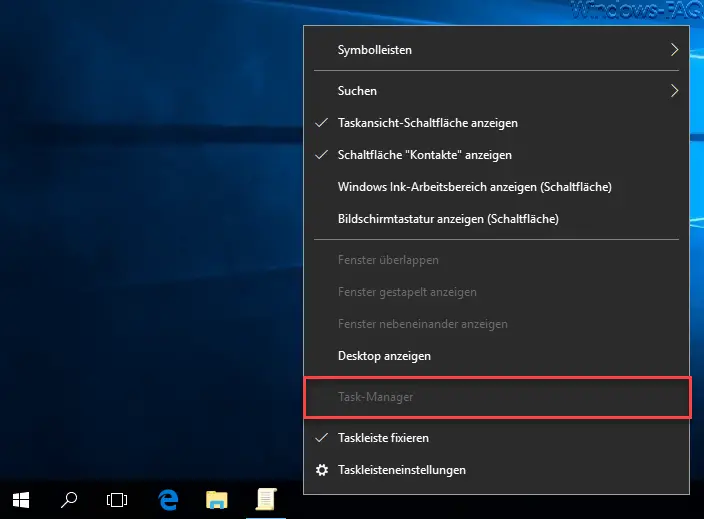 You can of course reactivate the Task Manager by simply setting the GPO to "Not configured".
You can find more interesting Windows tips here:
– How can a program or task be ended
– Quickly switch between user accounts in Windows 10 (Fast User Switching)
– Remove "Execute" from the start menu and prohibit it for the user
– Activate Godmode in Windows 10 – Display
WSUS activities and check client connections