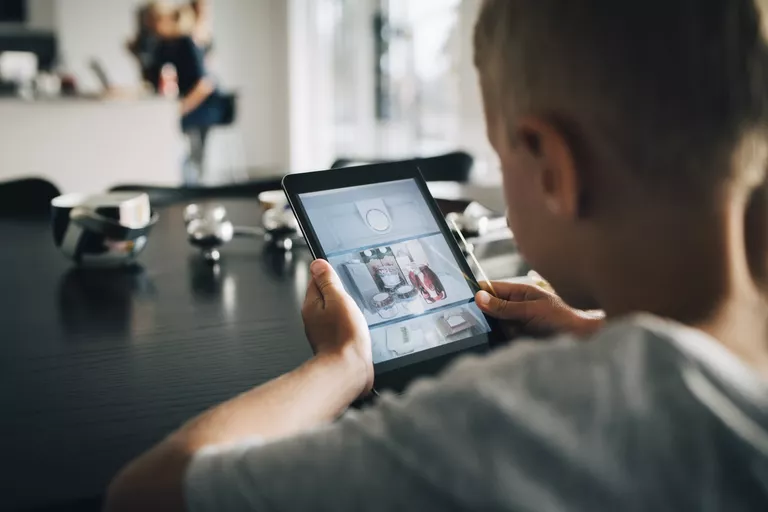 Taking a Kindle Fire screenshot is easy if you have an Amazon Fire HD or Fire HDX tablet. Let's learn how to capture, save and share what you see on the screen.
While early generations of Kindle Fire tablets didn't natively support screenshots, newer Fire tablets make the process a breeze. The original Kindle Fire is no longer in production, but most people still call Amazon Fire tablets "Kindle Fire." Therefore, Fire HD and Fire HDX tablets will be referred to as "Kindle Fire" in this tutorial, as the instructions for taking screenshots are the same for all generations after 2012.
How to Take and Save a Kindle Fire Screenshot
To take a Kindle Fire screenshot, simply press and hold the power and volume down buttons at the same time.

These buttons are located on the side of your tablet. Your exact location may vary depending on which Fire generation you have, but if you can turn on your device then it should be pretty obvious.

After holding both buttons for about a second, you should hear a chime and see a smaller image of your screenshot appear briefly in the center of the screen. The screenshot will automatically save to your device's internal storage.
You must press both buttons simultaneously. If you press the volume down button before you press the power button, the volume bar on the screenshot may appear.
It is possible to take landscape or portrait screenshots of Kindle Fire; however, Amazon tablets have a built-in feature that prevents users from taking screenshots of videos, so you can't capture still images from Netflix or Hulu.
How to Find Screenshots Taken on Kindle Fire
To view Kindle Fire screenshots on your device, simply tap the Amazon Photos icon on the home screen.

If you have a newer Fire tablet, there's also a Photos tab on the top menu bar, you can tap to open the Photos app.

With Amazon Photos open, you should see your most recent screenshot along with any other photos you've taken or downloaded.
From here, you can upload your screenshots to your Amazon Cloud Drive, which allows you to access your images on any device. Simply tap an image to view it full screen, tap the three vertical dots in the top-right corner of the screen to open a drop-down menu, then tap Upload .
When viewing all your photos, those that have not been transferred to the cloud will have a cloud with a slash in the lower right corner of the image.
See Amazon Cloud Drive: Store and Share Your Video Files for more tips on how to get the most out of your Amazon Cloud Drive.
How to Transfer Kindle Fire Screenshots to a Computer
To transfer Kindle Fire screenshots to a Windows PC:
First of all, connect both devices to each other using a USB cable. You can use the cable that came with your Fire tablet or any micro USB to USB cable.
Once the devices are connected, open the USB drive on your computer and navigate to Kindle > Internal Storage > Pictures > Screenshots .
If you have a Mac, you must download the free Android File Transfer app before you can transfer files directly from your Kindle Fire to your computer. To transfer Kindle Fire screenshots to a Mac:
On your Mac, visit android.com/filetransfer in any web browser and follow the installation instructions.
With the app installed on your Mac, connect your Kindle Fire using a USB cable. The transfer application will start automatically.
In the Android File Transfer app window, go to Pictures > Screenshots .
Alternatively, if you have uploaded your photos to the cloud, you can download them from your Amazon Cloud drive.
How to Share Screenshots Taken on a Kindle Fire
To share your screenshots via email or social media:
Open Amazon Photos .
Touch the desired image to view it full screen.
Tap the three connected dots in the top right corner of the screen (directly to the left of the three vertical dots) to bring up an app menu in the center of the screen.
Tap the email app or social media app you want to use to share your photo
If you haven't yet synced your Kindle Fire with your email or social media accounts, your device will guide you through the process before your image is posted to Facebook, Tumblr, or wherever you want it to be seen.
When you email photos from your Kindle Fire, they are sent as attachments, so the recipient must download the file before they can view it.
It is even possible to send Kindle Fire screenshots via text message with the help of apps like Tablet Talk, TextMe or Skype. These apps allow you to sync your tablet with a smartphone so you can send and receive text messages from your Kindle Fire. Unless your device supports 4G, you'll need a Wi-Fi connection to send text messages from your tablet. Please note that your carrier's text message charges will apply.