With the update KB4495667 for Windows 10 version 1809 and Windows Server 2019 , Microsoft has released another cumulative update. The update increases the Windows 10 version number to 17763.475 .
You can download the update  KB4495667 directly from the Windows Update Catalog. At the end of this article we have listed the direct download links for you . Also is the update KB4495667 through Windows Update, as you can see on the picture below.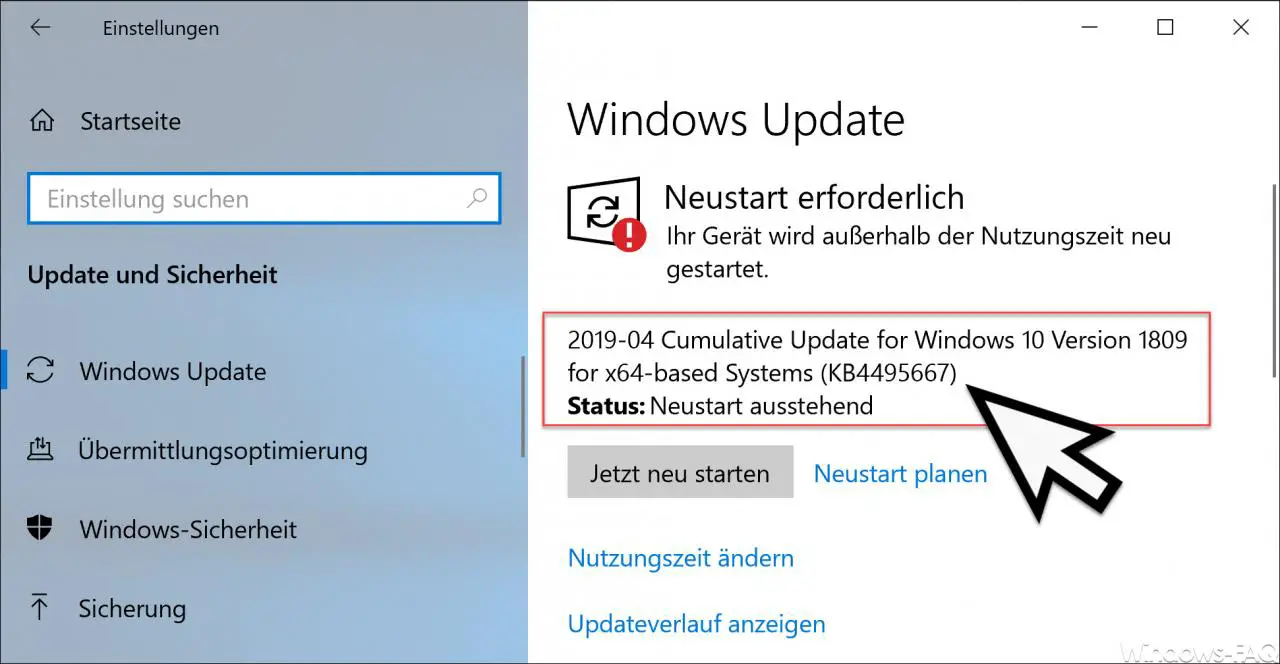 The following information is known about the update KB4495667 .
Update KB4495667 enables the built-in administrator account to run Microsoft Office Setup after the installer is downloaded in Microsoft Edge .
It fixes an issue where Internet Explorer automation fails in certain cases.
Addresses an issue where user handlers with custom application protocol URI schemes may not launch the appropriate local intranet and trusted sites application in Internet Explorer.
Addresses an issue that prevents certain apps from starting if you set folder redirection for the Roaming AppData folder to a network path.
Addresses an issue in the Gdi32full.dll file that has caused an application to stop responding.
Resolves an issue that caused the user interface to stop responding for a few seconds when scrolling in windows with many child windows.
Update KB4495667 fixes an issue that could cause a touchscreen to stop working after restarting.
It activates a touch keyboard to support new Japanese eras.
Also fixes all problems with Japanese settings like the update  KB4501835 .
It improves access to detailed troubleshooting and diagnostic logs from managed devices, such as: B. Business PCs when using a PC cloud management service. PC cloud management services include Microsoft Intune or other Mobile Device Management (MDM) providers for Windows.
The KB4495667 update fixes an issue that could result in a user still being able to log on to an account using a smart card after the account is deactivated.
Addresses an issue that prevents access to corporate resources when using Kerberos with Windows Hello for Business credentials (WHfB). This gives users multiple prompts for their credentials.
Addresses an issue in which a PostScript printer occasionally uses the wrong font.
Addresses an issue that causes LDAP client applications (LDAP clients) to stop responding for at least 30 seconds when many LDAP queries are requested across multiple connections. This occurs due to a race condition in wldap32.dll. You must install this update on the LDAP client that runs the wldap32.dll file.
Addresses an issue where a user with a roaming profile will lose their custom start menu settings after upgrading the operating system . After installing this update, administrators must enable the UseProfilePathMinorExtensionVersion registry setting described in KB4493782 for roaming user profiles (RUP). With this key, you can create a new RUP for an updated operating system and prevent the loss of a custom start menu. The RUP must be saved locally and you must restart the device to activate the function.
Addresses an issue where connection requests to the Remote Desktop Session Host (RDSH) servers fail in the deployment. This problem occurs because of a deadlock in the Connection Broker.
Cumulative update KB4495667 resolves an issue that can prevent Cluster Aware Update nodes from restarting when a cluster's credentials are reset. Cluster Aware Update must restart the nodes after installing an update. The error is the following: "Error restarting" NODENAME ": (ClusterUpdateException) Error restarting" NODENAME ": (Win32Exception) The user name or password is incorrect."
It fixes a gradual memory leak in LSASS.exe on systems where the login is cached . This problem primarily affects servers that handle many interactive login requests, such as web servers.
Addresses an issue in which a Lightweight Directory Access Protocol (LDAP) query returns incorrect results. This occurs when a filter clause contains an attribute that has Large Integer syntax and the filter uses the LDAP_MATCHING_RULE_BIT_AND rule. For example, a simple filter like "msExchRoleAssignmentFlags: 1.2.840.113556.1.4.803: = 51539607552" may not return matches if it does.
Update KB4495667 fixes a problem that prevents Print Workflow Applications for Point and Print from starting .
Addresses an issue that could cause Universal Windows Platform (UWP) apps to not receive keystrokes when the UI thread is too busy. This problem occurs when the UWP app has an embedded WebView control.
Here you can find the direct update KB4495667 download links .
– Download 2019-04 Cumulative Update for Windows 10 Version 1809 for x64-based Systems (KB4495667)
– Download 2019-04 Cumulative Update for Windows 10 Version 1809 for x86-based Systems (KB4495667)
– Download 2019-04 Cumulative Update for Windows Server 2019 version 1809 for x64-based systems (KB4495667)