Today we want to report again about the update KB4346783 for Windows 10 version 1803 Spring Creators Update , because many users report significant problems with this update.
Microsoft already released the update KB4346783 on 08/30/2018 and it is also a cumulative update for Windows 10 version 1803. It raises the Windows build number to version 17134.254 . The update can be downloaded and installed via Windows Update and the Windows Update Catalog.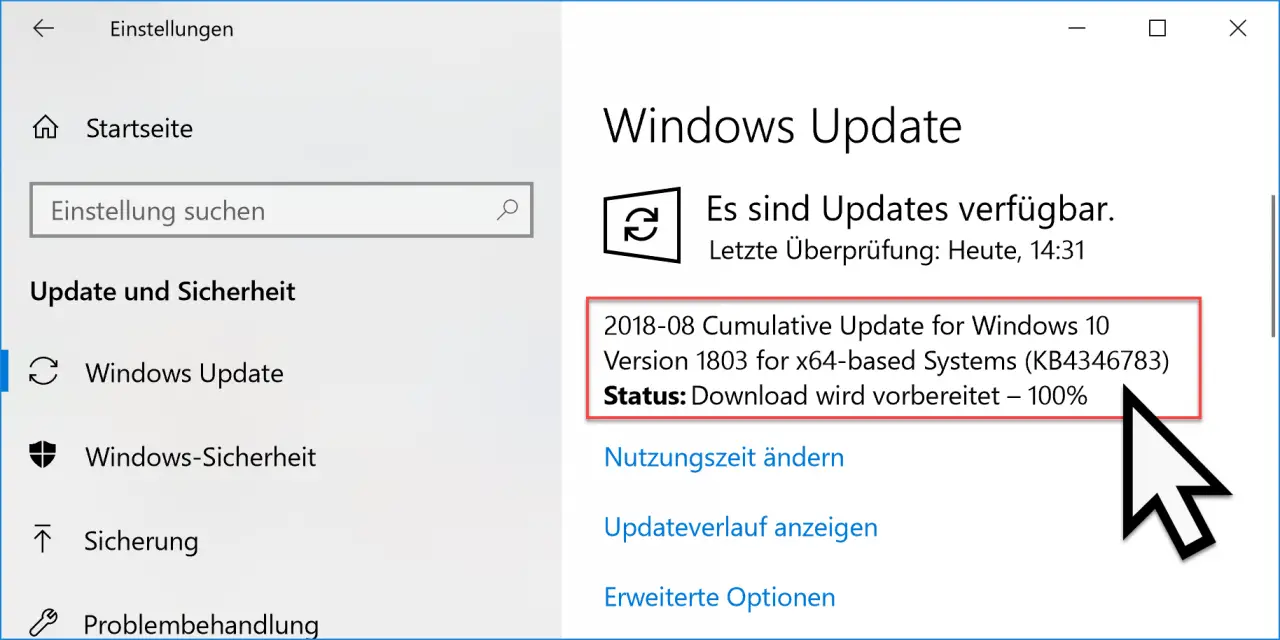 The update KB4346783 includes the following changes in the 1803 version of Windows 10.
The KB4346783 update  addresses a problem in Microsoft Foundation Class applications that can cause applications to flicker.
Addresses an issue in which touch and mouse events were handled differently in Windows Presentation Foundation (WPF) applications that have a transparent overlay window.
It eliminates a reliability problem in applications with extensive window nesting .
Addresses issues in the Universal CRT that sometimes causes AMD64 FMOD to return an incorrect result on very large inputs.
Addresses universal CRT issues that cause the _get_pgmptr () function to return an empty string and that isprint () returns TRUE for a tab when using the C locale.
Addresses an issue in which Microsoft Edge or other UWP applications cannot perform client authentication when the private key is stored on a TPM 2.0 device.
Enrolling or renewing computer certificates could cause problems after installing the April 2018 update, causing the installation to fail with an " Access Denied " error . This issue occurs when the registration process has a lower process ID (PID) than any process other than SYSTEM.
Addresses an issue that in some cases resulted in decrypted data not being deleted from memory after a CAPI decryption operation was completed.
The KB4346783 update  resolves an issue that prevented the Device Guard PackageInspector.exe application from containing all the files necessary for the application to run properly after the code integrity guidelines are completed.
It fixes an issue where not all network printers are connected after a user logs on. The key


HKEY_USERS User Printers Connections

shows the correct network printer for the affected user. However, the missing list for network printers from this registry key is not populated in any app, including Microsoft Editor, or in devices and printers. Printers can disappear or stop working.

This update KB4346783 fixes a problem that prevents printing on a 64-bit operating system if 32-bit applications can be imitated by other users (usually by calling LogonUser). This problem occurs after installing monthly updates, starting with KB4034681, released in August 2017. Install this update, and then do one of the following to resolve the problem for the affected applications:
Use the Microsoft Application Compatibility Toolkit To globally enable the Splwow64Compat App Compat Shim
Use the following registry setting and restart the 32-bit application:

HKEY_LOCAL_MACHINE SystemCurrentControlSet Control Print
Setting: Splwow64Compat
Enter the following: DWORD
Value : 1

Addresses an issue in which WLAN EAP-TTLS authentication (CHAP authentication) fails when a user stores credentials before authentication .
It fixes a problem that causes devices with the 802.1x Extensible Authentication Protocol (EAP) to randomly stop using the stop code


" 0xD1 DRIVER_IRQL_NOT_LESS_OR_EQUAL "

work. The problem occurs when the kernel storage pool becomes corrupt. Crashes will usually occur in nwifi.sys.

This update KB4346783 resolves issues with a Dynamic Host Configuration Protocol ( DHCP) option that can be removed from a reservation after changing the DHCP scope settings .
The update extends the Key Management Service (KMS) to support the upcoming Windows 10 client editions Enterprise LTSC and Windows Server. See KB4347075 for more information.
You can download the update KB4346783 directly here.
– 2018-08 Cumulative Update for Windows 10 Version 1803 for x64-based Systems (KB4346783)
– 2018-08 Cumulative Update for Windows 10 Version 1803 for x86-based Systems (KB4346783)
– 2018-08 Cumulative Update for Windows Server 2016 Version 17803 for x64-based systems (KB4346783)