Microsoft released another cumulative update called KB4051033  for Windows 10 Version 1607 Anniversary last night (November 27, 2017) . The update KB4051033 is now available via the integrated Windows Update function as prepared via the Windows Update Catalog to download. Below you can see the update for a current Windows 10 Anniversary installation.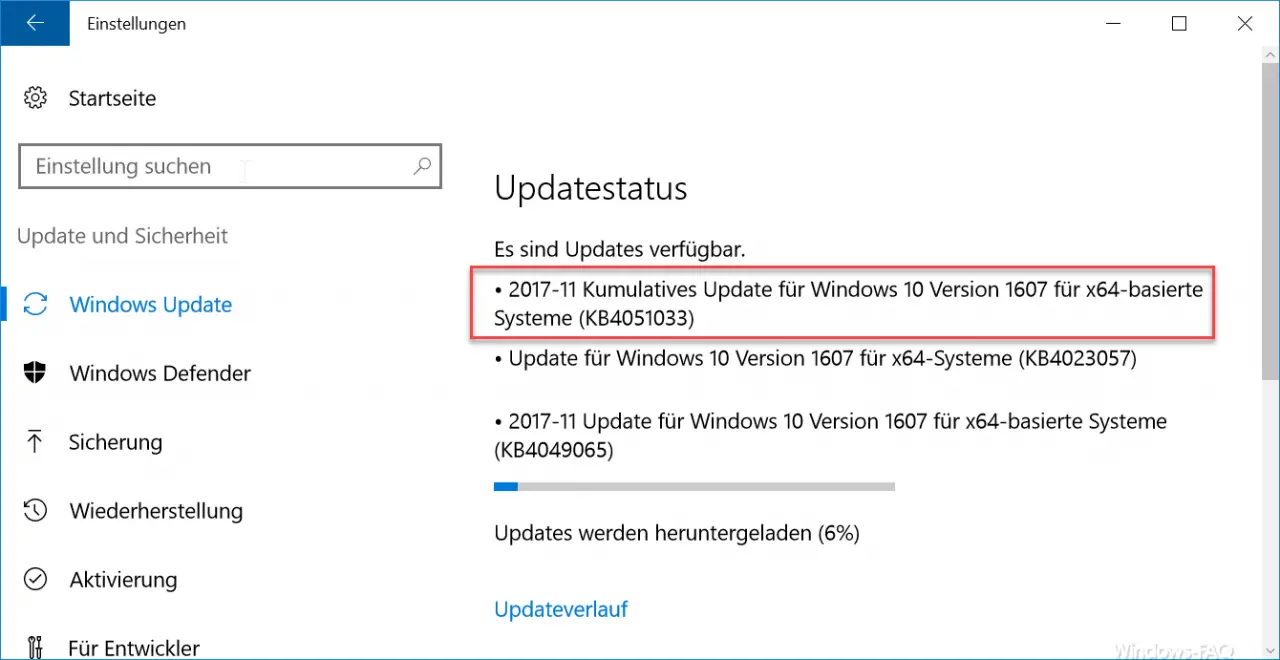 After installing this update, your Windows version will show build number 14393.1914 . No new functions have been included in this update KB4051033 . As always, it is an update to correct errors and improve stability. Microsoft has released the following information about this update.
Computers with display devices connected to 3 or more USB ports could experience display problems.
Fixed an issue where a Windows service could not start when two or more services use the same built-in account (e.g. NetworkService or LocalService ). When this problem occurs, the faulty service reports the error " The service did not start due to a login error " or " A specified login session does not exist. It may have already ended. "
Scheduled tasks with saved credentials did not run when credential protection was enabled. The task fails and reports event ID 104 with the following message: "The task planner could not log on to ' Test'. Error occurred in ' LogonUserExEx '. User Action: Make sure that the credentials for the task are correct. Additional data: Error value: 2147943726. 2147943726: ERROR_LOGON_FAILURE (The user name or password is incorrect). "
During BitLocker decryption or encryption of a drive, files associated with the Encrypting File System Encrypting File System (EFS) are protected from being damaged.
Opening Microsoft Office files from a file server with Windows Information Protection enabled could fail with the error " Unfortunately we were unable to open document xxxx ".
Fixed an issue where a Storage Spaces Direct (S2D) drive that failed or was removed from a node was incorrectly reported in the Admin Tools as healthy. These tools include Get-Physical Disk, Server Manager, and Failover Cluster Manager.
Fixed an issue where a repair job could be suspended indefinitely after adding a node to an S2D cluster .
An incomplete storage space repair could lead to incorrect metadata.

A token leak in the " services.exe " file has been fixed that occurs after using MS16-111 / KB3175027 . This results in a kernel session object leak that degrades system performance over time. This applies in particular to terminal server implementations , in which more user logins generally occur.
Fixed an issue with AppProxy that prevented mobile devices from connecting to a network.
Addressed issue where Remote Desktop Redirection Policy does not take effect when reconnecting to an existing session and changing the policy between the first connection and the reconnection to the session.
In an environment other than English, the OEM OOBE process could not be terminated when creating a failover cluster. This process fails with the error message " No integration component with the specified name was found. "
Improved performance when querying file system formats from direct access storage devices .
Fixed an issue associated with the Cluster Health Policy for handling unresponsive cluster drives. By default, drives are pulled back in unresponsive conditions.
Improved performance when starting applications that use the Virtual Disk Service to manage volumes.
Fixed an issue that affected some Epson SIDM (dot matrix) and TM (POS) printers that could not print on x86 and x64 based systems. This problem affects update KB4048953 .
You can download the update KB4051033  directly here below .
– 2017-11 Cumulative Update for Windows Server 2016 for x64-based Systems (KB4051033)
– 2017-11 Cumulative Update for Windows 10 Version 1607 for x64-based Systems (KB4051033)
– 2017-11 Cumulative Update for Windows 10 Version 1607 for x86 -based systems (KB4051033)