Microsoft released update KB4016251 for Windows 10 Creators Update Version 1703 last night . Immediately after the official download of the Creator Update is released, we already reported about it in our article " Update Windows 10 to version 15063 Creators Update (Build 15063.013) " yesterday , the first Creators Update with the designation KB4016251 is coming .
After installing the Creator Update, depending on the Windows version installed, you may find either build 15063.0 or 15063.13 after installation . This new update KB4016251 only needs to be installed if you find version 15063.0, as can be seen in the following image.
You can download the update KB4016251 via the Windows Update Catalog or via the links at the end of this entry. Because the update files are very small, the update runs very quickly.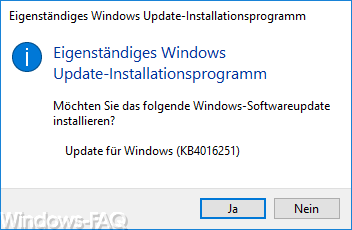 Finally, a reboot of your Windows 10 Creators Update is necessary. Only then is your Windows 10 version 1703 on the latest build 15063.13, as you can see below.

Below we have listed the two download links for update KB4016251 . The following changes are included in this update:
Resolves an issue with  Windows Audio Device Graph Isolation and a CPU endless loop due to defective APOs.
Fixes an installation problem with V3 XPS-based printer connections from Windows 10 clients before the Creators Update.
USB problem with Microsoft Surface in connection with Bluetooth and Windows hibernation.
Eliminates problems with possible system crashes in connection with virus protection drivers and DeciveGuard.

– Cumulative update for Windows 10 version 1703 for x64 systems (KB4016251)
– Cumulative update for Windows 10 version 1703 for x86 systems (KB4016251)