Microsoft has just released Windows 10 update KB4013429 . It is the first cumulative update for Windows 10 after 2 months since Microsoft canceled the so-called Windows Patchday in February 2017 .
This update with the designation KB4013429 brings your Windows 10 version to the current build number 14393.953 .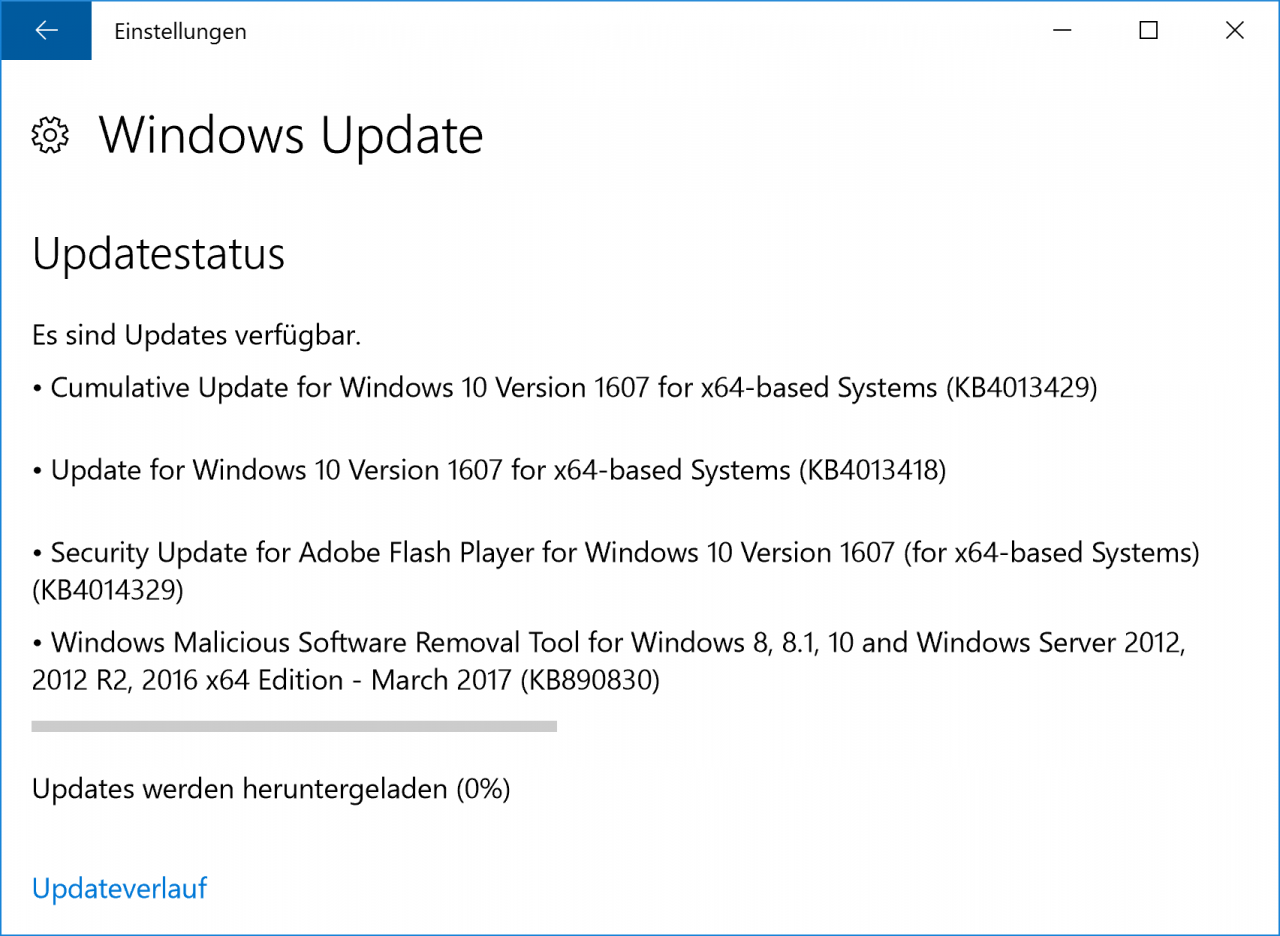 Since this is a cumulative update for Windows 10 , it includes all changes and improvements to the previously released cumulative updates since the release of Windows 10 Anniversary .

Microsoft has released the following changelog for update KB4013429 .
Previously there could be delays when running 3D rendering apps in connection with several monitors.
Fixes an error in update  KB3213986 , in which the Windows Cluster service may not start properly after a reboot.
Addresses an issue in the Active Directory Administration Center (ADAC) that could cause the console to crash after changing an AD attribute.
Japanese input method editor fix that may cause Windows windows to disappear.
Errors in the PowerShell cmdlet "Enable-ClusterS2D" are fixed.
So far there have been problems and crashes in the  Virtual Machine Management Service (Vmms.exe) console during the live migration of Hyper-V VMs. come.
Improves the bandwidth of SSD / NVMe drives.
Resolves problems with duplicate files in the Windows working folders (synchronization conflicts).
Remote desktop servers can crash with the 0x27 stuffing error in RxSelectAndSwitchPagingFileObject when RDP clients connect and use redirected drives, printers, or removable USB drives.
Troubleshoot the use of WSUS settings through Group Policy.
The update fixes errors that can cause the Windows tool Sysprep to crash.
Addresses an issue caused by using User Experience Virtualization (UE-V) roaming.
The local  security authority subsystem service may stop responding correctly after upgrading the operating system.
Troubleshoot Transport Layer Security authentication.
When using Japanese language settings, there may be sorting errors in the contact list.
Certain transactions can be terminated due to a lack of memory .
Resolves an issue with Internet Explorer 11 after installing KB3175443 .
Applications cause problems after using KB3185319 that use the VBScript module.
IE problems using CSS float style on a website
Multipath IO errors have been eliminated.
A bug has been fixed which prevented the establishment of VPN connections .
Addresses an issue where Microsoft SQL Server would take 30 minutes to shutdown if the server had more than 2TB of RAM.
Furthermore, numerous problems regarding time zones, Internet Explorer, the Windows file server, WLAN, map apps, display rendering, USB 2.0, Direct3D, Microsoft Edge, Windows Server Update Service (WSUS), RDP and Hyper-V were eliminated.
You can either get the update via the normal Windows Update function of Windows 10, or you can download the update KB4013429 from the Windows Update Catalog website . We have listed the links for direct download below, then you save yourself the detour via the Microsoft website.

– Cumulative update for Windows 10 version 1607 for x64-based systems (KB4013429)
– Cumulative update for Windows 10 version 1607 for x86-based systems (KB4013429)
Warning: Microsoft released a successor to this update on March 21, 2017, because there are errors in this update. The new update KB4015438 for Windows 10 version 1607 Anniversary should be used instead of this update for the installation.
Comment from 03/23/2017: 2 days after the first bug fix for the update KB4013429 was released, Microsoft has now released a second, bug-corrected update for Windows 10 Anniversary called KB4016635 . Users should use this new update to update to the latest Windows 10 version.