Microsoft released the KB3206632 update tonight for Windows 10 1607 Anniversary . It is again a cumulative update and the update KB3206632 thus replaces the November Windows 10 update  KB3200970 and also the incorrect update  KB3201845 from 09.12.2016.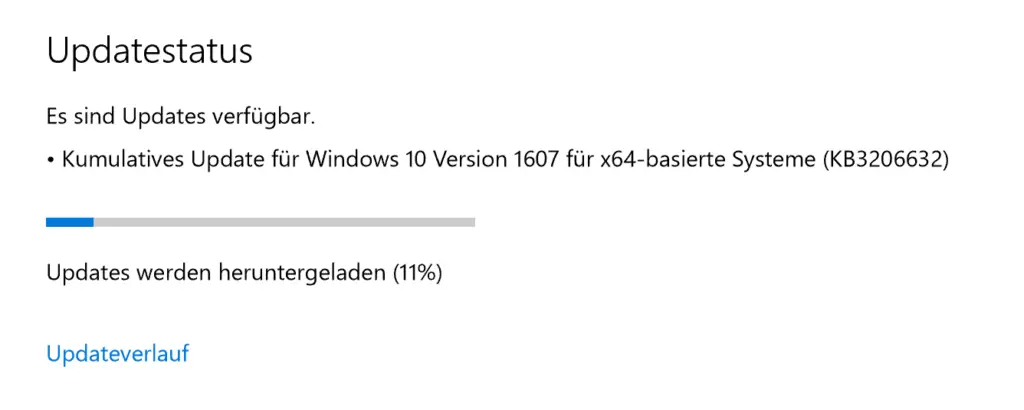 As of today, the Windows Update KB3206632 will be delivered via Windows Update, as you can see above. The update for Windows 10 32-bit comprises approx. 510MB, the x64 update, on the other hand, even 950MB.
After installation, the build number is raised from Windows 10 to build 14393.576 .

In order to be able to install this update KB3206632 at all, you must have already installed the  Servicing Stack Update for Windows 10 Anniversary 1607 with the designation  KB3199986 .
Below we have listed the changes that are contained in the update KB3206632 .
Increase the reliability of the Security Support Provider interface .
A problem in CDPSVC was fixed , which could lead to the Windows client not being able to obtain an IP address via DHCP.
Problems installing the module on a Windows Nano Server .
Fixed problems with Windows Hello and sleep mode .
Problems with Internet Explorer 11 have been fixed.
Computers connected to the Azure Active Directory and after upgrading to Windows 10 version 1607 were unable to sync with Microsoft Exchange .
Additional issues with app compatibility, updated time zone
information , Internet Explorer, security updates for Microsoft Edge, Microsoft Uniscribe and Common Log File System Driver have been fixed .

You can download the cumulative update KB3206632 here below:
– Cumulative Update for Windows 10 Version 1607 for x64-based Systems (KB3206632)
– Cumulative Update for Windows 10 Version 1607 (KB3206632)