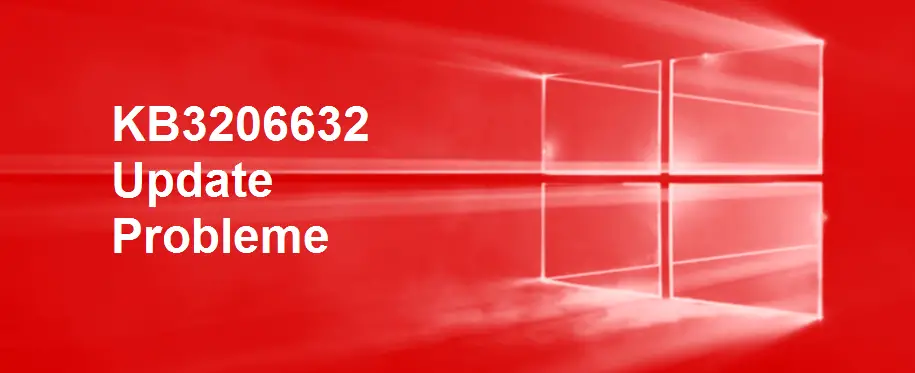 New problems with Windows Update KB3206632 . We have been told that there are again problems installing cumulative update KB3206632 from December 2016 on Windows 10 1607 Anniversary. Again, there are problems similar to the update problems from Windows Update KB3200970 , we have already reported on them in detail.
The Updaterproblemen from KB3206632 it manifests itself so that the download process again at about 90% depend remains and does not go on. No matter how long the Windows user waits, the update process will not continue. For some users, restarting and restarting the update process has solved the problem.
Other users report that the update processing stops at 0%, but the hard drives work almost to the stop and thus completely brake the Windows system. Why there is an update error and such a high disk load is still unclear. According to some reports on the Internet, Microsoft is already aware of the problems. However , we do not know whether they are already working on troubleshooting .
However, it is incomprehensible why the update problems occur again. The latest Windows 10 updates that Microsoft has released bring all the problems for a large number of Windows 10 users . Why Microsoft can't get these problems under control can only be speculated. However, the community that speaks out against Windows 10 is getting bigger. Using Windows 10 in a professional environment has become a huge problem, IT departments put enormous effort into dealing with the problems that arise every month so that users can work with your system normally.
If you also have problems with the update KB3206632 or another update, just leave a comment at the end of this article. As soon as Microsoft releases a solution to the problem, we will report it here.
Note from December 22, 2016: Microsoft has replaced the update KB3206632 with a new cumulative update KB3213522 . All further information about the new update can be found in our new entry " Update KB3213522 for Windows 10 Anniversary to Build 14373.577 ". 
Jan 11, 2017 note: Yesterday the latest cumulative update for Windows 10 Anniversary was released. It has the designation KB3213986 and you will find all the necessary information in the following article .
Below we have listed more reports about Windows Update problems .
– 0x80070490 Windows Update error code
– 0x80070003 error code during Windows Update
– Windows App Store error code 0x8024500c
– 0x80248007 error code during Windows Update
– Windows Update error code 0x80245006
– Windows Update error code 0x80240fff
– 0x8000ffff Windows error code
– 0x80072ee7 error code for Anniversary Download
– 0xc1900201 error code for Windows 10 Anniversary Update
– 0xc004f014 error code for Windows 10 Upgrade Home -> Pro