The jump lists ( jumplists ) under Windows 10 are a very pleasant function. If you right- click on one of your program icons in the Windows 10 task bar, Windows 10 shows you the files last used. In Word or Excel, for example, these are the most recently edited files.
Normally, the 12 jump list entries that Windows 10 suggests here by default are quite sufficient. However, it can make sense to expand this list. Unfortunately, Microsoft has not provided any setting options for the number of jump list entries in the Windows Explorer options . So you have to regulate this increase in Jumplist entries via the registry.
To do this, open the following registry path in the Windows Registry Editor (regedit.exe).
Computer HKEY_LOCAL_MACHINE SOFTWARE Microsoft Windows CurrentVersion Explorer Advanced
As a rule, there is the necessary value there
JumpListItems_Maximum
Not. In this case you have to create this value " JumpListItems_Maximum" as DWORD 32 bit. We have exemplified this below.

When entering the entries in the jump lists, it is best to make sure that you enter the number as a decimal number. Windows 10 accepts the value " 20 " (or hexadecimal 14) as the maximum jump list entries . Unfortunately, it is no longer possible to define more than 20 checklist entries.
After creating the registry key and specifying the entries in the jump lists, you have to restart the PC, because only then will this setting become active.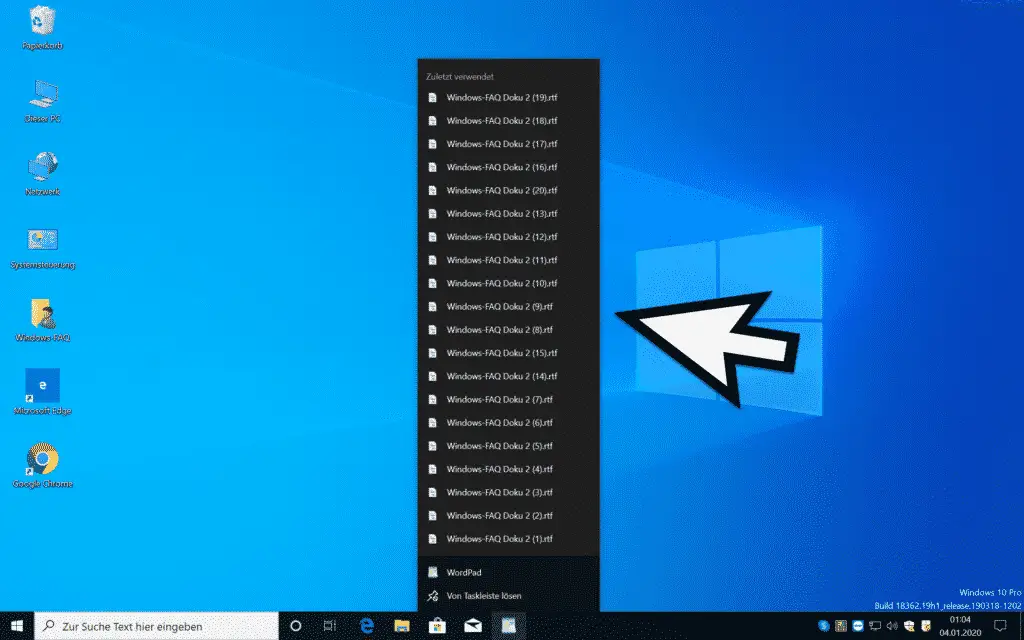 As you can see now, a maximum of 20 entries are now visible in the jump lists . You can of course adjust the number of jump list entries at any time or you delete the value " JumpListItems_Maximum " again, then the default setting of 12 jump list entries applies again.
In another post you can also read how you can also automatically delete this list of recently opened files from the jump lists .