We have already reported on the new security function " Windows Defender Application Guard " several times in the past few days. In this further WDAG tutorial we would like to show you how you can also use the Application Guard in the Google Chrome browser .
To do this, after installing Windows Defender Application Guard you have to install two more components so that you can also use WDAG in Chrome.
First of all you have to get the
Chrome Application Guard extension
download and install.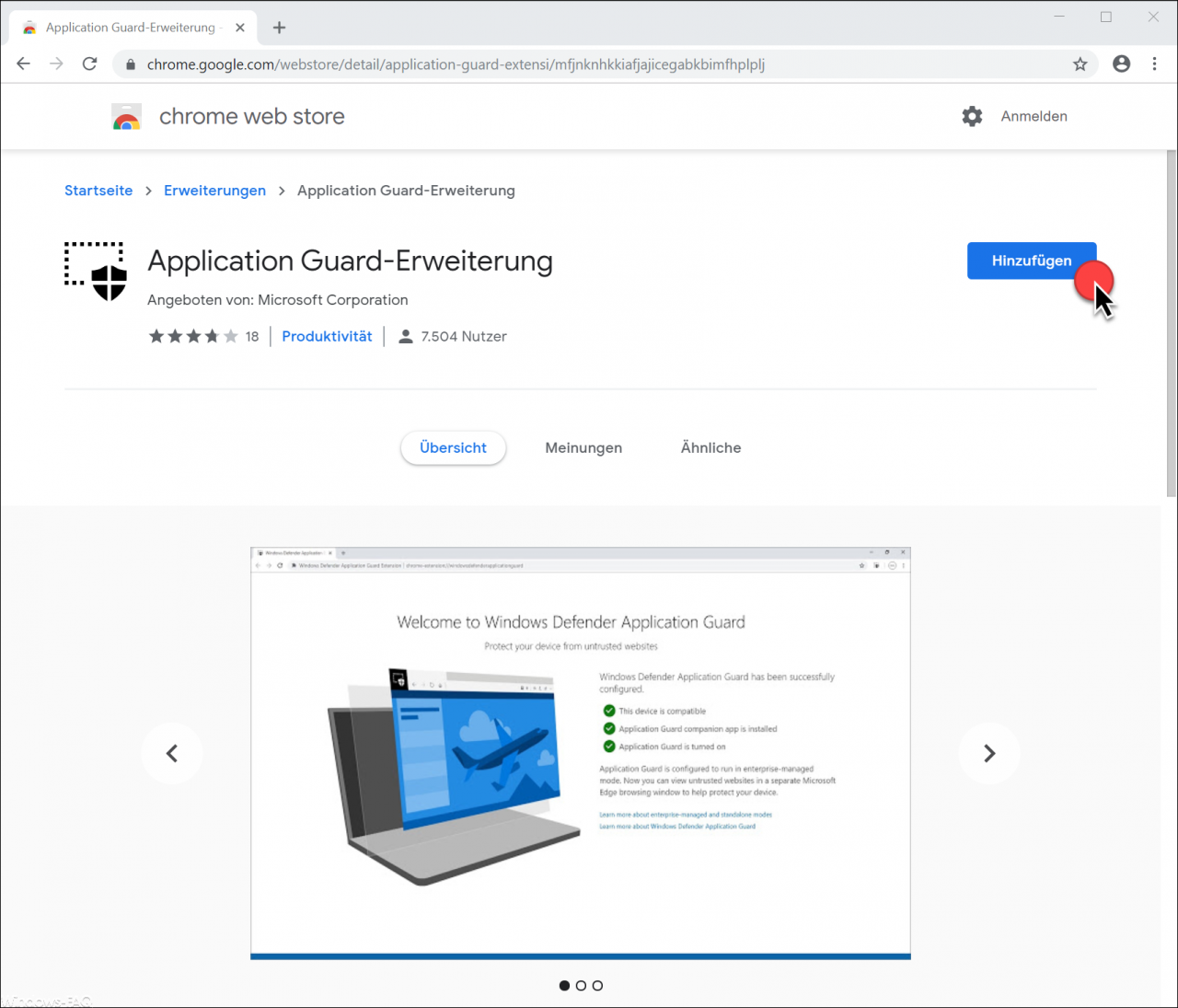 After you have installed the Google Chrome Application Guard extension , the Chrome browser checks your WDAG installation and shows the following WDAG components.
In the picture below you can see that the
Application Guard companion app
is still missing and needs to be installed.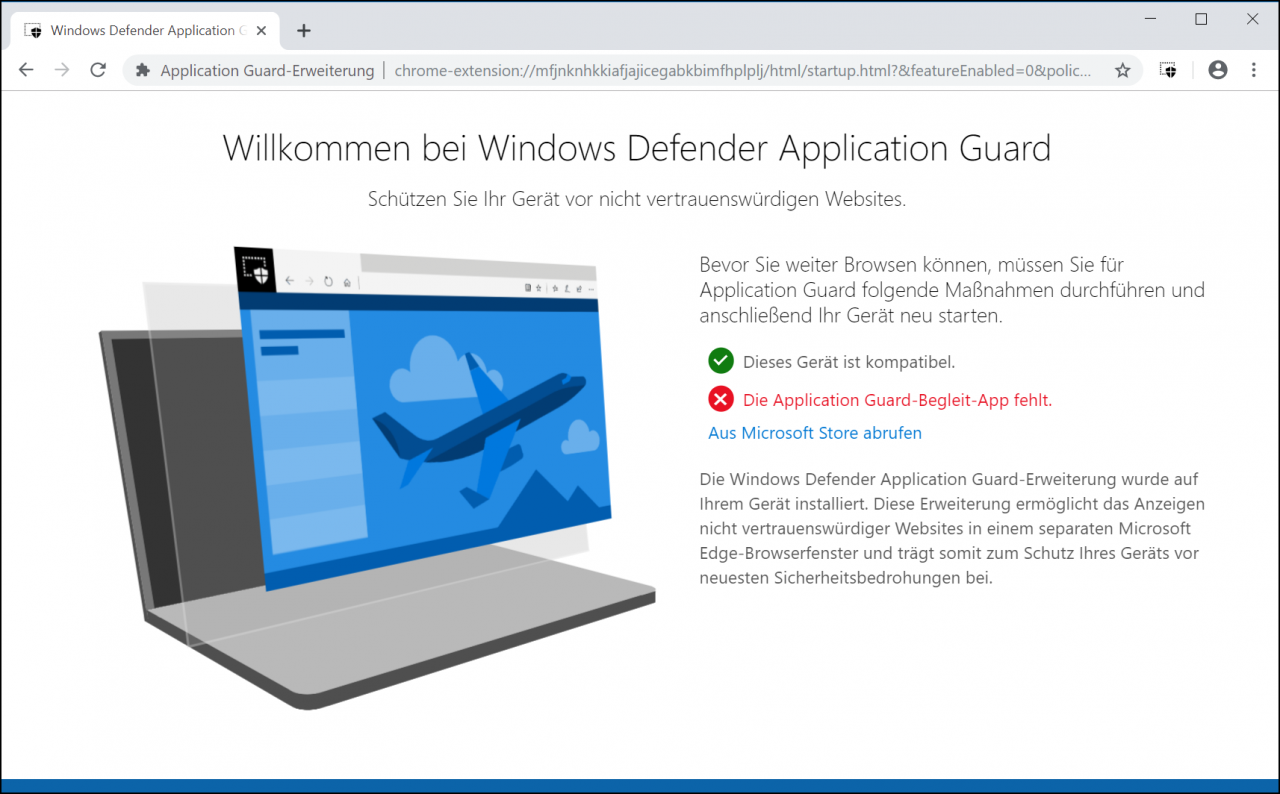 To install the Application Guard companion app, all you have to do is click on the "Get from Microsoft Store " link . Then the Microsoft Store opens and shows you the app
Windows Defender Application Guard Companion
to download.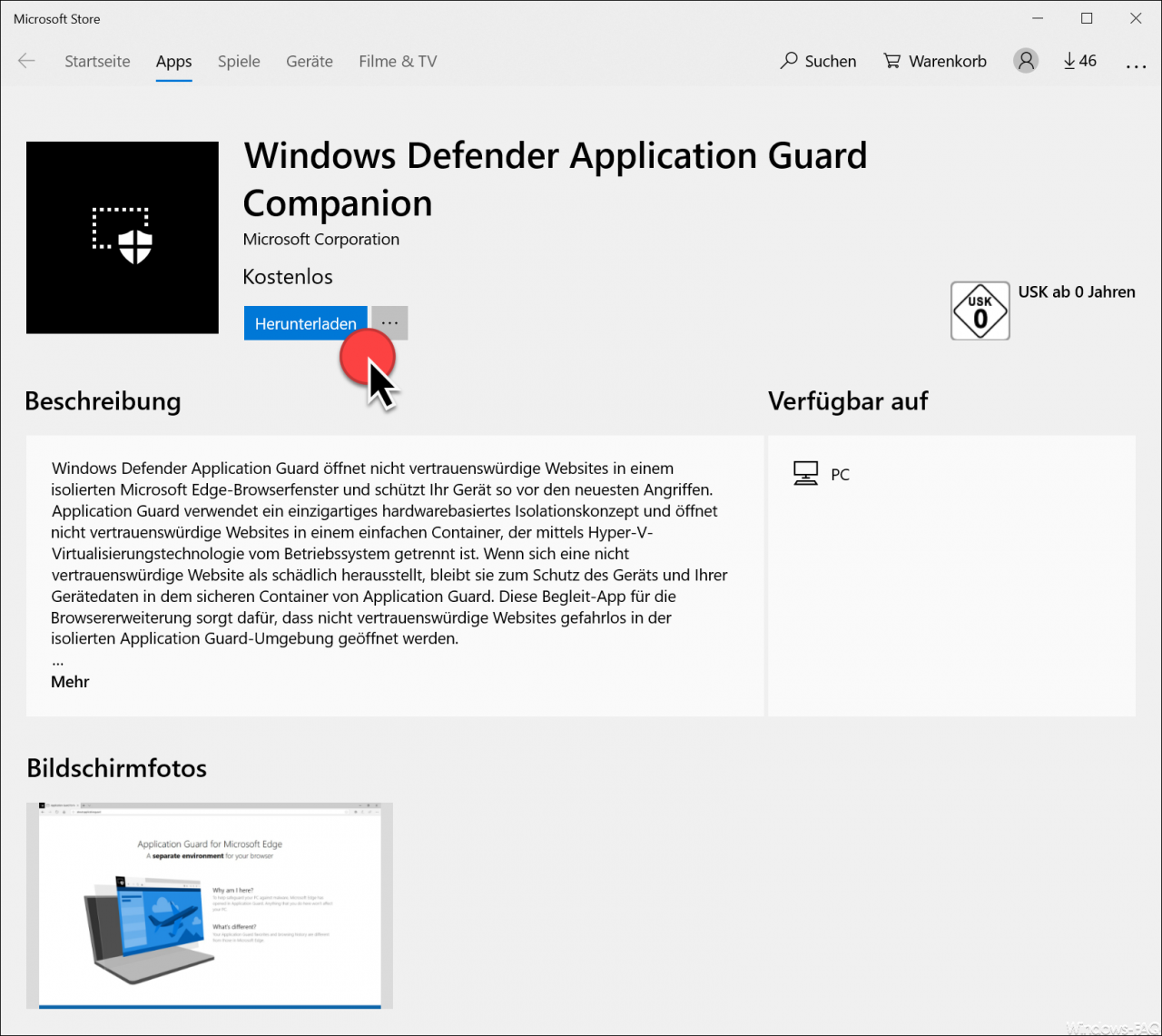 Microsoft has released the following information about the WDAG app.
Windows Defender Application Guard opens untrusted websites in an isolated Microsoft Edge browser window , protecting your device from the latest attacks. Application Guard uses a unique hardware-based isolation concept and opens untrustworthy websites in a simple container that is separated from the operating system using Hyper-V virtualization technology .
If an untrustworthy website turns out to be malicious, it remains in Application Guard's secure container to protect the device and your device data. This companion app for the browser extension ensures that untrustworthy websites are opened safely in the isolated Application Guard environment.
With this companion app, Windows Defender Application Guard can also be used by other browsers (not just Microsoft Edge).
After you have installed the  Windows Defender Application Guard Companion app , the following display appears after starting Google Chrome.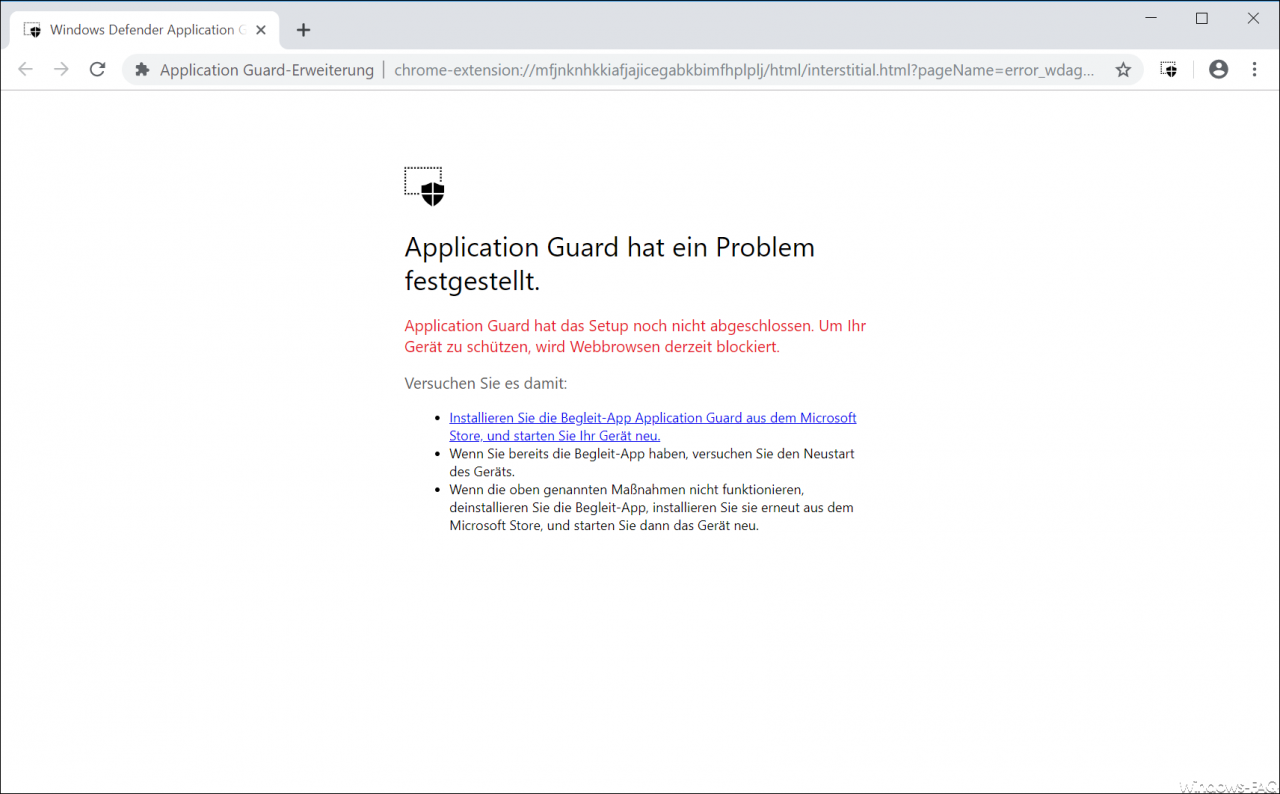 The message is:
Application Guard has encountered a problem. Application Guard has not yet completed the setup. To protect your device, web browsing is currently blocked.
However, this Application Guard only appears because a system restart is necessary. After you have restarted Windows 10 once, the following message appears after the Chrome start.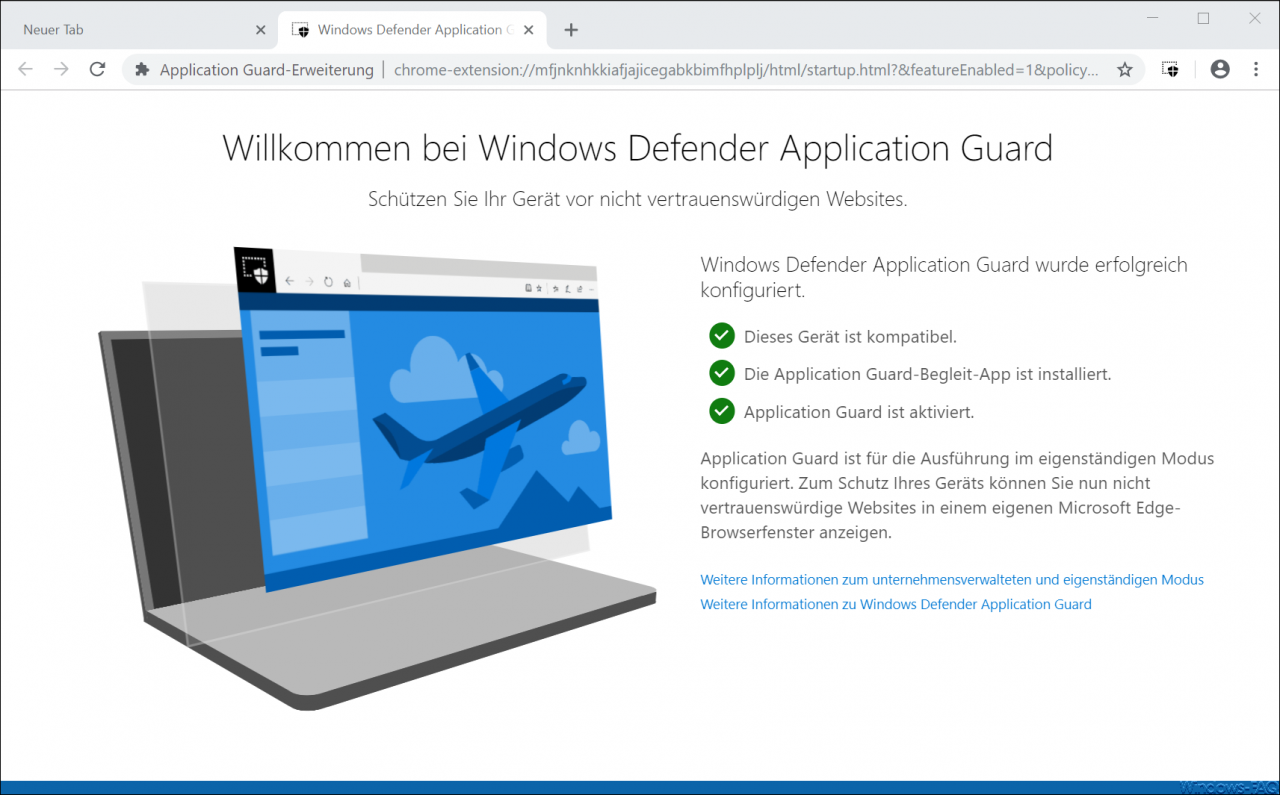 As you can see, all the requirements for using Application Guard with Chrome have now been created and you can now also use WDAG with Chrome.
You will find the right icon for the Chrome Application Guard window to the right of the URL line , as you can see below.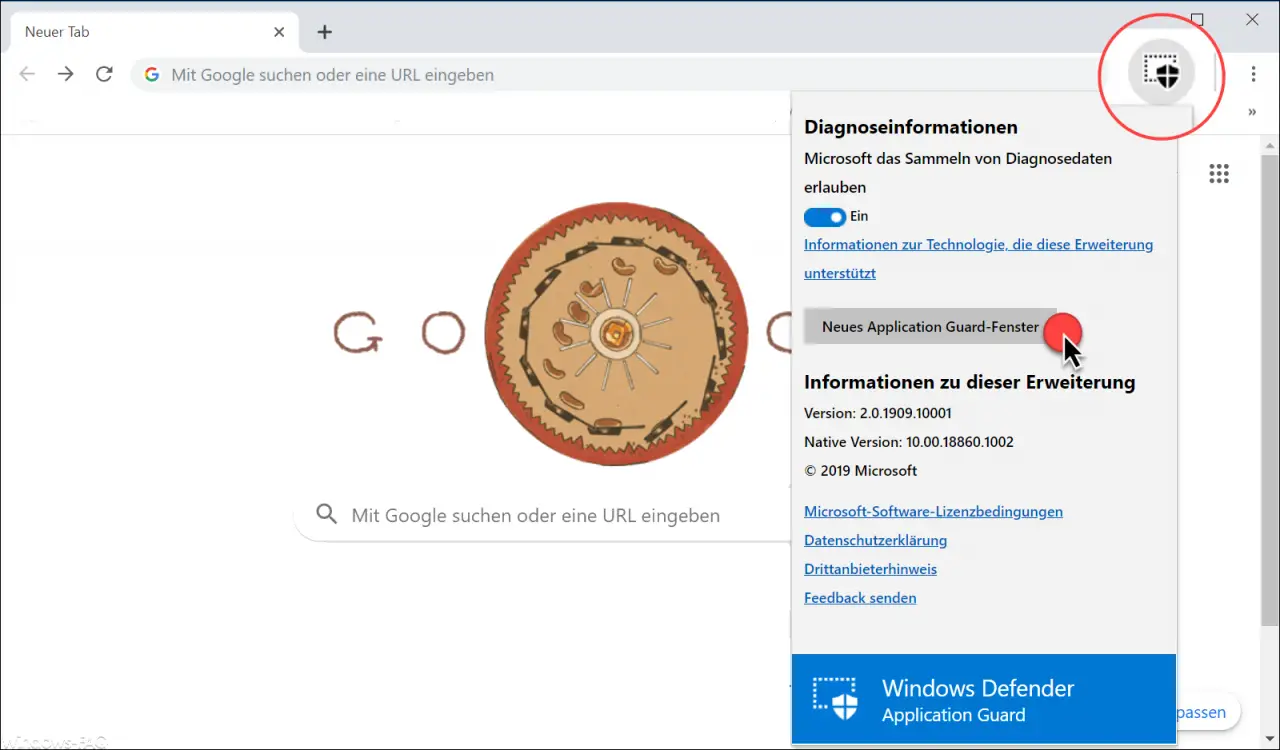 By clicking on
New Application Guard window
an Edge Browser window opens with Activate Application Guard protection .
With this WDAG Chrome extension , every website is now checked with Application Guard protection. If the Application Guard determines that the page is unsafe, the website is automatically forwarded to the Edge, which then opens the website in the Application Guard window . As soon as you switch back to a secure website, control is returned to the Chrome browser.
In this way, you can increase your security while browsing relatively easily. You can find out how you can make further settings for Application Guard in our entry " Windows Defender Application Guard settings for Windows 10 (WDAG) ".