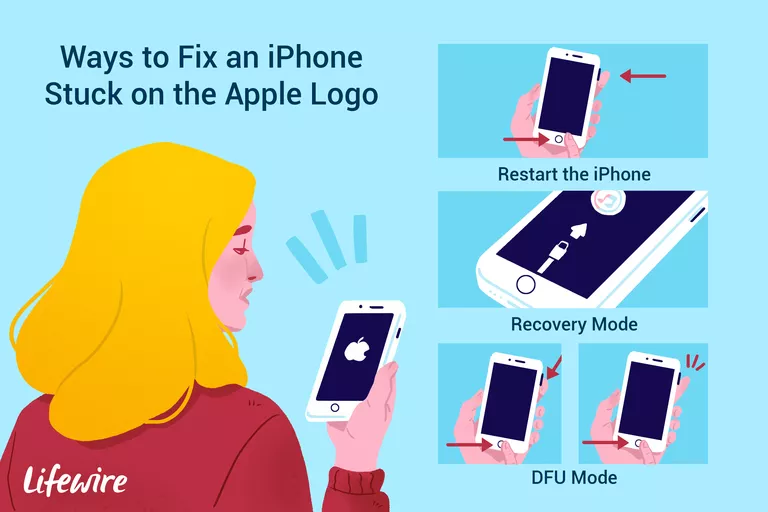 If your iPhone is stuck on the Apple logo during startup and cannot proceed to the home screen, you might think that your iPhone is broken. That is not necessarily the case. Here is a series of steps you can take to get your iPhone out of a boot loop.
Try This First: Restart iPhone
The first thing you should do to try to resolve this problem is to restart the iPhone. Honestly, that won't fix this problem in most cases, but it's the easiest method and won't cost you anything more than a few seconds waiting for the phone to boot up again.
If that doesn't work, the next step is a hard reset. This is a more complete type of reset that can sometimes resolve the issue. Here's how to reset and restart iPhone.
The next potential fix: Recovery Mode
If neither type of reset fixes the problem, try putting your iPhone into recovery mode. Recovery mode allows your iPhone to connect with iTunes and restore a fresh install of iOS or a backup of your data on your phone. It is a relatively simple process and solves the problem in some cases. Here's how to use recovery mode.
Recovery mode works more often than a reboot, but it doesn't even solve the problem every time. If that's true in your case, you need DFU mode.
If that doesn't work: DFU Mode
If you still see the Apple logo and nothing else has worked, there is a problem booting up your iPhone. DFU, or Device Firmware Update, Mode, prevents iPhone from starting all the way so you can connect it to iTunes and restore iPhone and start over.
DFU mode takes a bit of practice because it requires a fairly precise set of actions, but try it a few times and you'll get it. To enter DFU mode, follow these instructions:
Launch iTunes on your computer (if you don't have a computer, you'll need to make an appointment at the Apple Store for further assistance).
Connect your iPhone to the computer using the USB cable that came with the phone.
Turn off your iPhone. If the phone does not turn off using the on-screen slider, simply press and hold the power button until the screen goes dark.
After turning off the phone, press and hold the On/Off button for 3 seconds.
After 3 seconds have passed, press and hold the On/Off button and start pressing the Home button on the front of the phone (if you have an iPhone 7 series phone, use the Volume Down button instead of the Home button).
Hold both buttons down for 10 seconds.
Release the On/Off button but keep the Home button (or Volume on an iPhone 7) pressed for another 5 seconds.
If anything appears on the screen: the Apple logo, the Connect to iTunes indicator, etc. – you are not in DFU mode and you need to start the process again from step 1.
If your iPhone screen stays black and shows nothing, you are in DFU mode. This can be hard to see, but the screen of an iPhone that's turned off looks a little different than a screen that's turned on but doesn't show anything.
Once you're in DFU mode, a pop-up will appear in iTunes on your computer asking you to restore your iPhone. You can restore your iPhone to factory settings or upload a backup of your data to the phone.
What causes an iPhone to get stuck on the Apple logo
iPhone gets stuck on the Apple logo screen when there is an issue with the operating system that prevents the phone from booting up as usual. It is very difficult for the average user to pinpoint exactly what is causing the problem, but there are some common causes:
Problems updating to a new version of iOS.
Trouble breaking phone.
Running a beta version of iOS that has expired.