We have been receiving inquiries for weeks how users can update their Windows 10 to version 1909 . That is why we would like to take the opportunity here today to show you 2 ways of installing the new service pack for Windows 10 for version 1909 build 18363.
Normally, the update process for the 1909 update is relatively simple, but there are quite different information about Windows 10 version 1909 circulating around the web. In this sense, the 1909 update is not a separate feature update , as it has been published twice a year in the past few years, it is a service pack for the Windows 10 version 1903. This also means that all cumulative updates now published after the appearance of 1909, are applicable for both 1903 and 1909.
Only the build number differs. Windows 10 version 1903 remains on the 18362 , Windows 10 version 1909 remains on the 18363 . The number after the point is then the same for both versions. Ultimately, both versions are exactly the same installation, only in the 1903 the innovations of version 1909 have not yet been activated.
It is not entirely understandable why Microsoft changed the update procedure in this way. In any case, this is very difficult to understand for normal users and it raises questions after questions . To show you what options you have to update your Windows 10 version to 1909, we show you below.
Windows 10 version 1909 upgrade via Windows updates
Since yesterday (12.11.2019) Microsoft has also been offering function update 1909 via the integrated Windows Update function . Before you install the 1909 update , you should definitely install the SSU update (Service Stack Update) KB4524569 . This SSU update eliminates any update problems in advance and ensures that there are fewer problems with the 1909 upgrade.
As you can see below, the function update for Windows 10 version 1909 is offered as normal via the Windows update function.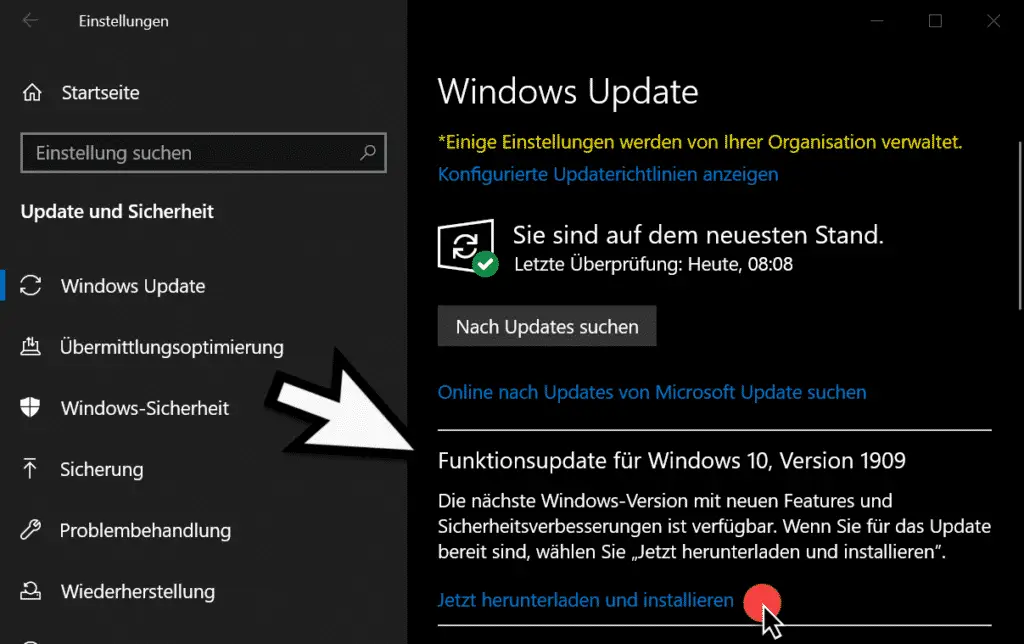 After clicking on " Download and install now ", Windows immediately starts upgrading to version 1909. The PC is restarted several times. If you are already in use in 1903, the 1909 upgrade does not take as long as the previous versions like 1803 or 1809.
In addition, the build number changes from 18362.476 to 18363.476 , as you can see below.

Windows 10 version 1909 upgrade via Media Creation Tool
The second option is to download the MCT tool (Media Creation Tool) and use it to perform the Windows 10 version 1909 upgrade. You can find this on the Microsoft page " Download Windows 10 disk image (ISO file) ".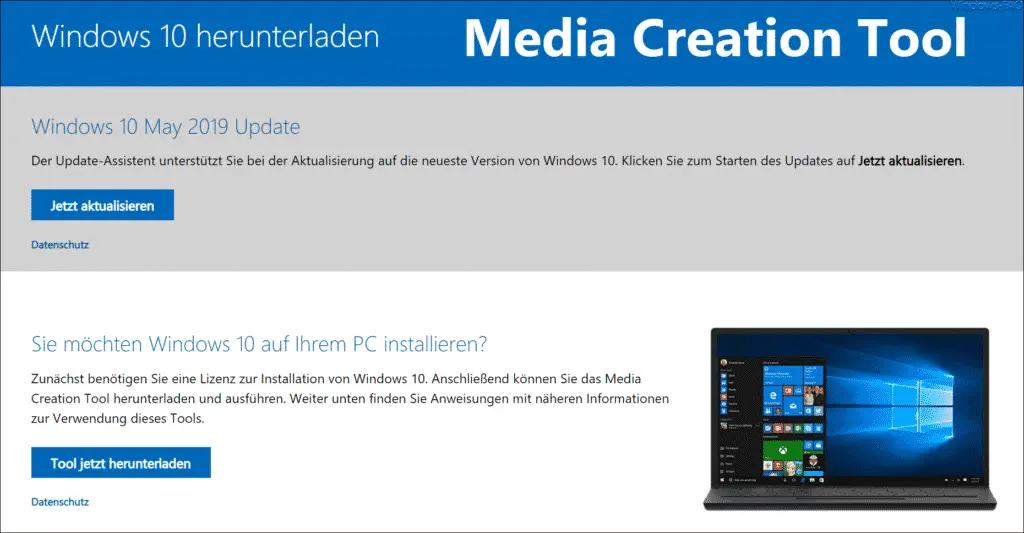 You can download the upgrade program  via "Download tool now"
" MediaCreationTool1909.exe "
download and use it to upgrade to Windows 10. This tool also gives you the option of downloading and saving an ISO image of Windows 10 version 1909 for further Windows 10 1909 installations. It is also possible to create a Windows 10 USB installation stick.
We are of the opinion that with this update change Microsoft only brings ambiguity into the entire Windows 10 versions and that many Windows 10 users are simply overwhelmed. What do you think , we would be very interested in your opinions .