If you upgrade your Windows 10 system to a current version, a lot of space on your system partition will be used, which can actually be released again. This happens, for example, because you upgraded a Windows 10 Version 1607 Anniversary Update to a Windows 10 Version 1703 Creators Update .
Through this upgrade process and the installation of the new feature update for Windows 10 , up to 40 GB of your Windows partition will be used in some cases . Windows caches the old Windows system files during the upgrade process so that a rollback is possible at any time in the event of an error . After installing the feature upgrade, the user can also determine that there are problems with the new Windows 10 version and then undo the upgrade.
However, if everything works perfectly for you and you are certain that you do not want to go back to the previous version of Windows 10 , you can free up the unnecessarily used storage space as follows.
Disk Cleanup Cleanup
The easiest way to free up the space is to clean the disk . You can use the key combination

Call the " Execute " window and there you have the command
cleanmgr
as you can see here below.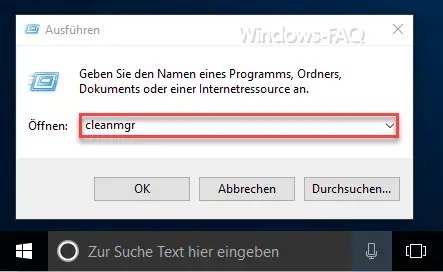 After the call, the disk cleanup searches all existing Windows areas for data, files and folders, which you may be able to clean or delete . There are some new functions of disk cleanup under Windows 10 , we have already reported about it. For more information on unknown disk cleanup options, see our " Hidden disk cleanup options " post .
It is important that you then select the following point within the data carrier cleanup.
Clean up system files
After that, unnecessary Windows system files are searched. This search process takes quite a few minutes and as you can see below, approx. 17 GB alone are only occupied by " previous Windows installation (s) " and could be released.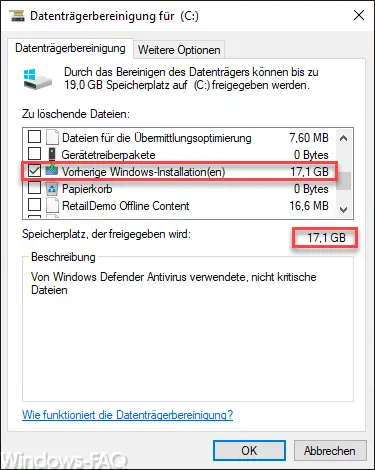 If you want to release this area again, simply tick the box and confirm with " OK ". This completes the cleanup and you should now have a lot more space on your Windows 10 system partition than before.
We have also reported on other useful Windows 10 functions in many other amounts . Below is a small list of the most popular articles.
– Point and Print problems when installing printer drivers under Windows 10
– Activate RDP in Windows 10
– Deactivate Windows 10 notification and InfoCenter
– Deactivate Game DVR (Game Mode) in Windows 10 – Win + G
– Distribute Windows 10 Creators Update via WSUS
– Deactivate touchscreen swiping gestures in Windows 10
– Scroll inactive windows when pointing – Windows 10 mouse setting