The Windows 10 Info Center informs the user about news, problems, displays information and offers quick access to certain actions such as the Windows settings, screen sections, the network, etc.
Microsoft is constantly improving the Windows Info Center and has also integrated further improvements in the Info Center in the new Windows 10 version 1903 . If control of the info center was previously only possible via the Windows settings, from version 1903 you can now move, remove or add the action fields yourself.
Before we describe exactly how you can edit the information center, we will show you the new functions in the video below.
Microsoft has now created the possibility to edit the quick actions directly in the information center . To do this, simply click below on the actions with the
right mouse button
in a free area, then the option
To edit
visible.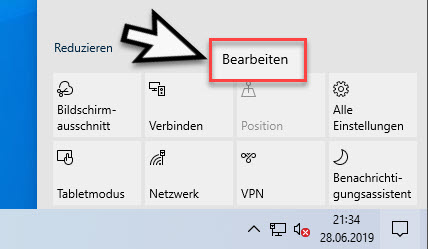 After clicking on " Edit ", the appearance of the action fields changes, because each action field is shown with a " pin " in the top right . With this pin you can now remove individual actions from the info center that are then no longer displayed to the user.
At the bottom of the info center, but still above the Windows taskbar, you can see the point
Add
You can add actions that you may have previously removed from the information center display . You will only see the actions that are missing in the display of your current information center.
Furthermore, you can simply change the position of the individual tiles in the info center by dragging the action fields with the mouse . This gives you the opportunity to arrange the order of the actions as you like it best.
Clicking the " Done " option then ends the editing of the new Windows 10 Info Center and all changes made are adopted. With these new possibilities, every user has the opportunity to design the information center according to his ideas.
In the past, we have reported several times about the Windows 10 Info Center. Below we have summarized the most popular articles on the topic "Windows 10 Info Center".
– Change the display duration of the notifications in Windows 10
– Activate tablet mode in Windows 10
– Always keep Windows 10 Info Center in the foreground – Deactivate
Windows 10 notification and InfoCenter
– Create a screen clip (hard copy, screenshot) directly from the Windows 10 notification center