The data transfer from an iPhone with iOS, an Android device and a Windows PC is not as easy as many users imagine. We keep getting inquiries as to whether we know of a good tool that can be used to exchange data, photos, contacts, videos, music and messages between the various hardware platforms.
And this is exactly where the tool comes from
Dotrans
from FonePaw . DoTrans enables all these functions and not only that. This tool can also transfer files back from the Windows PC to an Android, iOS smartphone or tablet, which does not work with the conventional options. We would like to determine the tool more precisely in our test report and show you the possibilities of how easy it is to transfer the data from Samsung to Huawei and Windows.
After downloading and installing the DoTrans tool, it is first checked whether all necessary software components are installed under Windows. During our tests, we tested the data exchange between an iPhone and a Windows 10 PC.
Thus, the tool first determines that iTunes is not installed, but this is necessary for the tool as a communication interface.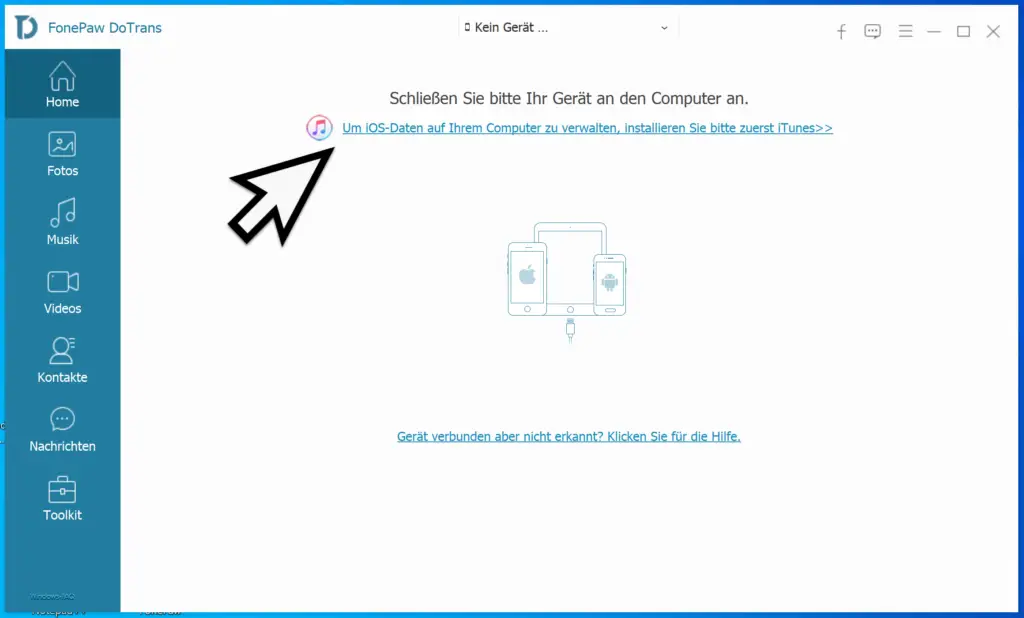 So you have to install the latest version of iTunes from the Microsoft Store.
Immediately afterwards, the tool is able to establish a connection to the iPhone and you can view a lot of information about the end device, as you can see here in the figure below.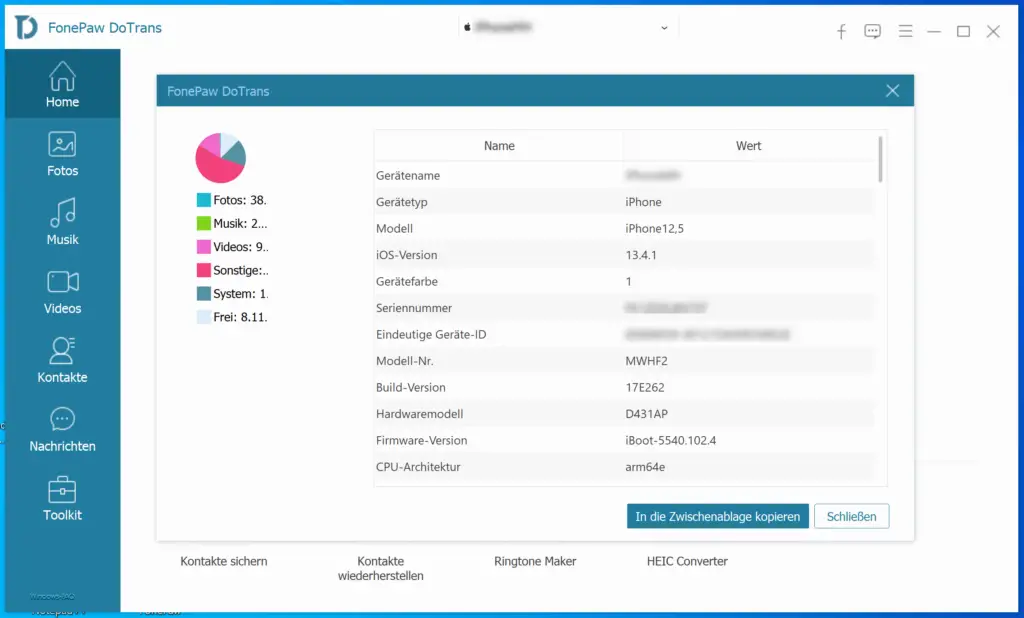 You can now use the left category bar to exchange data between iOS, Android and Windows. A distinction is made between the following data during data transfer.
photos
music
Videos
contacts
news
DoTrans is very easy to use, making it very easy for a layperson to transfer data between the various devices and operating systems.
Below you can see a picture of the transfer module "Photos". DoTrans shows you all available photos of the device on the right side, where you can choose between numerous views and groupings.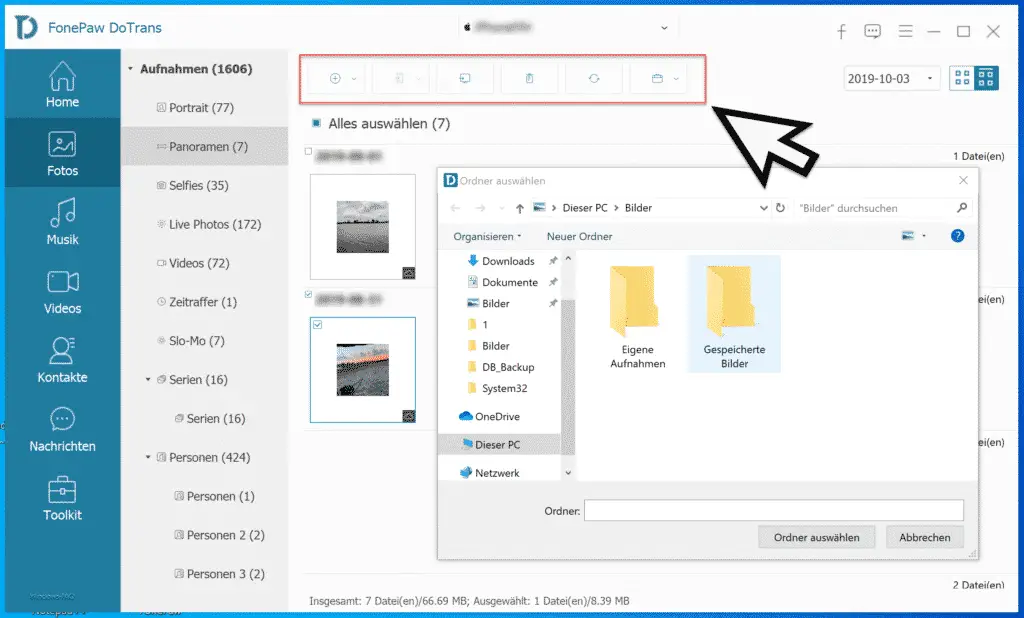 DoTrans divides the photos into the categories, for example
portrait
Panoramas
Selfies
Live photos
Videos
time lapse
Slo-Mo
Series
people
a. In the upper area of the tool you can then select the action you want to take with the marked photo (s). The following actions are available to you here.
Transfer to the iOS or Android device.
Export to PC.
Delete marked files from the end device.
Transfer from Windows to iOS or Android devices
As already indicated, DoTrans can also transfer data from a Windows PC to a smartphone or tablet. This possibility of transferring photos, music, videos or contacts in the "other" direction is extremely useful and works just as easily as the transfer of data from the iOS or Android device to your Windows PC.
This also gives you the option to transfer all your photos from Android to iPhone, which is normally not so easy. Of course, it also works the other way around, i.e. from Android to iOS.
Export contacts or SMS messages
The options for transferring contacts or messages are also integrated. So you can, for example, export your SMS, which are normally not so easy to transfer to the PC, very easily in an Excel, text or HTML file.
DoTrans Toolbox
DoTrans includes the following additional tools
Ringtone Maker
HEIC Converter
With the Ringtone Maker you can import audio files and create your own ringtones. All you have to do is set the start point and end point and you have a new and individual ringtone.
With the HEIC Converter you can convert iPhone pictures and videos. HEIC means " High Efficiency Image File Format" and the current iPhone use this graphic format for storing the images.   With this converter you can convert HEIC images to PNG or JPG format so that you can open them on any device.
After our DoTrans test by FonePaw , we have to confirm to the tool that, due to the simple operation and the extensive options, it should be the first choice if you want to transfer data from or to your smartphone. Regardless of whether it is an Android or iOS device, transport to and from Windows is quick and easy.