Microsoft has recently released update KB4556799 for Windows 10 versions 1903 and 1909 and made it available for download. This update KB4556799 brings the Windows 10 version number, depending on whether you installed 1903 or 1909, to the build number 18362.836 or 18363.836 .
The cumulative KB4556799 is now available for download via Windows Update, the WSUS and the Microsoft Update Catalog.
Since cumulative updates generally do not contain any new features, the update KB4556799 only contains bug fixes. Here are the highlights from update KB4556799 .
It includes updates to improve security when using Internet Explorer and Microsoft Edge.
Furthermore, updates to improve security when using input devices such as a mouse, keyboard or pen.
Updates to verify usernames and passwords are included.
Also updates to improve security when using Microsoft Xbox.
Updates to improve security when Windows performs basic operations.
It includes updates to save and manage files.
And it includes updates to improve security when using Microsoft Office products.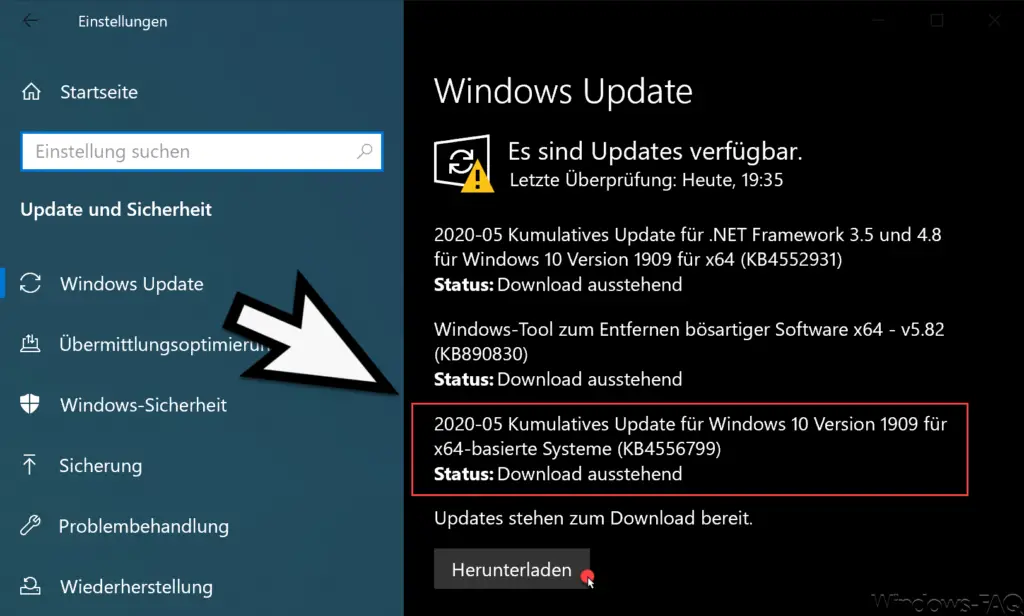 Furthermore, the following information about this update  KB4556799 is included.
The update KB4556799 updates the start date for the 2020 daylight saving time (DST) in the Kingdom of Morocco.
It includes numerous security updates for IE, Microsoft Scripting Engine, Windows App Platform and Frameworks, Microsoft graphics components, Windows input, Windows Media, Windows Shell, Microsoft Xbox, Microsoft Edge, Windows basics, Windows cryptography, Windows authentication, Windows – Kernel, Windows Linux, Windows Update Stack, Windows network security and container, Windows Active Directory, Windows storage and file systems and the Microsoft JET database module.
Note: This update also includes updates for Microsoft HoloLens (OS Build 18362.1061) that were released on May 12, 2020. Microsoft is releasing an update directly for the Windows Update client to improve the reliability of Windows Update on Microsoft HoloLens that have not been updated to this latest OS build.
Here are the download links from update KB4556799:
Windows 10 version 1909:
– Download 2020-05 Cumulative Update for Windows 10 Version 1909 for x64-based Systems (KB4556799)
– Download 2020-05 Cumulative Update for Windows 10 Version 1909 for x86-based Systems (KB4556799)
– Download 2020-05 Cumulative Update for Windows Server 2019 version 1909 for x64-based systems (KB4556799)
Windows 10 version 1903:
– Download 2020-05 Cumulative Update for Windows 10 Version 1903 for x64-based Systems (KB4556799)
– Download 2020-05 Cumulative Update for Windows 10 Version 1903 for x86-based Systems (KB4556799)
– Download 2020-054 Cumulative Update for Windows Server 2019 version 1903 for x64-based systems (KB4556799)