With the update KB4535996 , Microsoft has surprisingly released another update for Windows 10 versions 1903 and 1909 tonight . This update  KB4535996 is available for Windows 10 version 1903 as well as for 1909 (service pack update from 1903) and can be downloaded and installed via the online Windows update function, the Microsoft update catalog and the WSUS.
The cumulative update KB4535996 increases the Windows 10 build number to build level 18362.693 or 18363.693 , depending on the Windows version.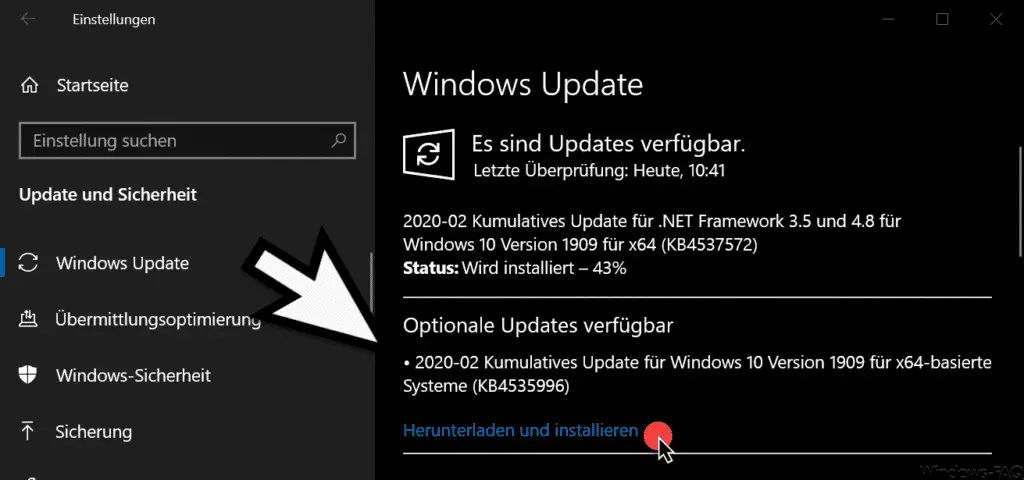 Microsoft has published a lot of information on its knowledgebase page for update KB4535996 . We only want to go into the highlights of the update KB4535996 in our list.
The KB4535996 update fixes a problem that prevents the voice platform application from opening for a few minutes in a high-noise environment.
Addresses an issue that reduces image quality in the Windows Mixed Reality (WMR) home environment.
It also updates an issue that may prevent ActiveX content from loading.
Update KB4535996 improves battery performance in modern standby mode.
It also fixes an issue that could cause Microsoft Narrator to stop working if a user session lasted longer than 30 minutes.
It fixes an issue where after upgrading, an unwanted keyboard layout is added by default even if you have already removed it.
Update KB4535996 resolves the issue that prevents the Windows search box from rendering properly.
It updates an issue where the printer settings user interface does not display properly.
It fixes an issue that prevents some applications from printing to network printers.
So far, no problems have been reported with the update KB4535996.
You can download the appropriate version of the update KB4535996 here .
Download KB4535996 version 1903:
– Download 2020-02 Cumulative Update for Windows 10 Version 1903 for x64-based Systems (KB4535996)
– Download 2020-02 Cumulative Update for Windows 10 Version 1903 for x86-based Systems (KB4535996)
– Download 2020-02 Cumulative Update for Windows Server 2019 version 1903 for x64-based systems (KB4535996)
Download KB4535996 version 1909:
– Download 2020-02 Cumulative Update for Windows 10 Version 1909 for x64-based Systems (KB4535996)
– Download 2020-02 Cumulative Update for Windows 10 Version 1909 for x86-based Systems (KB4535996)
– Download 2020-02 Cumulative Update for Windows Server 2019 version 1909 for x64-based systems (KB4535996)