With the update KB4532693 for Windows 10 Version 1903 and Version 1909 , Microsoft released another cumulative Windows Update on Patchday in February 2020 .
The update  KB4532693 can now be downloaded and installed using the integrated Windows 10 update function, the WSUS (Windows Server Update Services) and the Windows Update Catalog.
After installing the update KB4532693 , the Windows 10 build numbers display the build numbers 18362.657 (1903) and 18363.657 at 1909, depending on the version .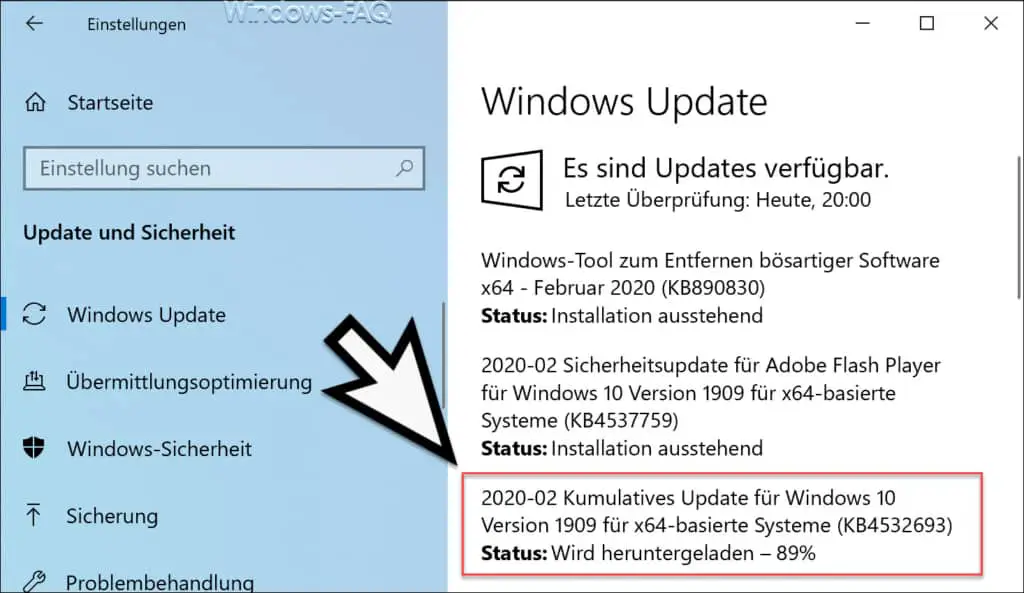 Below you will find the changes that have been incorporated into the update  KB4532693 .
Improvements update KB4532693 for Windows 10 1903 and 1909
The following changes affect both versions, both 1903 and 1909.
The KB4532693 update addresses an issue that occurs when migrating cloud printers during an upgrade.
It improves the upgrade process when upgrading to Windows 10 version 1903.
Furthermore, the update KB4532693 includes numerous security updates for Internet Explorer, Microsoft Edge, Windows basics, Windows cryptography, Windows virtualization, Windows network security and containers, Windows Server, Windows administration, Microsoft graphics component, Windows input and composition , Windows Media, Microsoft Scripting Engine and Windows Shell.
Important: Before you install this update KB4532693, you should have installed the last SSU update KB4538674 (Service Stack Update) for your Windows 10 version.
Here you can download the right update KB4532693 for you.
Download KB4532693 for Windows 10 version 1909
– Download 2020-02 Cumulative Update for Windows 10 Version 1909 for x64-based Systems (KB4532693)
– Download 2020-02 Cumulative Update for Windows 10 Version 1909 for x86-based Systems (KB4532693)
– Download 2020-02 Cumulative Update for Windows Server 2019 version 1909 for x64-based systems (KB4532693)
Download KB4532693 for Windows 10 version 1903
– Download 2020-02 Cumulative Update for Windows 10 Version 1903 for x64-based Systems (KB4532693)
– Download 2020-02 Cumulative Update for Windows 10 Version 1903 for x86-based Systems (KB4532693)
– Download 2020-02 Cumulative Update for Windows Server 2019 version 1903 for x64-based systems (KB4532693)