Microsoft has just released (09.07.2019) the update KB4507469 for Windows 10 version 1809. It is another cumulative update for 1809 and has build number 17763.615 .
This update  KB4507469 is now available for download from Windows Update and the Windows Update Catalog.
The following bug fixes have been included in the update KB4507469 .
This update KB4507469 resolves an issue in which the system may stop responding when an application uses the CameraCaptureUI API.
It also fixes an issue where BitLocker may go into recovery mode if BitLocker is deployed at the same time that updates are installed.
There are also many other security updates for Windows Server, Microsoft Scripting Engine, Microsoft graphics component, Internet Explorer, Windows input and composition, Windows virtualization, Windows App Platform and Frameworks, Windows Kernel, Microsoft Edge, Windows cryptography and Windows Basics integrated in this update KB4507469 .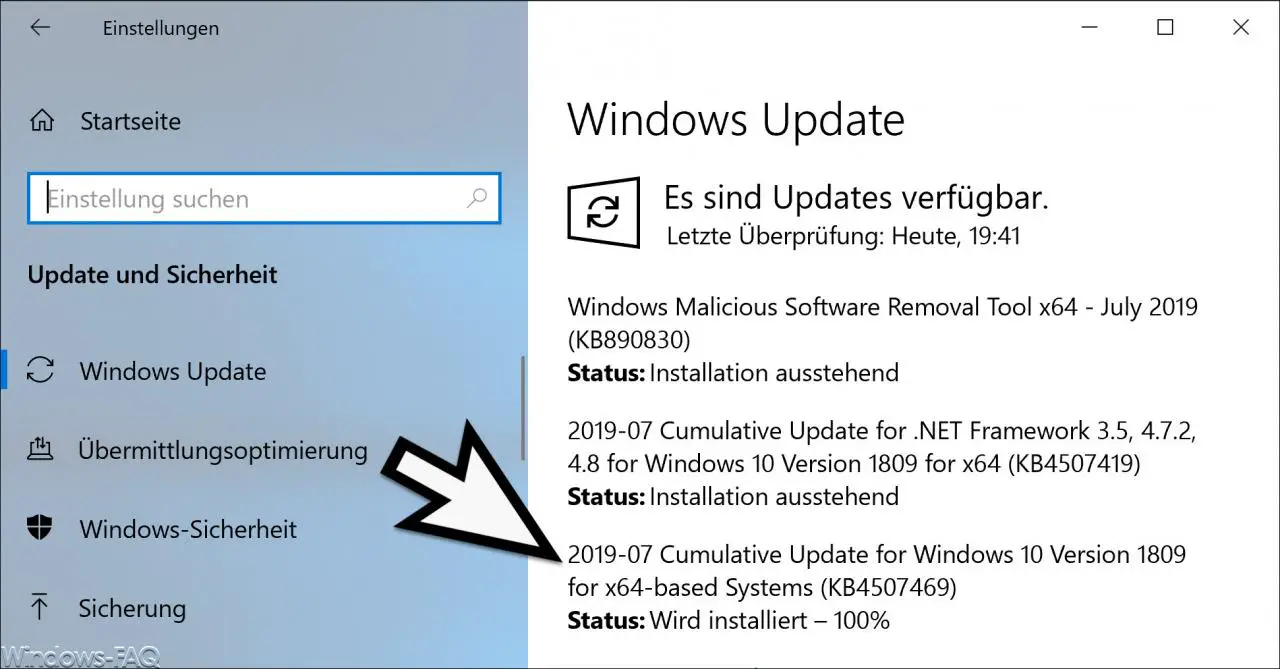 Unfortunately there are already some problems with this update KB4507469 . These are as follows:
Certain operations, e.g. For example, renaming files or folders on a shared cluster volume (CSV) may fail with the "S TATUS_BAD_IMPERSONATION_LEVEL (0xC00000A5) " error . This occurs when you perform the operation on a CSV owner node through a process that does not have administrator privileges.
Workaround:
Perform the process from a process that has administrator privileges.
Do this from a node that does not have CSV ownership.
After installing KB4493509, devices with some Asian language packs installed may receive the error " 0x800f0982 – PSFX_E_MATCHING_COMPONENT_NOT_FOUND ".
Workaround:
Uninstall and then reinstall any recently added language packs. For instructions, see Manage input and display language settings in Windows 10. Select Check for updates and install the April 2019 cumulative update. For instructions, see Update Windows 10.
Note: If reinstalling the language pack doesn't solve the problem, reset your PC as follows:
Go to Settings app> Recovery.
Select " First Steps " under the option " Reset this PC ".
Select Keep my files.
We are investigating reports that a small number of devices may display a black screen when they first log in after installing updates.
Workaround:
To fix this problem, press Ctrl + Alt + Del, then select the power button in the lower right corner of the screen and choose Restart. Your device should now restart normally.
After installing this update, opening or using the Window-Eyes screen reader app may fail and some features may not work as expected.
Note Users who have already migrated from Window-Eyes to the other Freedom Scientific screen readers, JAWS, are not affected by this problem.
Workaround:
Microsoft is working on a solution and will provide an update for all of these errors in an upcoming version.
Finally you will find the download links for the update KB4507469 below.
– 2019-07 Cumulative Update for Windows 10 Version 1809 for x64-based Systems (KB4507469)
– 2019-07 Cumulative Update for Windows 10 Version 1809 for x86-based Systems (KB4507469)
– 2019-07 Cumulative Update for Windows Server 2019 Version 1809 for x64-based systems (KB4507469)