Tonight (10/24/2018) Microsoft released the update KB4462933 for Windows 10 version 1803 . It is now available for download via the Windows Update function and the Windows Update Catalog.
After installing the update KB4462933 , the Windows 10 installation shows the version number 17134.376 .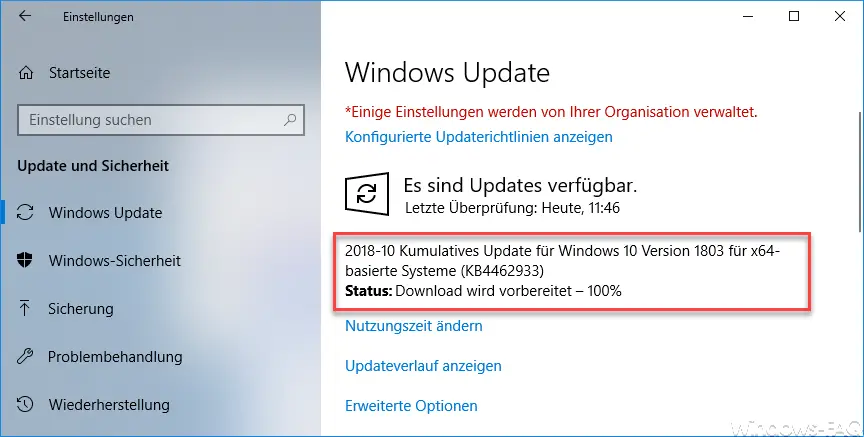 Cumulative update KB4462933 contains the following improvements.
The KB4462933 update resolves an issue that May prevent documents and Edge extension scripts from appearing in the Microsoft Edge DevTools debugger.
It fixes additional issues with updated time zone information.
Resolves the issue where " sysprep / generalize " fails in monitor mode due to a race condition when deleting certain registry keys.
Addressed issue that caused audio service to stop working or become unresponsive while using call control, volume control, and streaming music to Bluetooth audio devices. The following error messages are displayed:
Exception error 0x8000000e in btagservice.dll.
Exception error 0xc0000005 or 0xc0000409 in bthavctpsvc.dll.
Stop 0xD1 BSOD errors in btha2dp.sys.
Addresses an issue that causes Windows 10 to stop working if a Bluetooth device is accidentally removed.
It fixes an issue that causes the Event Log service to stop responding and affect reliability in various areas of the operating system until it restarts. This problem occurs when the event log is full and you do not see the Overwrite events (manually clear logs) option in Log Properties – System> When the maximum size of the event log is reached: appears.
Addresses an issue that supports Microsoft Office events in the Limit Enhanced Group Policy setting.
Addresses an issue that prevents TLS 1.0 and TLS 1.1 from being disabled when Federal Information Processing Standard (FIPS) mode is enabled.
For applications on systems with more than 4 GB of RAM, the error code "0x5" could occur when calling CreateProcessWithLogonW () .
Addresses an issue in which the AccountName in the event log entry for the Microsoft Windows Kerberos Key Distribution Center source and Event ID 7 is sometimes displayed incorrectly.
Addresses issues with client authentication certificates and the TLS protocol.

Addresses an issue that could cause TCP connections that were opened for an application running on Windows Containers to fail sporadically. This occurs when the container is running on a Network Address Translation (NAT) network provided by Windows Network Address Translation (WinNAT). A SYN timeout occurs after reaching the maximum SYN retransmit count.
Addresses an issue with a warning message that appears when using Microsoft Edge to print some PDF files.
Resolves an issue where printing PDF files from SharePoint Online fails with the error "PDF cannot be opened".
Addresses issues where App-V packages can fail due to a missing file or DLL error.
Addresses an issue that prevents Windows Defender Application Guard (WDAG) from starting on Windows 10N devices (Europe) after maintenance.
Addresses an issue that incorrectly implies that user policies have not been applied after configuring a user rights group policy setting. Reporting tools such as RSOP.MSC or Gpresult.exe / h do not display the rights policy or display a red "X" instead .
Addresses issues with scheduled tasks that are configured to run on a specific day of the week and are not scheduled to run at the expected time.
Addresses issues in temporary files and some antivirus scanners that cause .NET Framework applications to stop working. The error message reads: " The process cannot access the file <name of the temporary file> ".
Addresses an issue that could cause an application with a child window to stop processing mouse input.
Addresses an issue that could cause some applications to stop working after a tablet is removed.
Addresses an issue that causes the Windows 8.1 application to stop working when it calls the ProjectionManager.StartProjectingAsync API. The error code is 0x80070057.
Resolves the problem with the Windows text entry framework. A layout request can cause some application text input elements to stop responding.
Addresses an issue in which users cannot enter East Asian text when prompted for password prompts during the upgrade process.
Addresses issues with multiple monitors where an application that is in full-screen mode may incorrectly render after changing the display mode.
Addresses an issue that occurs when you enter a text field in a Windows Presentation Foundation (WPF) application using the on-screen keyboard. If you select one of the predictive text suggestions, that word appears to be typed, but disappears when you select a different control.
Update KB4462933 resolves an issue that prevents applications from displaying a pop-up window or dialog box when the applications are in full-screen mode. For example, in a full screen game, trying to change settings such as multisampling antialiasing (MSAA) fails because the confirmation dialog box does not appear. The dialog is hidden behind the application.
Fixes various problems with the Japanese calendar, more information can be found in KB4469068 .
Here you can download the update KB4462933 :
– 2018-10 Cumulative Update for Windows 10 Version 1803 for x64-based Systems (KB4462933)
– 2018-10 Cumulative Update for Windows 10 Version 1803 for x86-based Systems (KB4462933)
– 2018-10 Cumulative Update for Windows Server 2016 Version 1803 for x64-based systems (KB4462933)