The Microsoft PowerPoint Viewer is a free viewer for PowerPoint presentations . Microsoft has been continuously developing PowerPoint since 1988 and has been included in every Office version since then. However, since not all Windows users have a full version of Microsoft Office including PowerPoint, Microsoft has developed the PowerPoint Viewer . The " PowerPoint Viewer Mac " is also available for MAC users .
The PowerPoint Viewer has been free of charge from the start and could previously be used in the version
PowerPoint Viewer 2003
PowerPoint Viewer 2007
PowerPoint Viewer 2010
can be downloaded.
However, the free PowerPoint Viewer can only open newer PowerPoint files from Office 2013 and 2016 if you also install the Microsoft Office Compatibility Pack for Word, Excel and PowerPoint file formats . You can also download this additional PowerPoint package if you click on the link " Microsoft PowerPoint Viewer free Version 14.0.4730.1010 " below . The older versions of PowerPoint Viewer 2003 and 2007 can no longer be found on Microsoft's website, you can get this from various download providers on the Internet.
Important note: Microsoft has published that the previously known PowerPoint Viewer will no longer be developed as of April 2018 and will therefore no longer be available for download from then on. From May 2018, no new security updates will be published for the PowerPoint Viewer , and every user should switch to alternatives as soon as possible. 
 There are already alternatives for the MS PowerPoint Viewer and Microsoft recommends everyone to use the " PowerPoint Mobile " app from the Windows Store.

This app, which also runs perfectly under Windows 10, will completely replace the Microsoft Office PowerPoint Viewer in the future . You will find the appropriate download link at the end of this article. Unfortunately, you can only use this app for one month free of charge, after that you need an Office365 account and thus an official Office license. This PowerPoint Mobile App  can also do much more than the previous free PowerPoint Viewer , because with this app you can also create new PowerPoint files or change existing PowerPoint files.
For those who want to use PowerPoint free of charge , they need programs or applications from third-party manufacturers. For example, Open Office offers a free PowerPoint editing program and there are also some programs and apps from other manufacturers in this area. The Microsoft PowerPoint Mobile App can you you out for iOS from the Apple Store and for Android from the Google Play Store to download. Here you will also find the appropriate links at the end of this article.
There are now also some online PowerPoint viewers on the Internet . These can also provide valuable services if you only want to look at the PowerPoint content. Microsoft also offers a PowerPoint Online Viewer , it is called " Microsoft PowerPoint Online ". Unfortunately, you need an Office365 account here. This PowerPoint online viewer can be used particularly easily and well in connection with Microsoft OneDrive .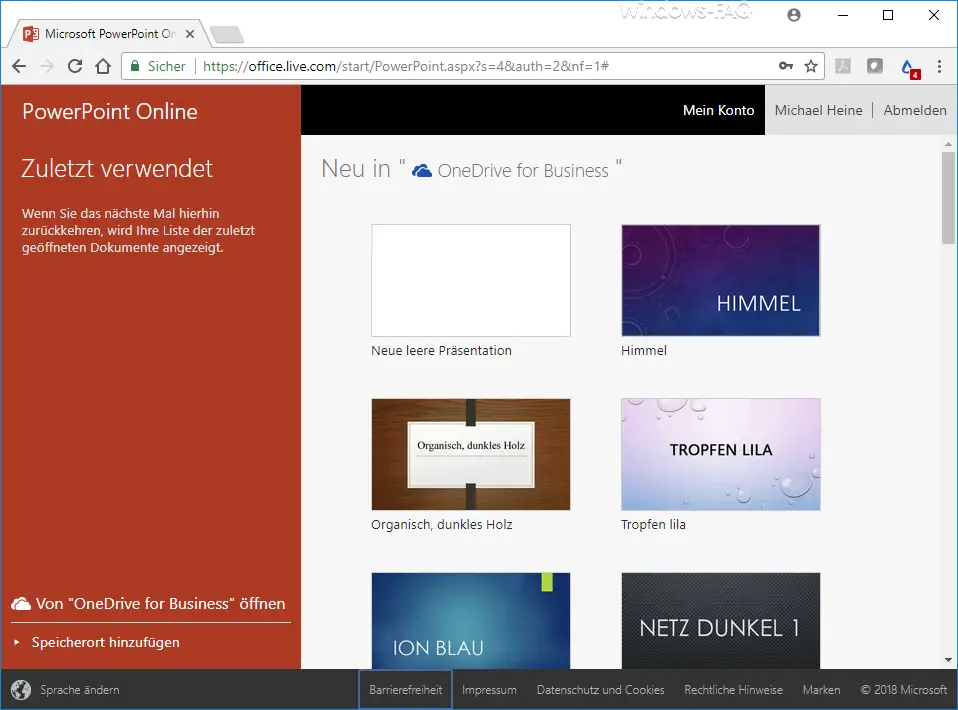 Download PowerPoint Viewer
– Microsoft PowerPoint Viewer free version 14.0.4730.1010
– Microsoft PowerPoint Mobile Windows 10 Store
Download PowerPoint Mobile
– Microsoft PowerPoint Online
– Microsoft PowerPoint for iOS
– Microsoft PowerPoint for Android Google Store