With the update KB4505903 for Windows 10 version 1903, Microsoft has surprisingly released another cumulative update. The list of fixed bugs in the 1903 version of Windows 10 is long, we have summarized the most important bug fixes below.
After installing the update KB4505903 , your Windows 10 installation shows the build number 18362.267 .
The following errors are eliminated with the update KB4505903.
The update fixes an issue where the last login of a local user could not be recorded even if the user accessed the server's network share.
The domain trust relationship could be broken when you enable the Recycle Bin in the domain.
Addresses an issue that prevents Windows Hello Face Authentication from working after a restart.
It updates the time zone information for Brazil.
Addresses an issue where Microsoft Edge can correctly print PDF documents with landscape and portrait pages.
It also fixes a problem with PDFs that are configured to open only once in Microsoft Edge.
Addresses an issue in which colors may display incorrectly when displaying an image on 10-bit display boards.
It fixes an issue that may prevent you from changing the screen brightness when using certain graphics drivers after returning from sleep or hibernation.
Addresses an issue in which pressing and releasing the mouse sometimes triggers an additional mouse movement event .
Addresses an issue in which the user interface may stop responding for a few seconds when scrolling in windows with many child windows.
Resolves an issue where automatic login (Autologon) cannot be bypassed if you hold down the Shift key during startup.
Addresses an issue that can prevent a device from going into sleep mode when certain applications based on Bluetooth are open.
It fixes an issue that can affect Bluetooth audio quality if certain audio profiles are used for an extended period of time.
Addresses an issue that causes an error when opening Microsoft OneDrive files on demand when User Experience Virtualization (UE-V) is enabled. To apply this solution, set the following DWORD to 1: HKEY_LOCAL_MACHINE SOFTWARE Microsoft UEV Agent Configuration ApplyExplorerCompatFix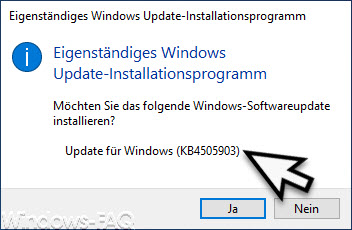 It fixes a problem that can cause a system with a TPM (Trusted Platform Module) to stop working.
Addresses an issue that prevents a system from detecting a Microsoft account or an Azure Active Directory account until the user logs out and logs in again.
The KB4505903 update fixes a problem that may prevent the Netlogon service from establishing a secure channel and reports the error " 0xC000007A – ERROR_PROC_NOT_FOUND ".
Addresses an issue in which the Windows Hello for Business PIN (Personal Identification Number) policy (minimum length, required digits and special characters, etc.) cannot be updated if a PIN already exists on the computer.
It fixes an issue where the error "0x80042405 [gle = 0x00000715]" occurs when creating a recovery drive (USB stick).
Addresses an issue in which a local user account is logged in using a temporary profile when the account is configured with a mandatory roaming user profile . I'm seeing a "We cannot log in to your account" error. The application event log contains event 1521 and the event source is listed as a Microsoft Windows User Profile service.
Addresses an issue in which the status for working folders in File Explorer was changed to 0x80C802A0 (ECS_E_SYNC_UPLOAD_PLACEHOLDER_FAILURE) after selecting Free Space.
The KB4505903 update fixes an issue that could cause a Remote Desktop Server to stop responding when someone using drive redirection disconnects.
Addresses an issue that may cause the RASMAN service to stop working. The error " 0xc0000005 " may be displayed on devices where the diagnostic data level has been manually configured to the non-standard setting 0. You may also see an error in the Application section of the Windows logs in Event Viewer with Event ID 1000 referencing svchost .exe_RasMan and rasman.dll. This problem only occurs when a Virtual Private Network (VPN) profile is configured as an Always On VPN (AOVPN) connection with or without a device tunnel.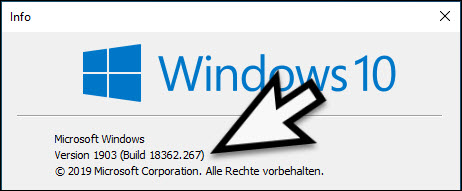 Addresses an issue in which applications on a container host temporarily lose connection due to a port conflict with applications running on a container
Addresses an issue that temporarily prevents connections to a corporate network when Always On VPN is used with the IKEv2 protocol. Connections are not always made automatically, and sometimes manual connections fail. In this scenario, if you call the RasDial function from the command line for the target VPN connection, the error " ERROR_PORT_NOT_AVAILABLE (633) " is displayed.
It adds limited support for Windows voice dictation for Chinese (Simplified), English (Australia, Canada, India, United Kingdom), French (France), German (Germany), Italian (Italy), Portuguese (Brazil) and Spanish (Mexico, Spain).
Resolves an issue with opening or using the Window-Eyes screen reader application that could cause an error and prevent some features from working as expected.
Addresses an issue that prevents an App-V application from opening and displays a network error. This problem occurs under certain circumstances, e.g. B. if the battery of a system is weak or there is an unexpected power failure.
Addresses an issue that prevents an App-V application from opening when the client is offline and a startup script is defined for the App-V application.
Addresses a rare issue in which Windows Defender Advanced Threat Protection (ATP) temporarily prevents other processes from accessing files.
Addresses an issue in which the Start menu would stop responding when new users log in to Windows 10 version 1903.
It updates the Windows Ink Workspace by simplifying the menu and adding direct integration with the Microsoft Whiteboard app to improve collaboration.
Here you can download the update directly.
– 2019-07 Cumulative Update for Windows 10 Version 1903 for x64-based Systems (KB4505903)
– 2019-07 Cumulative Update for Windows 10 Version 1903 for x86-based Systems (KB4505903)
– 2019-07 Cumulative Update for Windows Server 2019 Version 1903 for x64-based systems (KB4505903)