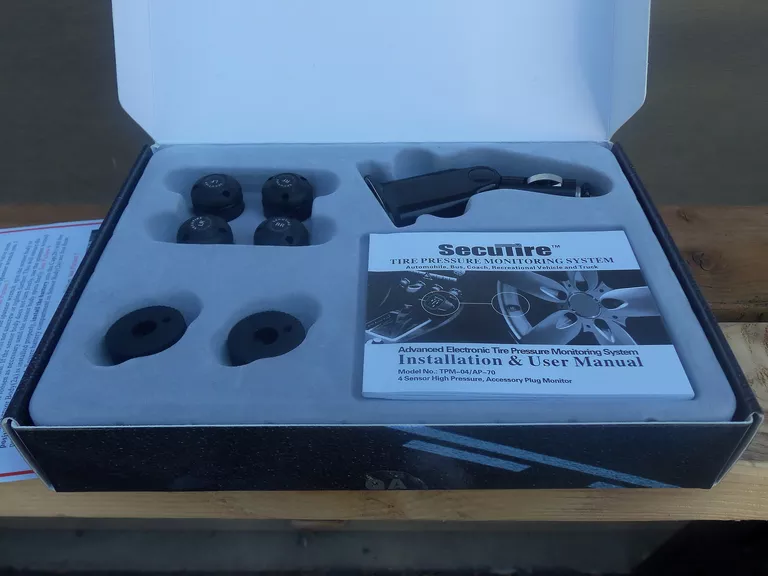 Pros:
Easy installation.
Anti-theft plug design.
Adjustable pressure warning level.
Batteries are easily accessible when depleted.
Available for light and heavy vehicle applications.
Cons:
It shows no real pressure.
There is no documentation on how to calibrate the sensors.
Anti-theft provisions are not foolproof.
An Affordable TPMS Anyone Can Install
Tire pressure monitoring systems can save you money and help you avoid catastrophic tire failure, but there have always been some drawbacks. Most of these systems use sensors that are built into the valve stems, which means they can't be installed without a visit to a mechanic or tire shop. They have also been prohibitively expensive.
The SecuTire system breaks both boundaries as it is inexpensive and easy to install. This TPMS consists of four sensors and a receiver unit. The sensors screw into the valve stem instead of regular caps, and the receiver plugs into a cigarette lighter or any other 12-volt accessory outlet. If any of the tires falls below a low pressure threshold, the system will indicate the problem with a red LED.
Unlike more expensive systems, SecuTire's TPMS doesn't have many fancy features. However, it gets the job done at an affordable price.
The good
Aside from affordability, the biggest thing SecuTire TPMS has going for it is ease of installation. Installation of this system is as difficult as screwing in a light bulb. Even if you have never done DIY car repairs or installations before, you should have no problem installing this TPMS. The kit includes two wrenches to tighten the sensors, and no other specialized tools are required.
SecuTire's TPMS also has another great benefit over systems that use sensors that are mounted on the valve stems. Unlike those systems, it's incredibly easy to replace the batteries in the SecuTire sensors. If you unscrew the top of one of the sensors, you'll find a small earphone-type battery, and all four can be replaced in just a few minutes.
One of the biggest downsides to cap-style TPMS sensors is that it's easy to tell which ones they are. That makes them a target for theft, but the SecuTire system has an anti-theft measure. When you remove the top half of the sensor, you will find an internal screw device. If you tighten it with the included wrench, the sensor body will rotate freely instead of unscrewing. The lug wrench is then necessary if you ever want to remove the sensors.
The bad
As an inexpensive TPMS, the SecuTire system does not offer all the functionality that can be found in more expensive devices. There is no precise reading, so you have to rely on the LEDs to monitor the pressure. The LEDs are green if the pressure is normal, and turn red if the pressure drops. This is still useful for troubleshooting, but it won't allow you to catch a slow leak before it reaches a critical level.
Another problem is that there is no documentation on how to adjust or calibrate the sensors. There's a set screw you can turn, which seems to effectively calibrate the individual sensors, but you'll have to play around with it to find the right setting. If your tire pressure is within the same range as the factory set sensors, that shouldn't be a problem.
However, it should also be noted that there are two different versions of the SecuTire system. One is for cars and light trucks, and the other is for heavier vehicles. The light duty sensors are set just below 30 PSI, and the heavy duty sensors are for tires that are inflated above 85 PSI.
The final result
Despite a handful of drawbacks, the SecuTire TPMS is a great option for anyone looking to do their own DIY installation. The price is right, and you can also save money by avoiding a trip to the mechanic or tire shop.