Social networks have been filled with content creators , so much so that some reports estimate that more than 50 million people are dedicated to streaming or uploading creations to the platforms that we all already know. In these lines we present an accessory that many of these users should take into account: the DJI Mic wireless microphone .
A brief explanation of DJI Mic
Thanks to these microphones from DJI Mic, the content creator can easily record very high quality audio and, in this way, give a quality bonus to all the videos that, for example, upload to YouTube or Instagram . As we have been able to verify, the sound quality offered by these microphones is of a very high quality and they are capable of making a dual-channel recording at distances of up to 250 meters. It is plug and play and you just have to turn it on to start recording.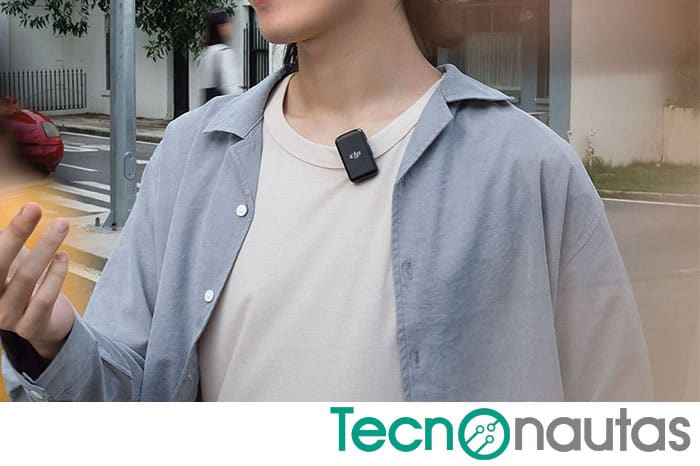 Undoubtedly a very useful complement to connect with cameras and smartphones if we find ourselves recording outdoors. They're also perfect if you're conducting an interview with multiple people, as the case includes two transmitters, each with built-in microphones that support omnidirectional audio.
The receiver: simple and to the point
The same case also includes, of course, a touch screen receiver that gives us very easy access to channel selection, input and output settings, as well as other essential data such as battery charge level.
The entire DJI Mic system is wirelessly connected via a stable 2.4 GHz frequency band, allowing you to move freely while recording your adventures. In addition, the equipment does not impose any burden on the content creator, since each element does not exceed 30 grams in weight. Everything is light and very practical to take it with you without any problem.
Audio
But let's go, perhaps, to the most interesting point of this DJI Mic wireless microphone. This reference allows you to record professional high-fidelity audio by accurately reproducing tone across a wider frequency range. Recordings can be done separately for each channel, or the two channels can be combined for post-production flexibility.
The optimized wireless transmission system ensures a stable audio signal, even in places such as train stations, shopping malls, and offices. However, the firm goes further, since the two transmitters have internal storage of 14 hours to prevent drops or loss of audio frames and other problems.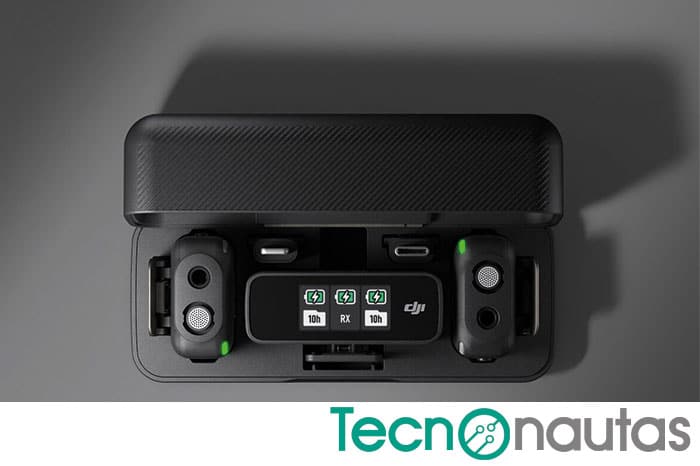 Zero compatibility issues
DJI Mic is thinking for everything and everyone. On a technical level, the designers have thought about the main devices that content creators use today. Knowing that different devices also means different adapters, DJI Mic decided at the time that it had to cover them all. And it has, as its receiver features USB-C, Lightning, and 3.5mm TRS ports, making it compatible with the most popular smartphones, cameras , and laptops.
Coquettish and very functional case
Its presentation is also up to everything that this wireless microphone offers, since its case is quite functional, cute and capable of ultra-fast charging of the batteries of all the components of the pack. With it, you can charge the transmitters and receiver, store all the components, and quickly pair the system right out of the case.
With the full charge level, the user can record audio for a whole day with DJI Mic. According to the technical specifications, you can enjoy 5.5 hours of battery life in the transmitters, 5 hours in the receiver and up to 15 hours with the charging case.
Specifications
So that you don't miss anything and have all the information, these are the manufacturer's technical specifications:
general
Microphone Directions – All Directions
Frequency Response – Low Cut Off: 50Hz-20kHz – Low Cut On: 50Hz-20kHz
max. sound pressure level (SPL) – 114 dB SPL
max. input level (3.5mm) – −17 dBV (THD <0.1%)
Equivalent noise – 23 dBA
Monitor interface output power – Max. 22mW at 1kHz, 32Ω
DJI Mic Transmitters
Model – AST01
Dimensions – 32 × 30.43 × 20.01mm
Weight – 30g
Wireless mode – GFSK 1 Mb/s and 2 Mb/s
Equivalent Isotropic Radiated Power (EIRP) – <20 dBm
Operating frequency – 2400-2483.5 MHz
Battery type – LiPo 1S
Battery capacity – 320mAh
Battery Power – 23Wh
Battery voltage – 85V
Charging temperature – 5 to 45°C (41 to 113°F)
Operating temperature – −10 to 45 °C (14 to 113 °F)
Charging time – 70 min
Run time – 5 hours
  DJI Mic Receiver
Model – ASR01
Dimensions – 44 × 32.21 × 17.35mm
Weight – 9g
Wireless mode – GFSK 1 Mb/s and 2 Mb/s
Equivalent Isotropic Radiated Power (EIRP) – <20 dBm
Operating frequency – 2400-2483.5 MHz
Battery type – LiPo 1S
Battery capacity – 320mAh
Battery Power – 23Wh
Battery voltage – 85V
Charging temperature – 5 to 45°C (41 to 113°F)
Operating temperature – −10 to 45 °C (14 to 113 °F)
Charging time – 70 min
Run time – 5 hours
  charging case
Model – ASB01
Dimensions – 06 × 61.87 × 41.50mm
Weight – 2g
Battery type – LiPo 1S
Battery capacity – 2600mAh
Battery Power – 10Wh
Battery voltage – 87V
Charging temperature – 5 to 45°C (41 to 113°F)
Operating temperature – 5 to 45°C (41 to 113°F)
Charging time – 2 hours and 40 minutes
Runtime – Fully charge three devices simultaneously up to 1.8 times