As you can delete the unpopular cookies in Chrome, we have already shown you in our article " Delete Cookies in Chrome Browser ". But in this Chrome tutorial we would like to show you how you can completely deactivate the cookies or store individual websites for which no cookies should be saved.
Disable cookies in the Chrome browser
The fastest and easiest way to get the desired cookies settings in Chrome is to enter the following in the address bar:
chrome: // settings / content / cookies
You can of course also go there via the menu, then you would have to choose the following route.
Click on 3 dots at the top right – Settings – Advanced – Privacy and Security – Website Settings – Cookies and website data
Then your Chrome browser shows the following cookies setting options.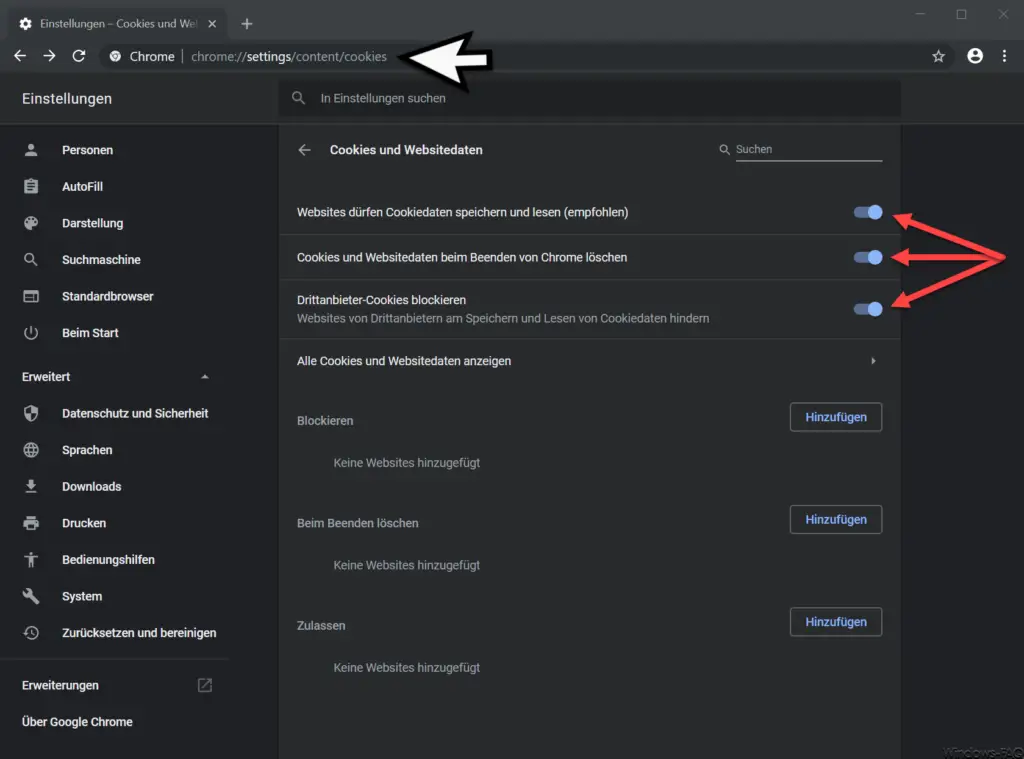 You can now make numerous cookie settings here.
Websites are allowed to save and read cookie data (recommended)
The first cookie counter is responsible for general cookie processing. This cookie option is activated by default and recommended as such. However, if you want to deactivate the cookie processing in general, you have to set this option to " Off ".
Clear cookies and website data when you exit Chrome
If you want Chrome to automatically delete all saved cookies when you close your browser , you must activate this cookie option.
Block third-party cookies
A " third-party cookie " is a cookie that is generated by another website, although you have not yet called it up. This can always happen if advertising is visible on the visited website, which is reloaded from another provider or from another website.
If you would like to deactivate this third-party cookie creation, you must activate this cookie setting.
Specify cookie settings for individual websites
Below you have the option
Show all cookies and website data
the option to have all saved cookies displayed and to edit or delete them there .
Furthermore, you can block the creation of cookies for special websites, delete cookies for specially defined websites when exiting or allow cookies for specific websites .
This gives you all the options for managing, storing and deactivating cookies .
You can find more tips and tricks for Chrome here.
– Install Application Guard extension for Google Chrome
– Export Google Chrome passwords to CSV file
– Have Google Chrome search for malicious software
– Delete all settings and reset to default values with
Google Chrome – Import Google Chrome favorites and bookmarks from Firefox, Edge or IE
– Change download folder in Chrome
– Create desktop link to a website in Chrome browser
– Delete cookies in Chrome browser
– Show home button in Chrome browser
– Deactivate advertising in Chrome browser
– Automatic translations with Google Chrome browser (extension)
– Google Chrome in incognito Start mode
– browser speed comparison – Firefox, Opera, Safari, Chrome, Iron and Internet Explorer in the test
– Microsoft Edge, Chrome or Firefox: Different browsers under Windows