In the standard configuration, Windows normally allows all access to all removable media that you connect to your PC, for example via USB. This has many advantages, because the user does not have to worry about any driver installations for the USB storage devices, of course there are also dangers in it, because every user can connect any removable data medium to the PC without being checked .
Especially in networks, this uncontrolled connection of removable media to the PC poses a security risk. For this reason, Microsoft has also responded and offers a special group policy with which you can prevent any access to removable media.
Disable removable disk access
To do this, open the following GPO path in the group policy editor "gpedit.msc".
Computer configuration / administrative templates / system / removable media access
There you will find the following group guidelines
All removable media classes: deny all access
We have shown you this area of ​​the group guidelines here below.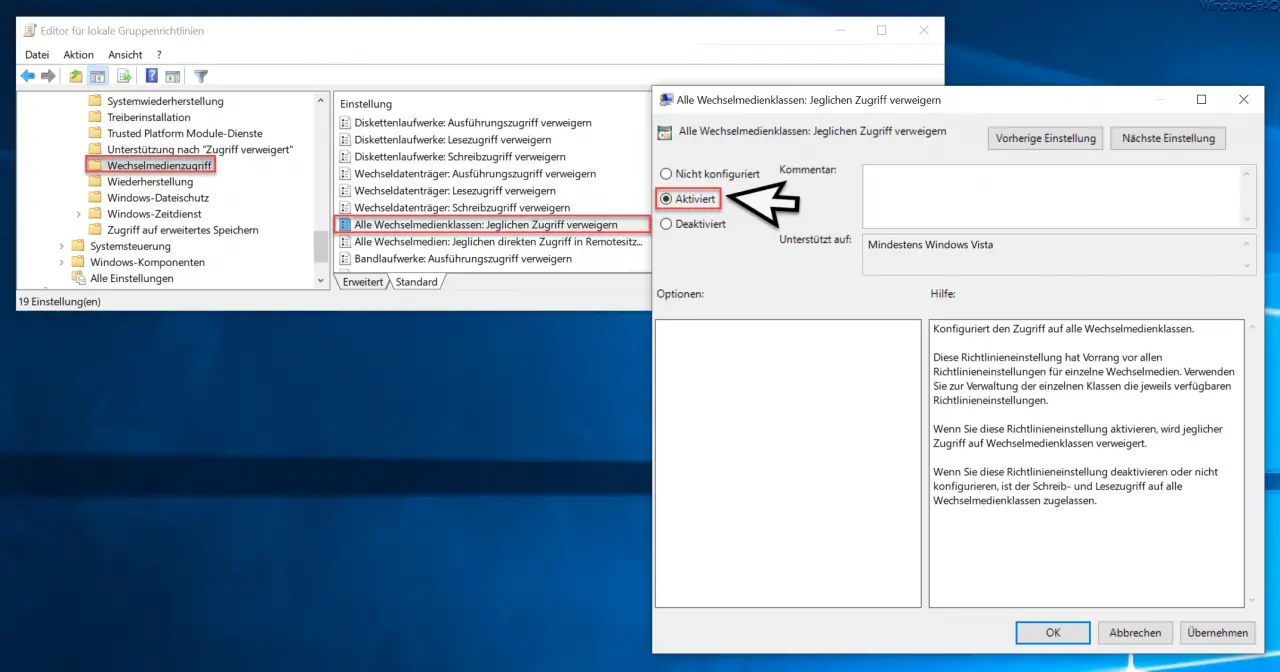 If you now want to deactivate all access to connectable removable media , you have to open this GPO
Activated
switch.
By the way, Microsoft gives the following information about this removable disk GPO.
Configures access to all removable media classes.
This policy setting takes precedence over all policy settings for individual removable media. Use the policy settings available to manage each class.
If you enable this policy setting, all access to removable media classes is denied.
If you disable or do not configure this policy setting, read and write access to all removable media classes is permitted.
To complement this, we have listed further articles below on the subject of "USB sticks" and "removable data carriers" .
– Prevent installation of USB removable
devices via GPO in Windows 10 – Windows 10 shows USB storage media twice in Explorer
– Fix Windows 10 USB problems
– Activate write protection on USB sticks
– Block access to USB sticks in Windows 10