Microsoft has released a " Fix it " tool to detect performance problems of the Windows PC and to fix them if necessary. The free tool works for the Windows versions Windows XP, Windows Vista, Windows 7, Windows 8 and Windows 8.1. Windows 10 is not currently supported.
After downloading the program (you will find a link at the end of the article), the program starts immediately and the user can choose whether he only wants to look at the results of the check or whether the Fix it program should also immediately eliminate the existing problems.
The following data are checked:
Screen saver settings
simultaneous use of several antivirus programs
Unnecessary programs when Windows starts
Disk space
Unused programs
Old, cached or temporary files
Too many programs running at the same time
Broken files
Disk defragmentation
Missing Windows updates
Old device drivers
Here is an extract from a scan of a PC: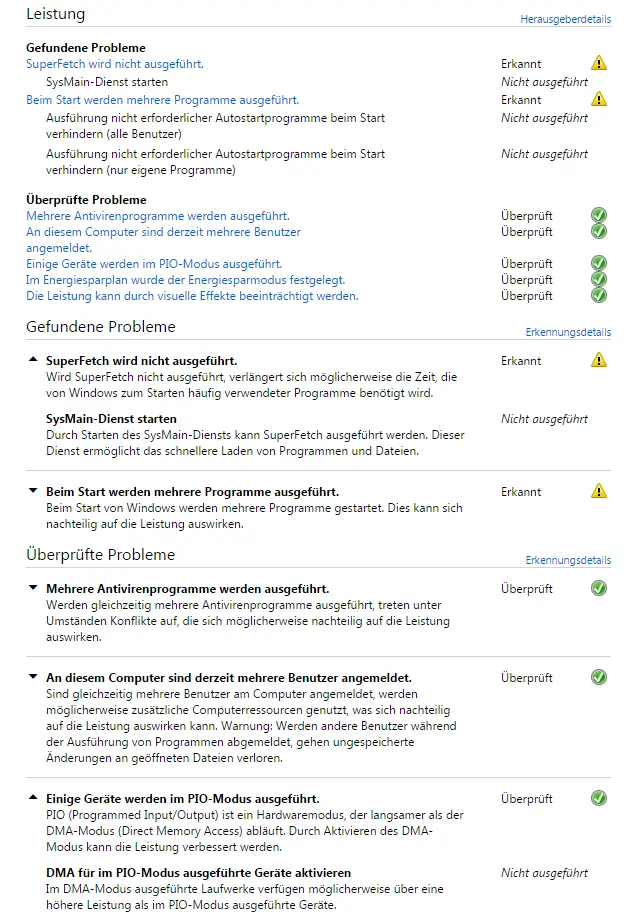 You can download the free program from Microsoft here:
– Speed ​​up your Computer (KB306207)
You can also increase the performance of your Windows system with disk defragmentation . We have already written numerous articles on this and would like to present you the most successful tips and tricks for defragmenting data carriers .
–
Call up defragmentation directly from Explorer – Check progress of the file fragmentation of the hard disk
– Defragmentation (defrag.exe) parameters
– CONTIG Tool – Defragmentation of individual files or folders
– Automatic defragmentation switch off in Windows 10
– Increase the lifespan of the SSD hard drive – Switch off automatic defragmentation switch
– Automatic Disable defragmentation in Vista and Windows 7