Windows users often ask us what is going on in the two Windows system folders
CatRoot
CatRoot2
saved and how can the content be deleted if necessary.
The " Catroot " and " Catroot2 " folders are Windows internal system folders that are absolutely necessary for the Windows update process. Windows Update files are saved in these folders as in the " SoftwareDistribution " folder , whereby the CatRoot folders are used more for storing the Window Update signatures .
If there are problems with Windows update processes , it may be necessary to delete the contents of these Catroot folders . We have already reported several times about deleting the SoftwareDistribution folder. As soon as Windows downloads the missing Windows Update files, the contents of the " Catroot " and the " Catroot2 " folder are automatically rebuilt.
Here is a sample content of the Catroot2 folder for a Windows 10 installation.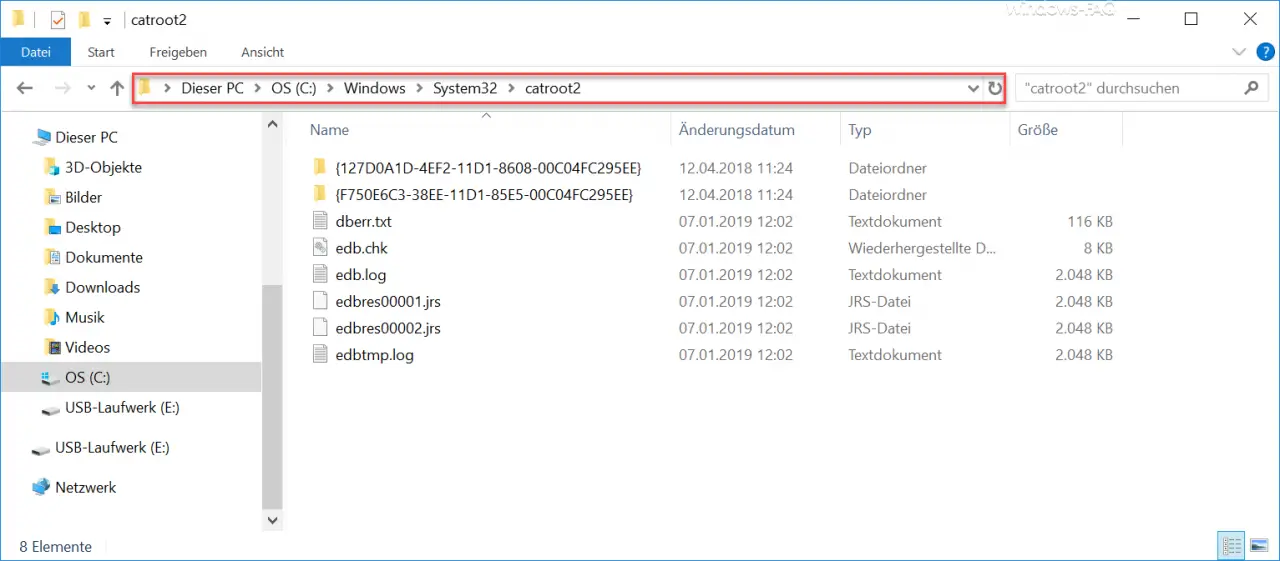 You cannot easily delete the contents of these Catroot folders, since parts of these files are permanently accessible through Windows.
Delete Catroot folder
To delete the contents of the Catroot folder , you must first stop the Windows service responsible. This is the
Cryptographic service (cryptsvc)
and the easiest way to end this is via the command prompt (with administrative rights) using the following command.
net stop cryptsvc
Then you can delete the contents of the folders. However, we would advise you to make a backup copy of the two folders beforehand .

Then you only have to restart the cryptographic service "cryptsvc" using the following command.
net start cryptsvc
By the way, Microsoft has released the following information about this service and thus also about the Catroot folders.
Provides three administration services: the catalog database service, which confirms Windows file signatures and enables new programs to be installed; the protected root service, which adds trusted certificates from root certification authorities to this computer and removes them from the computer; and the automatic update service for root certification , which retrieves root certificates from Windows Update and enables scenarios such as SSL. If this service is stopped, these administrative services will not work properly. If this service is deactivated, all services that are expressly dependent on this service cannot be started.
After deleting the folder contents of the Catroot folder, you should restart Windows Update and check whether your Windows Update problems have been eliminated,
You can find more information about Windows update problems here:
– 0x800704B3 error code with Windows Update
– Windows Update error code 0x8024a20617
– 0x80070017 error code with Windows Update
– The Windows Store cache may be damaged
– Windows Update error code 0x80072F76 – 0x20017 when running the Media Creation Tool
– 0x8024a223 error code with Windows Update
– error code 0xc1900130 with Windows Update
– 0x80072AF9 Windows Update error code
– Windows Update error code 0x80200013
– Windows error code 0x80073715
– 0x80070652 Error code during Windows Update
– Windows Update error code 0x80240022
– 0x1900107 Windows Update error code