Today we would like to show you briefly how you can easily create ISO files yourself . We needed this to pack files into an ISO file and then mount this ISO file on a Windows Server 2012 R2 Hyper-V server in a VM as a CD / DVD drive. This became necessary because this VM had no network connection , but we had to transfer files to the VM.
With Windows board means there is no way to convert individual files or a folder structure into an ISO file .
ISO file creation tool
The solution is still relatively simple. You just have to download and install the freeware tool "CDBurnerXP" and then follow this short guide. You will find the appropriate download link for this excellent tool at the end of this article.
After starting the program, you must first select the "Data compilation" option. You can use it to create ISO images , normal data media, MP3 CDs and video DVDs.

Then you can compile the files and folders accordingly in the Windows Explorer window via " Add ". When you are done with that, you have to select the menu item " File " and " Save as ISO image … ", as you can see here below.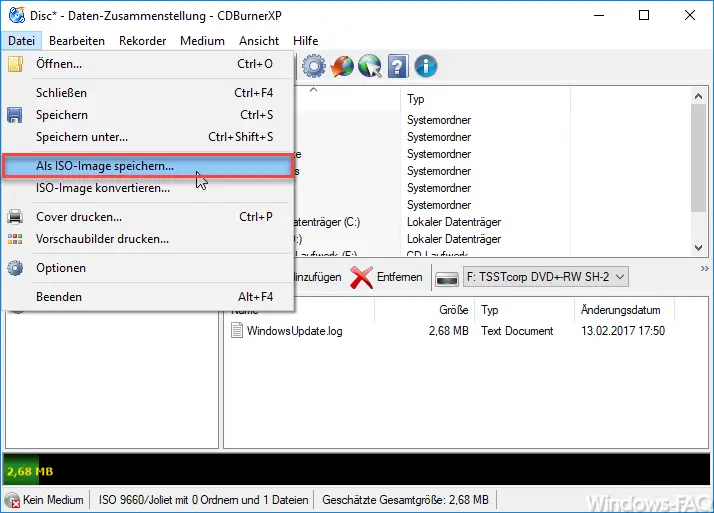 That's it. Finally, you only have to enter the name of the ISO file to be created and press " Save ". Now the ISO image is created with the specified content. If you know of other tools for creating ISO images , it would be nice if you would leave a corresponding comment.
Here you can download the latest version of CFBurnerXP .
– Download CDBurnerXP
If you are interested in other useful Windows tools , please take a look at the following posts here in our blog.
– Forgot WiFi password – No problem – Simply read out
with a tool
– Detect PC performance problems with Fix it Tool from Microsoft – VMMAP – Tool for examining the physical and virtual memory – Call
system management tools in Windows 10
– CONTIG Tool – Defragmentation of individual files or Folder
– Stordiag – Storage and file systems diagnostic tool for Windows 10 (1607)
– EMET 5.5 Toolkit for Windows 10 Download