Today we would like to tell you about a very strange Windows update error , it is the update error code
In the following figure we have shown you the original error message that we are currently experiencing on a Windows Server 2008 R2 when we were looking for the latest Windows updates.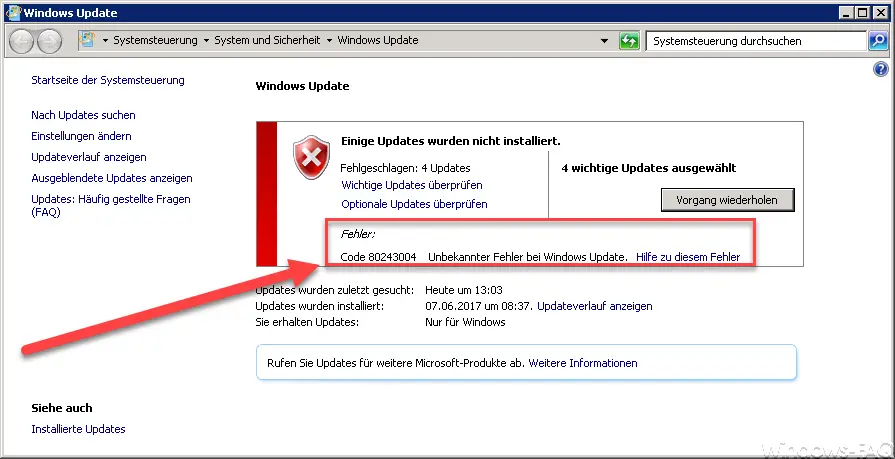 Unfortunately, the Microsoft help does not provide much useful information about this error, so we then looked around the net for a solution. And lo and behold, it's actually quite simple, even if it's almost unbelievable.
Adjust Windows taskbar with regard to error code 80243004
The solution is in the Windows taskbar . Most Windows users will now ask themselves what has the Windows taskbar to do with the update error code 80243004 . It is definitely so. To remove the error, right-click on the taskbar in the taskbar and then select the item
properties
Then click on the button in the notification area (define the symbols and notifications that are displayed in the notification area)
To adjust
click. Now the following window appears, in which you can see all Windows taskbar icons listed.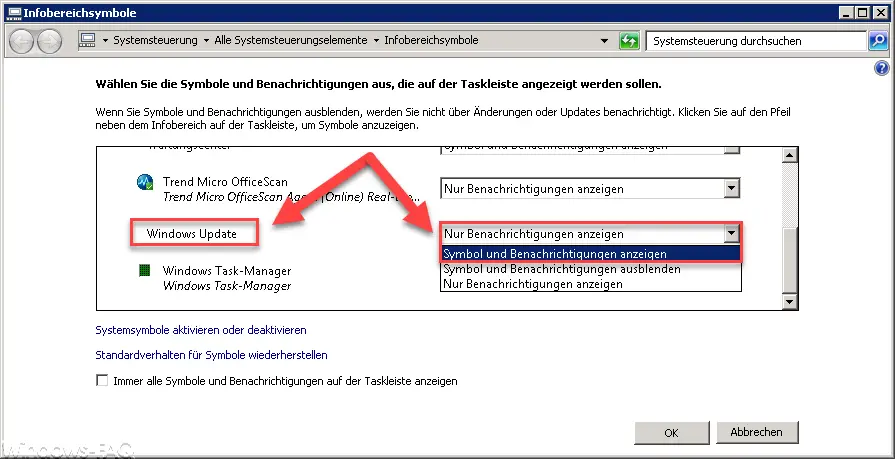 Here you have to change the symbol from " Windows Update " to " Show symbol and notifications " and then close the window with " OK ". Now the Windows Update symbol is always recognizable in the Windows task bar. This was the solution in the end, because if you now search for the latest Windows updates, the Windows Update error message 80243004 no longer appears.
A strange mistake, but still there. Unfortunately, we have not yet found out why this is the case, but we have now been able to use it successfully on several Windows systems. If it is the same phenomenon with you, then we would be happy about a corresponding comment at the end of this article.
 You can find valuable help about many other Windows Update error codes in these articles here on our blog.
– Windows Update Code 80244010
– Windows Update Code 80200056
– 0x800705b4 Windows Update error code – Prevent
installation of faulty or defective Windows 10 updates. (wushowhide.diagcab)
– 0xc1900200 error code to the Windows Upgrade
– 0x80240017 Windows Update Error code
– 0x80070490 Windows Update Error code
– 0x80070003 error code in Windows Update
– 0x8007045a Windows Update Error