Very often, the reason for little space on the system partition is that the download folder has become too large . If the user is not careful, there are many GB of download files and unnecessarily burden the hard disk.
For this reason, Microsoft has now included the option to delete the download folder in the "Cleanmgr" disk cleanup . However, this innovation is only available from Windows 10 version 1809.
The new option becomes visible as soon as the data carrier cleanup has started. We have shown you the new " Download folder " option for data carrier cleanup.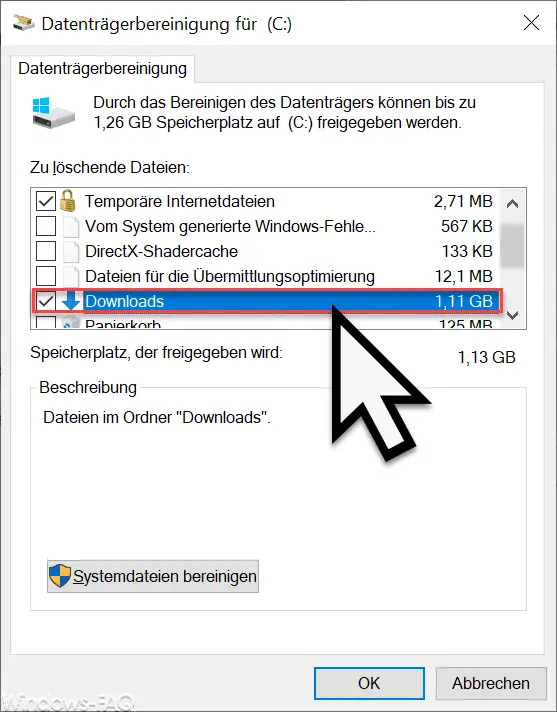 In our case, it was over 1 GB of data that are deleted from the download folder by the data carrier cleanup . You should definitely make sure that the option " Downloads " is activated in the data carrier cleanup, because this could delete files that you actually wanted to keep.
In the Windows Settings app, which you can call up using the key combination "Windows key" + "I" , there is in the area
Change automatic release of storage space
also an option that automatically removes files from the download folder when memory optimization is activated. However, you can choose whether to delete only downloads that are older than 1 day, 14 days, 30 or 60 days. About the exact options of Windows 10 memory optimization , we went into more detail in the entry " Freeing up space in Windows 10 Fall Creators Update Version 1709 ". Of course, this information also applies to the current Windows 10 version 1809.
You can find further information on the subject of "disk cleanup" in the following articles here on Windows FAQ.
– Disk Cleanup – Windows 10 advanced options
– Hidden Disk Cleanup options