If you are already using Windows 10 version 1903 or 1909 , you will usually use all the innovations of the new Windows 10 versions . We have already reported on the innovations of Windows 10 version 1909 several times in the last few weeks. You can find a list of popular articles on Windows 10 version 1909 at the end of this article.
A relatively unknown innovation is a new icon in the Windows 10 start menu . If your Windows 10 PC is not yet up to date with the latest patch status and Windows updates are still missing , the symbol for changes
On off
to the extent that it is marked with an " orange dot ". This orange-colored dot therefore shows the user that the current Windows 10 installation is not yet up to date and that the missing update must still be installed.
We have shown you this display below as an example of a Windows 10 version 1909.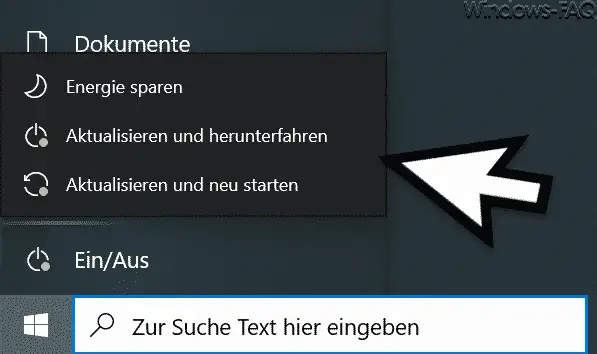 As you can see, not only is the " On / Off " button marked with this point, it is also the two functions
Update and shutdown
Update and restart
marked in color. You can now decide whether you want to shutdown or restart the PC and in both cases the missing Windows 10 updates will be installed.
There is only a small adjustment in the start menu, but this will make the user even more aware that Windows 10 is not yet up to date with the latest patch status. In addition, Microsoft appears well known on the following icon in the Windows 10 taskbar a

if not all available Windows 10 updates have been installed. Again, the orange dot can be seen , which was also available in the start menu.
Finally, you will find further new functions from the latest Windows 10 Update Version 1909 here.
– How does the upgrade to Windows 10 version 1909 work
– Search function in Explorer improved for Windows 10 version 1909
– Always keep Windows calculator in the foreground
– New notification settings in Windows 10 version 1909
– Uninstalling Windows 10 version 1909